I would hand down call myself a vegetable lover. They are most often my favorite part of the meal, but you can ask my husband…..I loooove a hamburger. It can't just be any hamburger from any place, it has to be a good hamburger. Let me explain. I'm not talking about a mechanically pressed hamburger patty, a weird cold bun that's gummy because it probably has dough conditioner in it, no, I'm not talking about a thin slice of unripe tomato, and a piece of wilted lettuce, nor am I talking a mystery meat topped with the weird cheese that comes out of the plastic wrapper. I'm talking about perfectly seasoned, good quality beef topped with great toppings, and a kick-butt bun. I don't know if I know anywhere where I can get a hamburger as good as the one that comes out of my kitchen.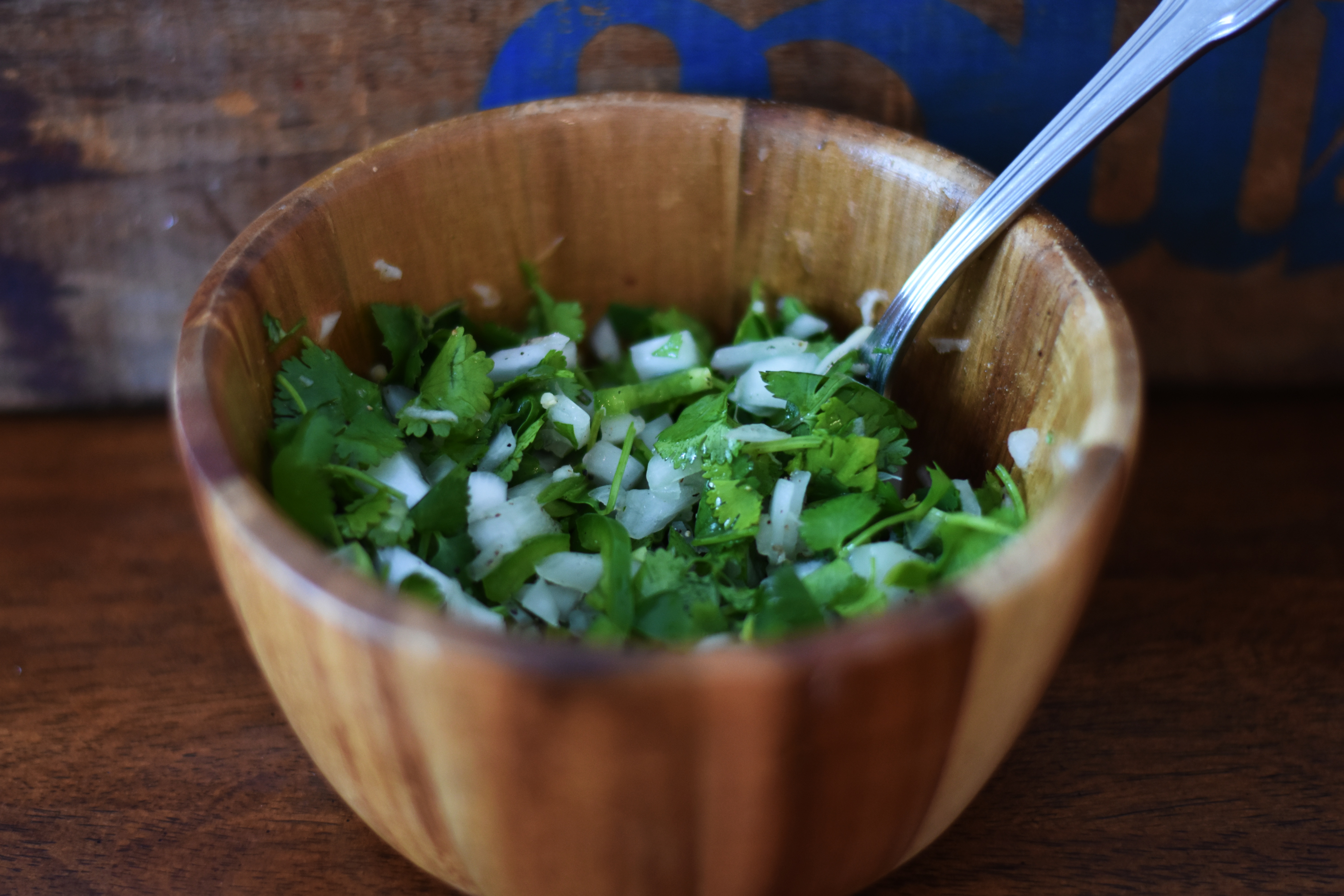 The inspiration for this burger comes from our favorite Mexican food cart. I love this place because of its the opposite of what you would get in a popular Mexican restaurant. They top their tacos with fresh cilantro and diced onion, with lime wedges on the side to squeeze on top. It's so good!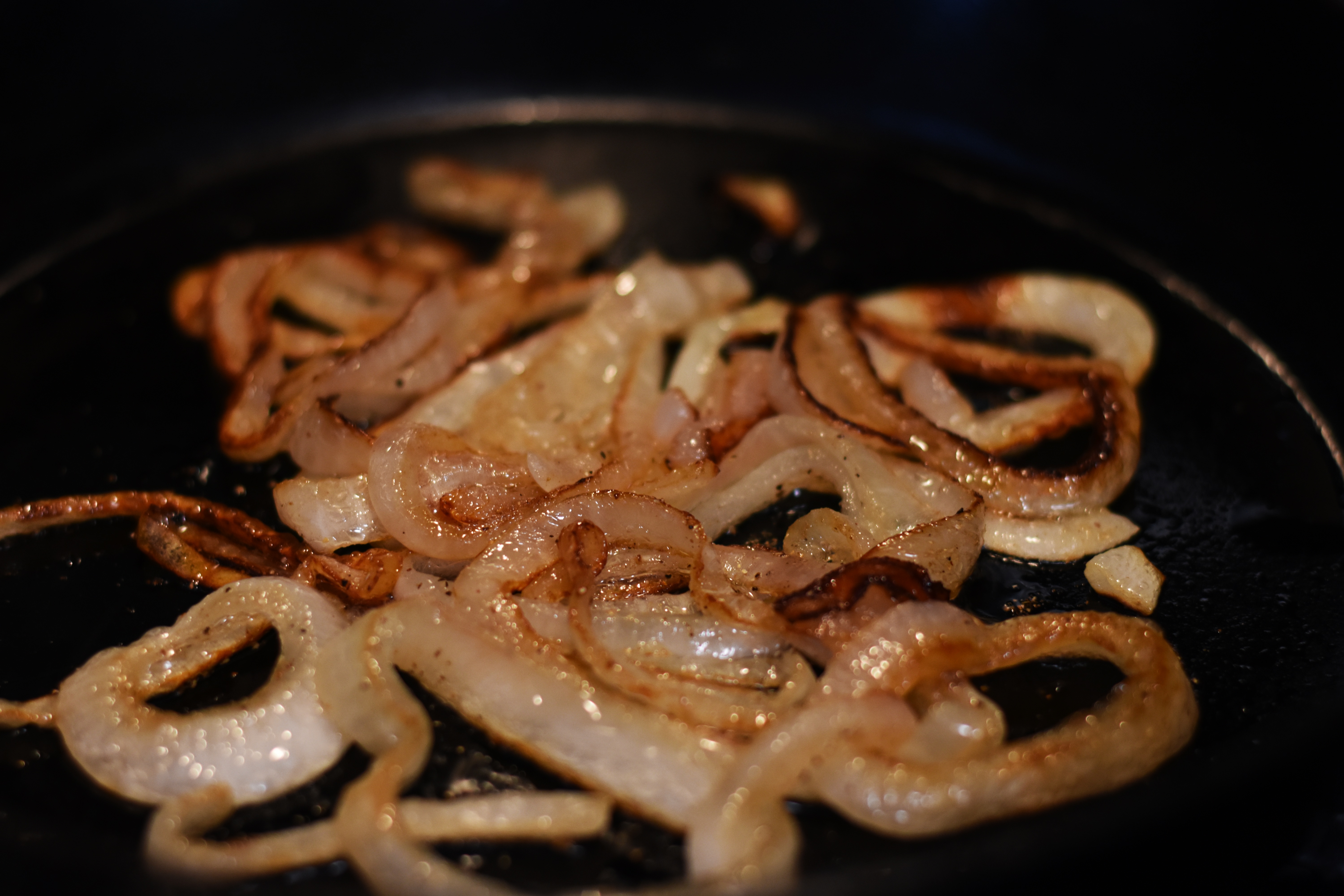 I started craving that cilantro onion mix with lime so I began making it for lunch and eating it with tortillas. I started adding olive oil,  salt, pepper, and fresh jalapeno and it was amazing! We were grilling hamburgers one night and we were out of the traditional topping, so we grilled some onions, and I made that cilantro mix for a garnish. I looked over and saw Tim spooning it into his hamburger….brillant! I gave it a try and it was amazing! We agreed this is our new favorite hamburger! Grass-fed beef, a perfectly grilled bun, perfect toppings, and a whole lot of flavor!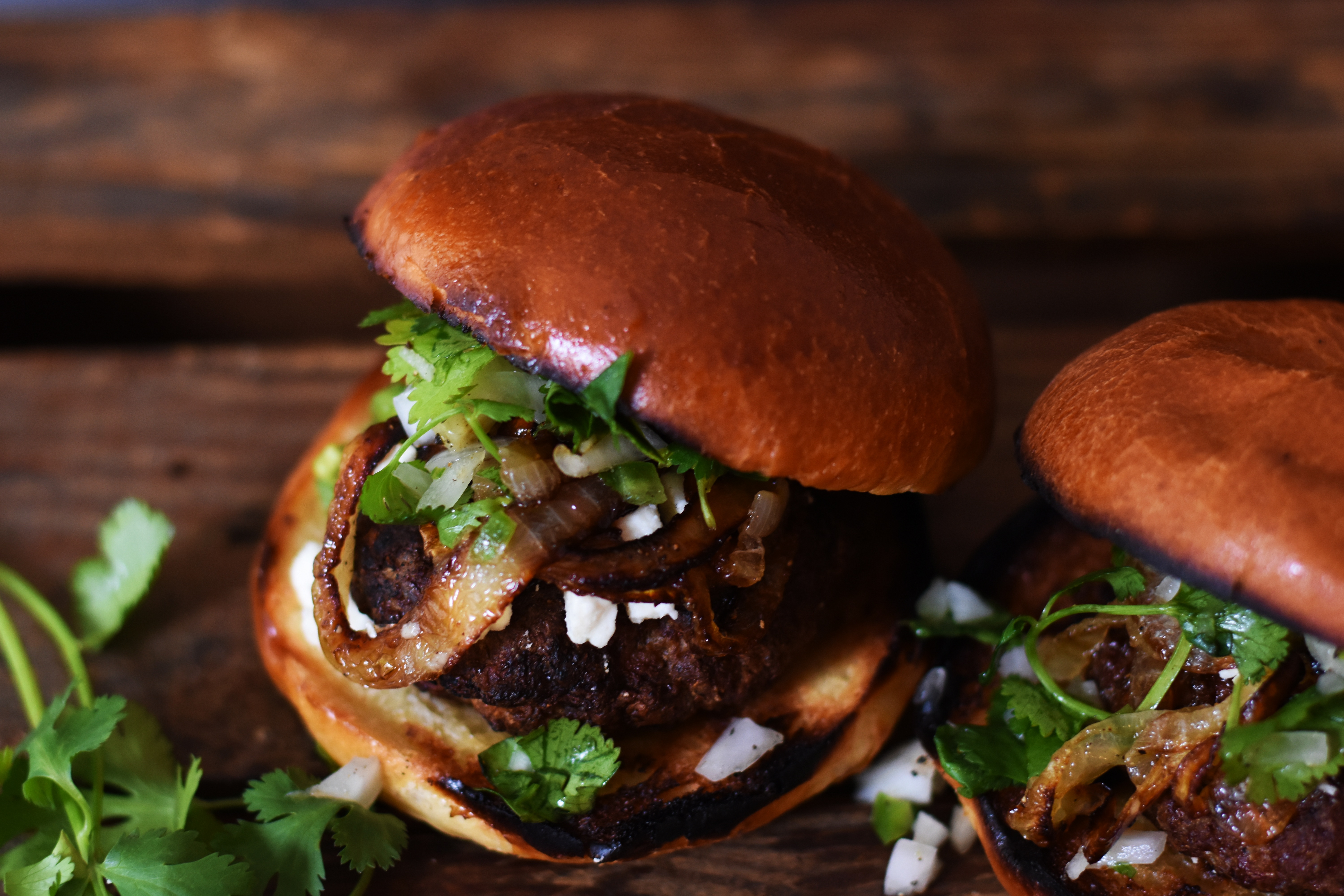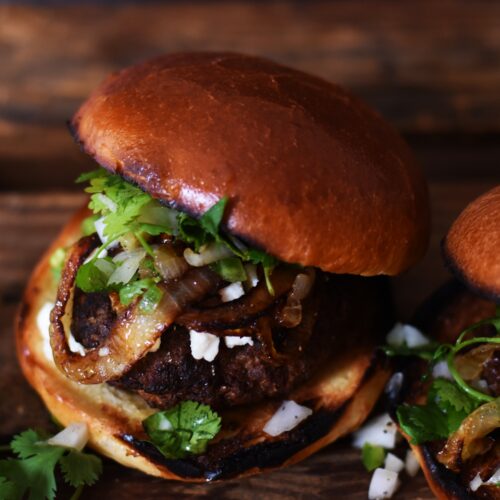 Print Recipe
Spicy Mexican Burger
The inspiration for this burger comes from our favorite Mexican food cart. Cilantro and lime have turned out to be perfect burger toppings!
Ingredients
1

lb

Hamburger

I like to use grass-fed

1

egg

½

cup

breadcrumbs

I use plain panko

½

teaspoon

pink salt or sea salt or more to taste

½

teaspoon

black pepper

½

teaspoon

coriander

here's organic coriander

¼

teaspoon

cumin

here's organic cumin

⅛

teaspoon

cayenne pepper

Brioche Buns

Feta cheese or pepper jack
Grilled onions
½

large white or yellow onion

Salt/ pepper to taste

¼

teaspoon

coriander
Cilantro & Lime topping
½

cup

chopped cilantro

⅓

cup

chopped white onion

1

medium jalapeno chopped

remove seeds for less heat

2

garlic cloves

2

teaspoon

olive oil

Juice from a half of a lime

Salt/ pepper to taste
Instructions
In a medium-size bowl mix all the ingredients for hamburgers.

Patty out 5-7 hamburgers depending on the size, set aside.

Heat a couple teaspoons of refined coconut oil in a skillet

Slice onion in medium slices and pop out rings.

Sauté onions with seasoning on medium-low heat for about 5-7 minutes, or until soft and translucent. Turn off heat and set aside.

Chop and mix together ingredients for Cilantro and Lime topping, mix well and set aside.

Butter buns or brush with olive oil and set aside.

In a large skillet, or grill (I like to use an iron skillet), fry hamburgers on medium heat, flipping once when the meat is well browned.

Remove hamburgers from skillet or grill when they are finished.

Grill hamburger buns until crispy.

Build your burger! Perfectly grilled buns, then place a hamburger, cheese, and cilantro lime topping!
Notes
*Note it is important to use organic spices. Non-organic spices have chemicals and are irradiated (using radiation to kill bacteria possibly causing carcinogenic free radicals) also they are fumigated with harmful chemicals!
I like this grater for garlic
Buy an Iron skillet here
Elke is a participant in the Amazon Services LLC Associates Program, an affiliate advertising program designed to provide a means for sites to earn advertising fees by advertising and linking to Amazon.com.
Clicking on an Amazon link from http://www.quadcoptercloud.com/ does not increase the cost of any item you purchase.
We will only ever link to Amazon products that we think our visitors may be interested in and appreciate learning more about.