If you're a cinnamon roll lover, then this Apple Cinnamon Rolls recipe is for you!  This is kinda like your traditional cinnamon roll with a kick, and a bit healthier!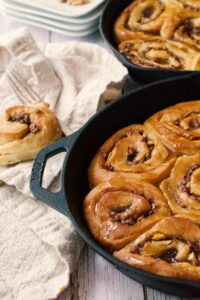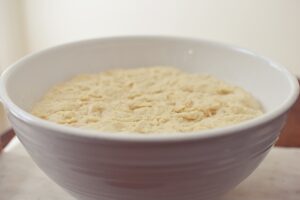 What's cozier than baking with fall spices and filling your house with sweater-worthy aromas? I don't know if it gets much better! And lucky for me I'm forced to do some fall baking after ditching my favorite apple cinnamon plugins and candles several years ago. (Read here why I chose to ditch scented air fresheners) There's no need for fall-scented plugins when I have the real thing sending glorious smells throughout the house!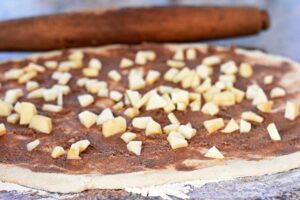 Now, if you've never made Cinnamon rolls, and I mean REAL homemade cinnamon rolls you should give this a try! It's easier than you may think and so good that you may have to give some away so you don't eat them all!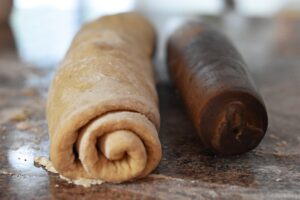 Making the dough for your Apple Cinnamon Rolls
Don't over-complicate the process. I promise it's easy!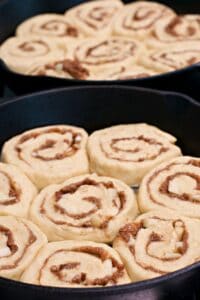 You can buy the little packets of yeast from the store. I like them because they are easy and convenient. Make sure your yeast isn't expired, then dissolve it in a ¼ cup of warm water. The temperature doesn't have to be perfect…not too hot, and not too cold, just warm. Let it sit for a couple of minutes and activate. You will know when it's ready because it will look foamy. At this time you can whisk in your sugar, salt, spices, and egg. While I'm whisking these things in I like to warm my milk and butter.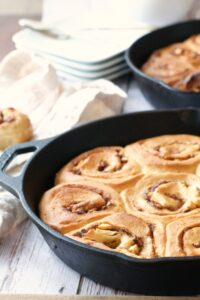 Again, you don't want it too hot or too cold, just warm to the touch. After whisking in your warm milk and butter it's time to add the flour. Stir it in with a wooden spoon 1 cup at a time. You can use a mixer if you would like, I just like a good old wooden spoon. Once you mix in your flour and your dough is a nice consistency, it's time to cover it (I like to use press-n-seal)and set it in a warm spot in your kitchen to let it rise.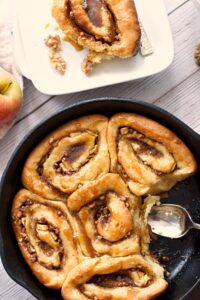 Ahhhh, your dough is rising, and now it's time to mix up the filling. The end result is going to be soooo good! and did I mention this recipe is a little healthier? In this recipe, I ditch the cream cheese frosting for a healthier maple cinnamon glaze! I hope you love these as much as we did!
Making the filling for cinnamon rolls
Making the filling is easy. Just make sure the stick of butter that you are using is room temperature and soft to the touch. You want to be able to press on it and your finger press right into it. Once it's soft you can put it in a small mixing bowl and add the sugar and spices. I like to wait to add the nuts and chopped apple after I get the butter mix spread evenly. That way you can sprinkle the apples and nuts evenly over the dough.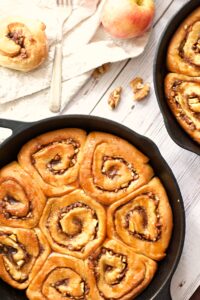 Note that you will want everything to be small. Cut the apple into tiny chunks and you want to buy the nuts chopped or chop them yourself. This will help the apples to cook better and it will also be easier to cut the cinnamon rolls when you get your dough rolled.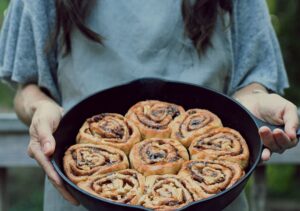 So, sprinkle everything evenly, roll the dough up longways, and with a serrated knife start slicing. For extra goodness melt a little butter and brown sugar in the bottom of the pan before cooking.
Don't have iron skillets? No worries. You can bake these in a big casserole dish!
For more cinnamon roll recipes check out Orange Cardamom Cinnamon Rolls!
For more fall desserts check out: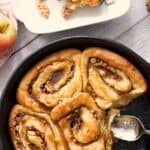 Print Recipe
Apple Cinnamon Rolls
Homemade Cinnamon Rolls filled with apples, cinnamon, and pecans!
Ingredients
¼

cup

warm water + 1 package of yeast

6

tablespoon

melted real butter

1

cup

milk or milk alternative

1

whole

egg

1

teaspoon

pink salt or sea salt

1

tsp

vanilla extract

⅓

cup

sugar

½

teaspoon

cinnamon

⅛

teaspoon

nutmeg

4-4 ½

cups

unbleached all purpose flour

start with 4 and then add a tablespoon at a time until you get a nice dough
Filling
1

stick

real butter softened

+ 2 tablespoon reserved for the bottom of iron skillets

2

tsp

cinnamon

couple

dashes

nutmeg

⅛

teaspoon

pink salt or sea salt

¾

cup

brown sugar

½

cup

pecans

chopped

1

whole

apple diced in small chunks

like pictured above
Maple Cinnamon Glaze
¾

cup

maple syrup

¼

teaspoon

pink salt or sea salt

½

teaspoon

cinnamon
Instructions
Apple Cinnamon Rolls
In a large mixing bowl place warm water and yeast. Let sit until frothy. Whisk in egg, vanilla extract, and spices.

In a small saucepan melt butter and add milk, whisk in sugar, and turn off the heat. Make sure the milk & butter mix are warm to the touch then whisk into yeast mixture. Add the flour in one cup at a time. After 4 cups add one tablespoon at a time until you have a less sticky dough.

Cover and set in a warm part of your kitchen to double in volume.

Preheat the oven to 375 when the dough is ready.

When the dough is ready turn onto a floured surface and press with fingers or use a rolling pin to form dough into a rectangle of about 15 inches.

Spread filling on the dough evenly (as pictured above). Sprinkle diced apple and pecan pieces on top, then with the long side, tightly roll into a log.

To evenly cut, cut in half, then each in half, and repeat until you have about 18-22 rolls.

Turn the fire on low and melt the 2 tablespoon of reserved butter (one in each iron skillet) along with 1 tablespoon of brown sugar in each skillet. Note, you may need a 3rd skillet depending on how big you cut them.

Place approximately 9 rolls in each iron skillet, and let sit until they rise to double.

Place in preheated oven and bake for about 30 minutes or until golden brown. Check them after 20 minutes. Ovens bake differently. When you pull them out drizzle on the glaze and enjoy!
Filling
Mix softened butter, cinnamon, nutmeg, salt, and brown sugar in a bowl until combined.

Peel and dice apples into very small cubes and set them aside.
Maple Cinnamon Glaze
In a saucepan pour in maple syrup, salt, and cinnamon.

Bring to a simmer and simmer for 3-5 minutes or until the glaze starts to thicken.

Turn fire off and let cool for a couple of minutes to allow to thicken.

Spoon over fresh-baked cinnamon rolls and serve warm!
Notes
To buy the iron skillet I use Click here
Elke is a participant in the Amazon Services LLC Associates Program, an affiliate advertising program designed to provide a means for sites to earn advertising fees by advertising and linking to Amazon.com.
Clicking on an Amazon link from http://www.quadcoptercloud.com/ does not increase the cost of any item you purchase.
We will only ever link to Amazon products that we think our visitors may be interested in and appreciate learning more about.