I love making raw desserts because they are so beneficial! Instead of making us pack on the pounds, they can actually do the opposite and help us lose weight! Most of us have a sweet tooth. Raw desserts are amazing at taking away cravings without refined sugar. Most raw desserts are gluten-free, dairy-free, and refined-sugar-free! How can you beat that to replace a processed dessert or dessert that's full of sugar? When making a healthy raw dessert try to use the best ingredients you can and that is available to you. Make these in place of those processed 100-calorie packs, or your favorite candy bar and you will be one step closer to better health! These strawberry macaroons are a quick and easy raw dessert that will satisfy your cravings!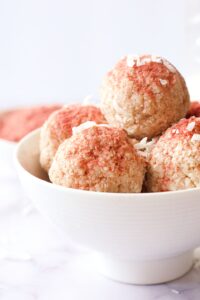 Making strawberry macaroons
First, for these macaroons, our main ingredient will be unsweetened coconut. You may think a macaroon is a French cookie with icing in between. We will get to the differences later between macarons and macaroons!
Secondly, after the coconut, we are just adding a few ingredients for flavor and bringing the macaroons together. A little almond or coconut flour, coconut oil, maple syrup to sweeten, vanilla, and of course strawberry powder!
These just take a handful of ingredients and a little time. Theres no baking involved either! All you need is a blender to blend up all the ingredients, then roll up the strawberry macaroons. Easy and delicious! And the best thing is, they are good for you! So wonderful!
Difference between Macarons and Macaroons
There is a difference between the two. Macarons are French cookies that are made with almond flour, egg whites, sugar, and vanilla. They look like cute little cookie sandwiches and are typically filled with icing or jams.
However, macaroons are made with shredded coconut, egg whites, sugar, and vanilla. These coconut cookies originated in Italy.  Typically you would bake them until golden and chewy. Sometimes are even drizzled with chocolate after baking. Yum! The macaroons that I made for this recipe eliminate the sugar and the egg for a raw, healthier version of a macaroon. I have made a similar macaroon in the past that is plain with a refined sugar-free chocolate drizzle. You can check them out here!

Health benefits of coconut
Coconut has so many benefits! In this recipe, I use organic unsweetened coconut. Some benefits of coconut are:
Coconut can help treat Alzheimer's.
Helps aid in weight loss.
It can help improve type 2 diabetes.
Improves skin and hair.
It can help aid in healthy digestion.
It helps the body to absorb vitamins and minerals.
Relieves inflammation.
Supports regular bowel movements.
Anti-viral, Anti-fungal, and Anti-bacterial properties.
Boosts energy levels.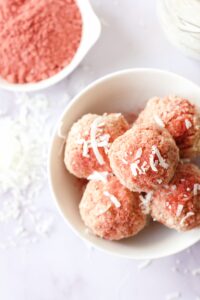 If you are trying to live a healthier lifestyle here are some other healthy snacks you can check out!
Mango chia pudding is a great way to start your day!
Mixed berry smoothie is a great way to flood your body with antioxidants!
No-bake creamy coconut bars are a great raw dessert that is gluten, dairy, and refined sugar-free!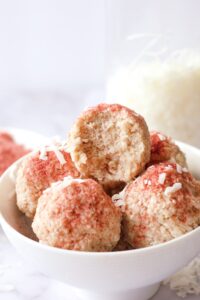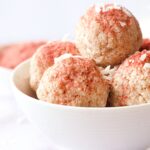 Print Recipe
Strawberry Macaroons
These no-bake strawberry macaroons are a healthy way to have a treat! They are gluten, dairy, and refined sugar-free and delicious!
Ingredients
3

cups

unsweetened coconut

2 ½

tablespoon

coconut oil

melted. you can use refined or unrefined

¼

teaspoon

pink salt

3

teaspoon

vanilla extract

4

tablespoon

maple syrup

4

teaspoon

coconut or almond flour

1

tablespoon

strawberry powder plus more for dusting

Check out recipe notes below to see the one I have.
Instructions
In a saucepan melt coconut oil if needed.

Turn the heat off and mix in the salt, maple syrup, and vanilla.

In your blender or food processor put in coconut, almond flour, and strawberry powder.

Pour in the coconut oil, maple syrup, salt, and vanilla.

Blend until all the ingredients come together.

Get about a tablespoon of the mixture and roll it into a ball and place it on a plate. Continue to do this until all the mix is used.

Dust them with some strawberry powder and refrigerate for 5-10 minutes. I like to keep them at room temperature after cooling, but you can also keep them in the fridge.
Notes
Here is the strawberry powder I use!