Growing up we ate good wholesome homemade dinners. It was usually meat, salad, and a side that most often came from our cellar. We definitly didn't have anti-inflammatory sweet & spicy cauliflower. Noone that I heard was even talking about anti-inflammatory foods!
We had a beautiful old home with a ton of character. I didn't know to appreciate all the woodwork, the huge sunroom, and wonderfully large rooms and high ceilings as a kid. Our basement could have been a house itself with a small kitchen, a big bathroom, and several small rooms. One of those rooms was the cellar. The cellar was full of perfectly organized cans of food and jars of food my grandma canned from floor to ceiling.
With the main grocery store being 45 minutes away, we weren't going shopping every week, thus making it harder to keep lots of fresh produce on hand.  I can't recall having a lot of sides like cauliflower, broccoli, or asparagus. Or some of my kids favorites like steamed artichoke, kale, and eggplant, yes, that's really some of their favorites!
Instead, my brother and I would take turns going down to the cellar to pick the can of food we wanted for our side at dinner. Of course, I always loved when it was my turn to pick the side. My top picks were green beans, and butter beans and my brother would give me an eye-roll when I came walking up the stairs with butter beans AGAIN!
These days I buy very little can food and more from the produce section. I love veggies, and we don't eat dinner without them. Cauliflower is one of those vegetables that is super healthy and is so versatile. You've probably seen recipes like cauliflower rice, or cauliflower breadsticks-yum, but I have to brag and say this recipe is one of the best recipes for cauliflower, and it came to me on a whim!
Adding cauliflower into your diet can add outstanding health benefits! The way it's prepared in this recipe makes it even healthier!  What you're eating is either making you feel better or make you feel worse. A lot of times we try to complicate things, but that sums it up. I don't know about you, but I want to feel better!
Check out some of the benefits of this amazing vegetable.
According to Dr. Axe cauliflower helps fight the early stages of cancer, shuts off tumor growth and helps prevent cancer.
Cauliflower fights inflammation! Why is this a big deal? Inflammation is at the root of disease and aches and pains we have in our bodies. This recipe has double power with the use of turmeric powder and black pepper! Need to fight inflammation? Check out how to simply make Turmeric Paste!
Great source of fiber to help regulate gut.
It helps balance hormones by reducing unhealthy amounts of estrogen in the body.
High in vitamin C can help boost the immune system.
Supports healthy vision
I hope you try this Anti-Inflammatory Sweet & Spicy Cauliflower. It's so simple and healthy!
*If you needed to substitute the hot pepper powder you could try mixing paprika with a few sprinkles of cayenne pepper.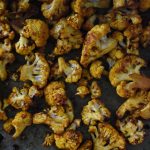 Print Recipe
Anti-Inflammatory Sweet & Spicy Cauliflower
Roasted cauliflower with turmeric
Ingredients
Marinade
4

Tbsp

Olive oil or Avacado oil

1 Tbsp reserved for top before baking

2

tsp

Korean hot pepper powder

Buy red pepper powder here

2

tsp

maple syrup

4

tsp

apple cider vinegar

1/2

tsp

pink salt

plus 1/4 for top before baking

1/2

tsp

black pepper

1/2

tsp

garlic powder

1

tsp

turmeric powder

Buy organic turmeric here
Instructions
Line a cookie sheet with parchment paper.

Cut florets off of the cauliflower and then cut into bite size pieces and put in a medium size bowl.

Make marinade by whisking all the ingredients for marinade in a small mixing bowl except the reserved olive oil and salt.

Pour marinade evenly over cauliflower and mix until well coated.

Pour onto your prepared baking sheet.

Drizzle reserved oil and salt evenly over top before baking.

Bake at 425 for about 35 minutes or until the cauliflower looks browed.
Elke is a participant in the Amazon Services LLC Associates Program, an affiliate advertising program designed to provide a means for sites to earn advertising fees by advertising and linking to Amazon.com.
Clicking on an Amazon link from Elke does not increase the cost of any item you purchase.
We will only ever link to Amazon products that we think our visitors may be interested in and appreciate learning more about.