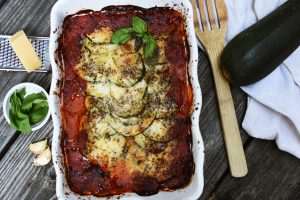 Are you always trying to eat more veggies? Most of us could probably stand adding a few more vegetables into our diets!  I don't know about you, but sometimes I get really bored with making the same things week by week. I'm always trying to add more veggies in our diets, so this Italian Zucchini Casserole is new to our menu!
When I'm walking through the produce aisle at the grocery store there are so many different vegetables to choose from, yet most of the time I buy the same stuff week by week. I don't know how many times I have bought something new swearing to try it but it sat….. and sat……and sat…. until I was forced to throw it away! Do you know what I usually do? I buy it again, and make myself use it!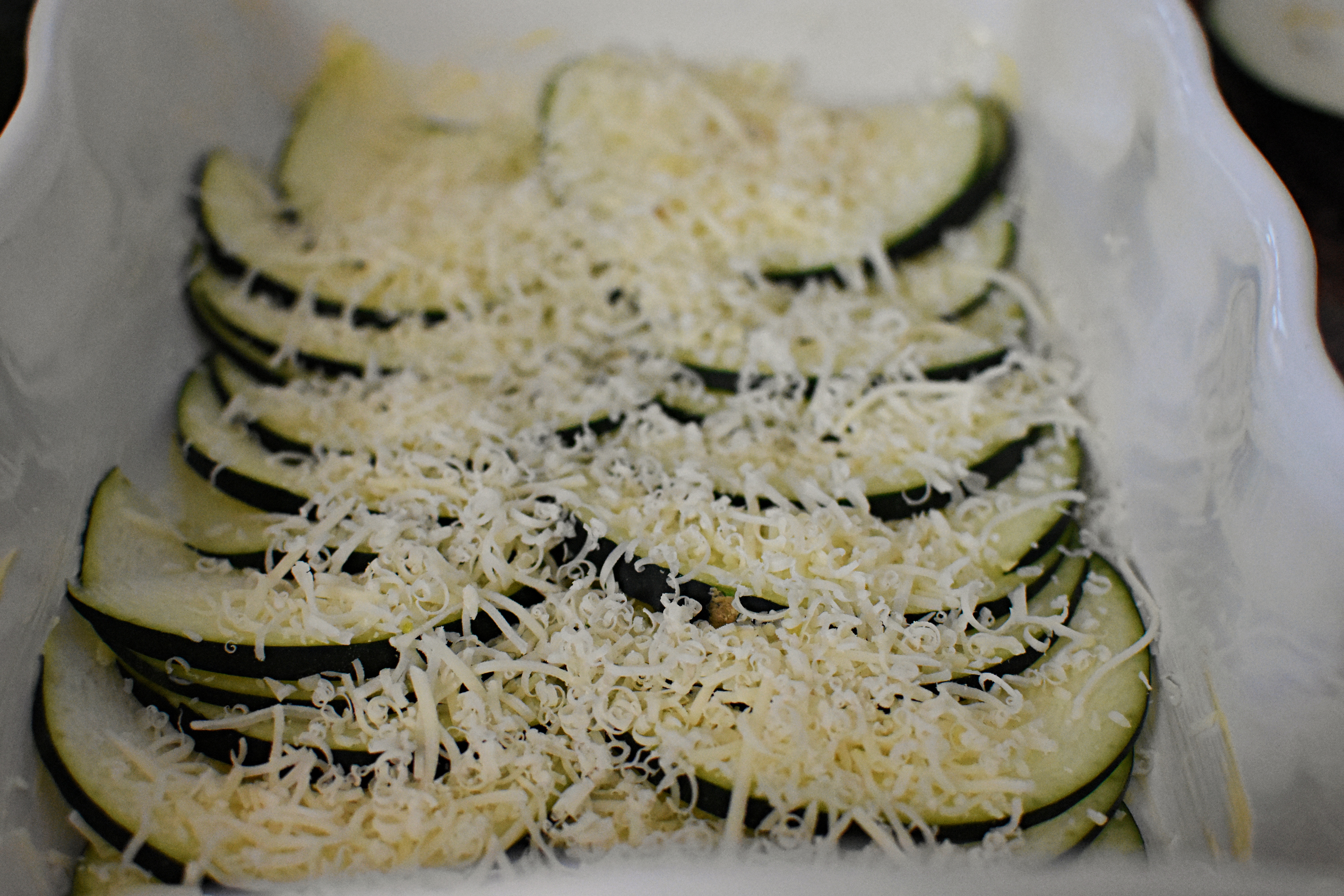 Funny how we can make ourselves do something……..
Are you eating enough veggies?
According to the CDC, only 1 in 10 adults get enough fruits and veggies in their diets. That number is really low, but at 2-3 cups of vegetables per day, its not always easy to get that in. I'm sure most of us could benefit from a vegetarian meal every now and then.
I know there are days we don't meet that requirement.  If you're trying to live longer and feel better, the more greens you can get in your diet the better!
I'm sure if you have a family you know the struggle is real. If my kids see something they don't recognize cooking in the kitchen I'm sure to get a "what's that?" in a very questionable voice or at the least a sad look…..
The good thing is I've found that if I continually make new dishes for them to try, they find new things that they love. The reward?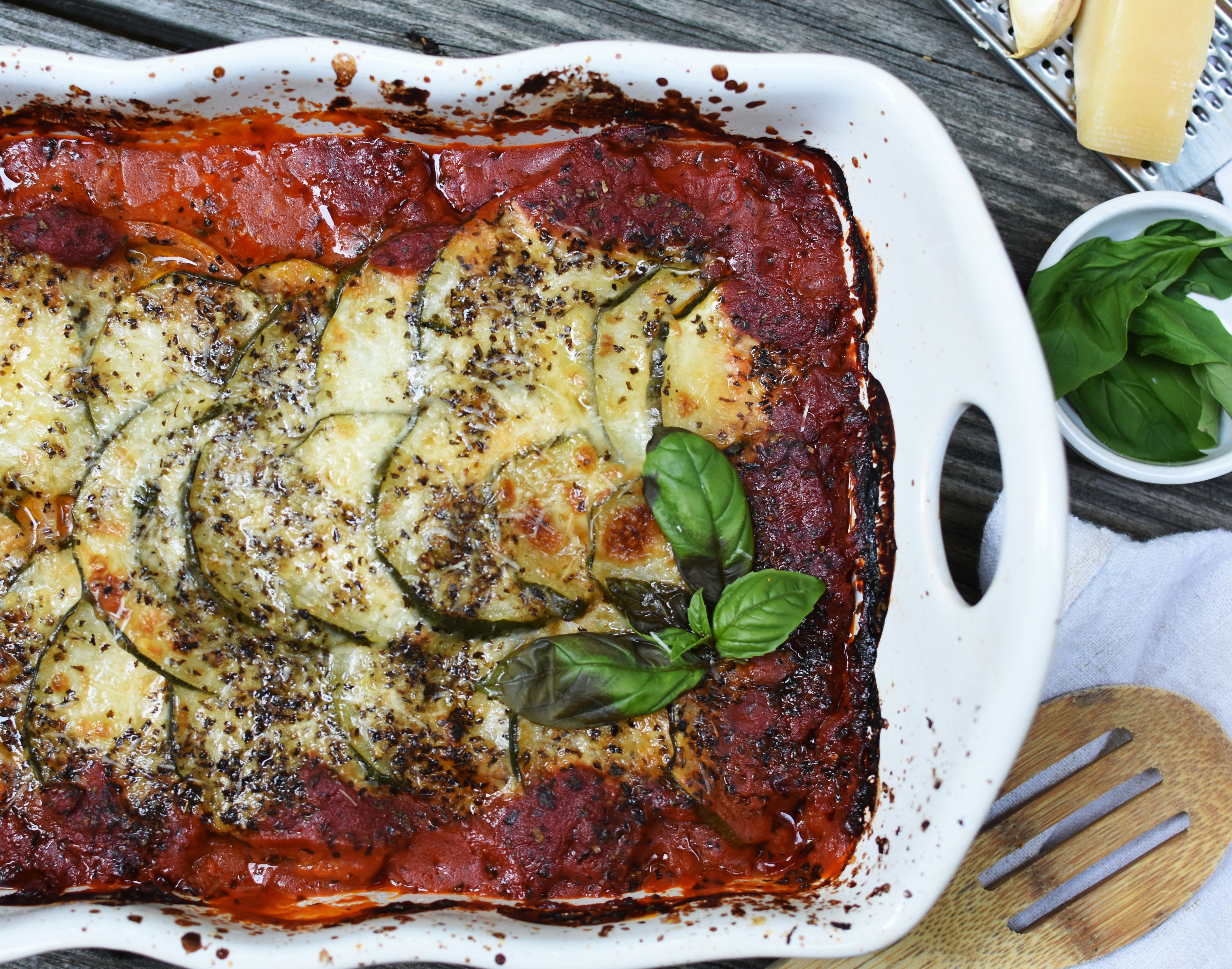 Looking across the dinner table and seeing your kid (or husband) eating up a new vegetable! For more vegetarian options check out my Lemon Garlic Butter Spaghetti Squash!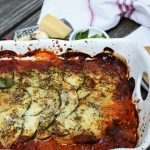 Print Recipe
Italian Zucchini Cassarole
Zucchini with melted cheese and marinara sauce.
Ingredients
Italian Zucchini Casserole Ingredients
1

Large

Zucchini

sliced

1

Medium

Onion

sliced

2

Cups

Shredded Mozzarella Cheese

½

Cup

Grated Parmesan cheese

grated

1

Cup

Marinara Sauce

2

tablespoon

Butter

melted

3

Cloves

Garlic

grated

½

teaspoon

Dry Basil

½

teaspoon

Ground Pepper

plus more to taste

½

teaspoon

Pink Salt

Buy pink salt here
Instructions
Directions
Brush the bottom of a medium size baking dish with refined coconut oil or butter.

In a small bowl mix together melted butter, grated garlic, basil, salt and pepper, set aside.

Start layering the zucchini in the bottom of the casserole dish like pictured above. When you get the first layer down sprinkle with a little salt and pepper, then a sprinkle of mozzarella and fresh parmesan, and a few slices of onion (putting smaller amounts of cheese in-between the layers and saving a larger amount to go on top.)

Repeat layer with zucchini, salt, pepper, and cheeses and onion ending up with the remaining of your cheeses on top. ( You should end up with 3-4 layers of zucchini depending on how big your zucchini is.)


Pour the melted butter/spice mixture evenly over the top.

With a spoon, place dollops of marinara along the edges of the dish.

Cover and bake 45 minutes.

Uncover, turn on the broiler and cook under broiler for 5-10 minutes or until nicely browned.
Elke  is a participant in the Amazon Services LLC Associates Program, an affiliate advertising program designed to provide a means for sites to earn
advertising fees by advertising and linking to Amazon.com.
Clicking on an Amazon link from Elke does not increase the cost of any item you purchase.
We will only ever link to Amazon products that we think our visitors may be interested in and appreciate learning more about.