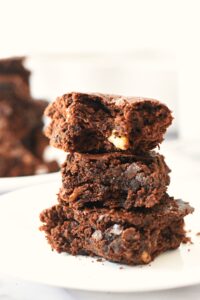 Making brownies at home is super easy and only takes a bowl and a wooden spoon. I think the only thing you will miss when you're making homemade brownies is ingredients like bleached flour and a MAJOR overload of sugar (one brand had 15 grams of sugar per serving and 20 servings….say what? That's 300 grams of sugar!)Another ingredient you may see is artificial flavors which could contain anywhere from 20-100 ingredients, no thanks. Once you make homemade brownies and see how easy they are you won't go back!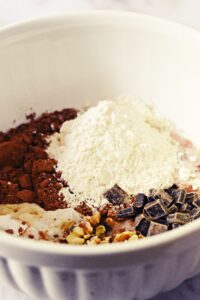 Making Vegan Brownies
These brownies are naturally going to be more healthy than the average brownie. Most recipes have 2 or more cups of sugar! That's a major amount of sugar and considering sugar is the number 1 cause of obesity reducing the amount we put in our treats makes a big difference.  All that sugar isn't necessary to make a delicious chewy brownie anyway. In these vegan brownies, I add a mix of brown sugar and maple syrup which gives them a deep rich sweetness!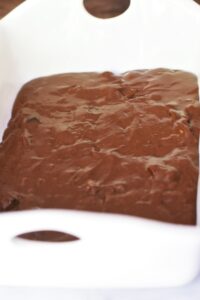 Whats Tahini?
Tahini paste can usually be found in your local grocery store in the international food section or with the other nut butters in the store. This paste is made from ground sesame seeds. If you are a hummus eater, you may notice it in the ingredient list. Like other seeds and nuts, seasame seeds have a list of health benefits and they are full of protein! Here are a few of the benefits.
Tahini is full of vitamins and minerals like thiamine, magnesium, phosphorus, zinc, and copper.
This paste can boost nuritent absorbtion.
It can help aid in weight loss by helping you stay fuller.
Anti-inflammatory.
Can help lower blood pressure.
Great for bone strength.
Good source of fiber.
Great source of protein.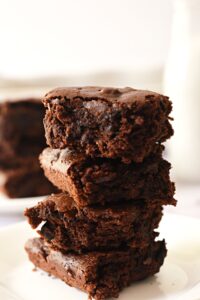 Adding tahini to these brownies adds an extra 24 grams of protein to these brownies!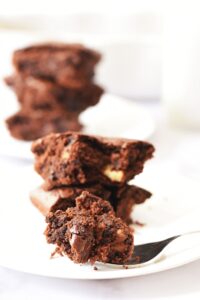 Can't find tahini?
If you can't find tahini in your local grocery store you can buy it here
 or replace it with almond butter, sunflower butter, or even peanut butter!
If you want more recipes using tahini paste you can make these Nourish bowls with tahini dressing or homemade hummus!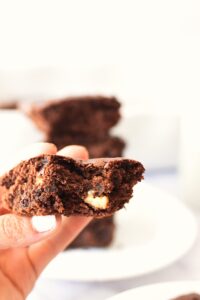 Print Recipe
Vegan Brownies
These chewy vegan brownies are made with tahini paste to give them a rich chewy texture and added protein!
Ingredients
1

cup

unbleached flour

½

cup

tahini paste

½

cup

brown sugar

¼

cup

maple syrup

⅓

cup

cacao powder

1

teaspoon

baking powder

¼

teaspoon

baking soda

¾

cup

plant-based milk

I used homemade coconut milk. You can find the recipe below in the recipe notes.

¼

teaspoon

salt

1

teaspoon

vanilla extract

½

cup

chopped walnuts

optional

½

cup

chocolate chips

I used dairy-free
Instructions
Oil a small baking dish. (I'm using a 9x6 but you can use other sizes. Just remember baking times will vary in different sizes.)

In a medium bowl mix together tahini paste, milk, sugar, maple syrup, and vanilla until completely incorporated.

Mix in the baking powder, soda, and salt.

Next, mix in the cacao powder and flour until you have a smooth batter.

Bake on 350 for 25-30 minutes. They may appear a little underdone when the knife is inserted to test. A little underdone is ok.
Notes
If you would like to make easy homemade coconut milk you can find the recipe here.