Hummus has gotten really popular in the last few years, and for good reason. Its a delicious, healthy and quick snack that's very versatile. Hummus is one of those things I would buy week after week. When we are having things like chicken for dinner Avah (who is mostly vegetarian, I say mostly because she will eat some hamburger….. sometimes….) can always eat hummus for her protein. As I do with most things, I buy them for a while, then get the bright idea that I can make it….I mean, I have to be able to make it cheaper than I can buy it, right?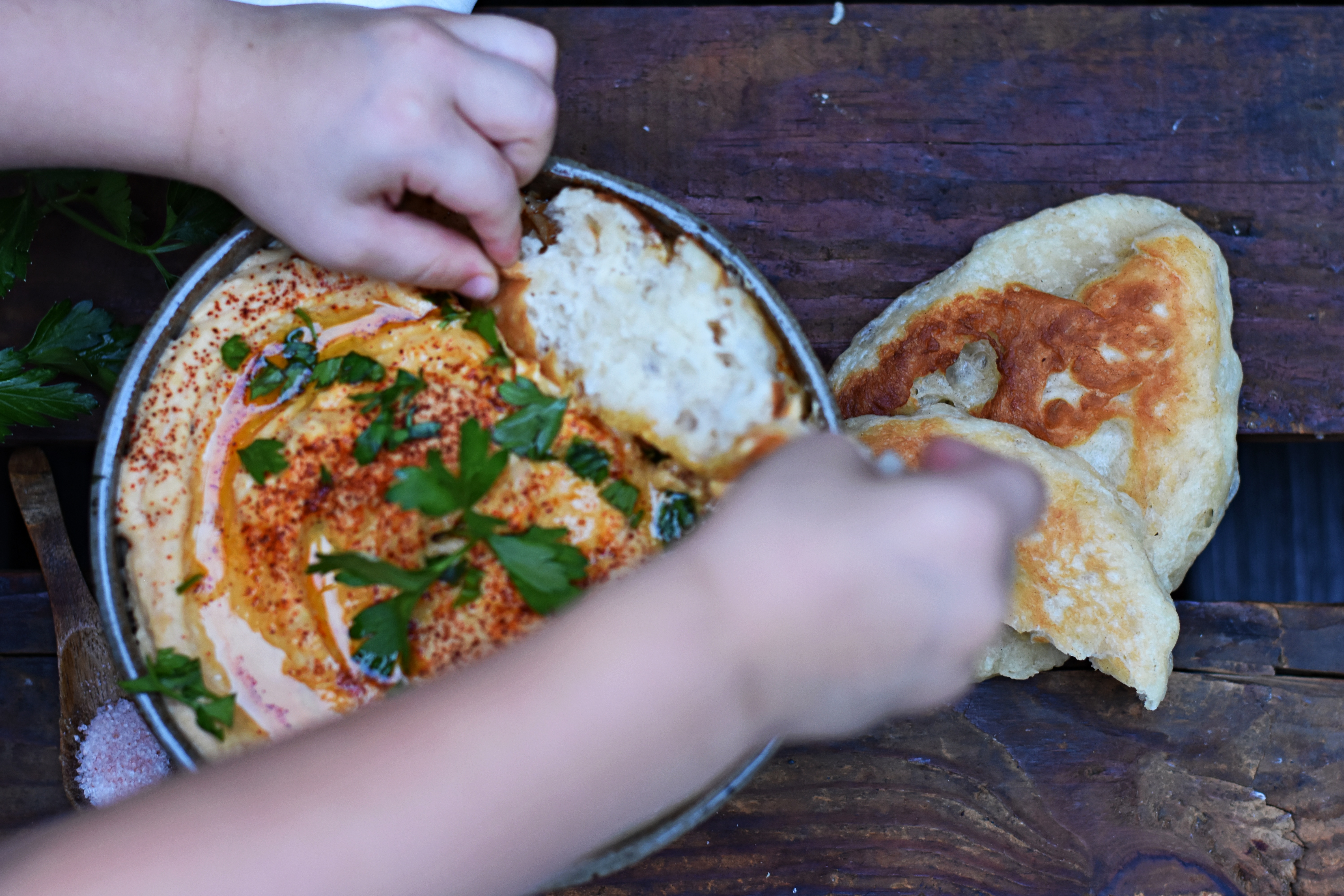 So I bought everything I needed, and came to find its not only super easy and cheap ( .99 cents for a can of organic garbanzo beans!) to make, but tastes WAY better, and when I mean way better, I mean it! It's simply delicious!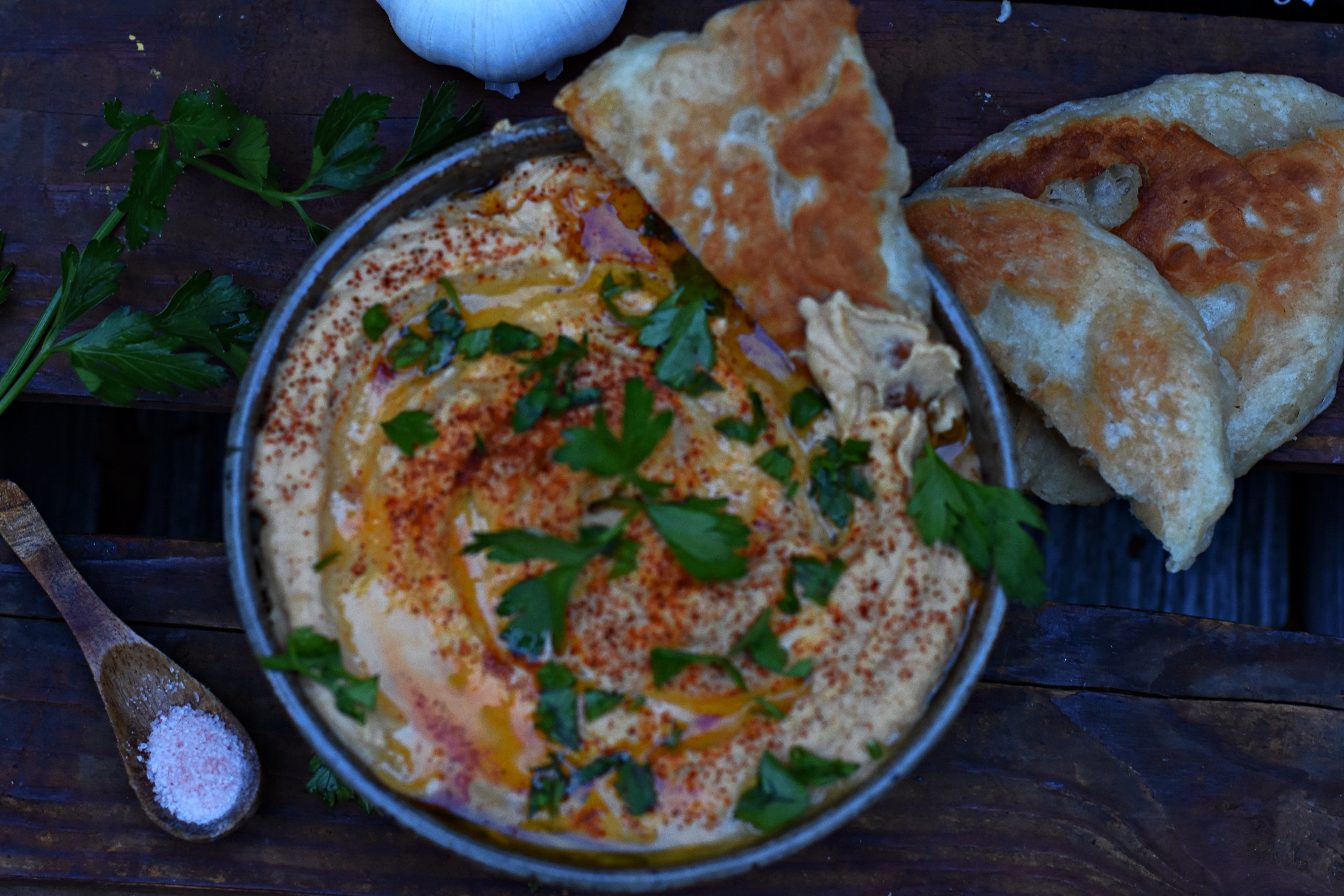 By making it at home we eliminate unnecessary ingredients like "natural flavors" and "canola oil" which are harmful and don't belong in health food! It's hard enough trying to eliminate these harmful ingredients from the junk food we eat, let alone worrying about it being in our health food! Let's take a look at some of  the benefits of chickpeas: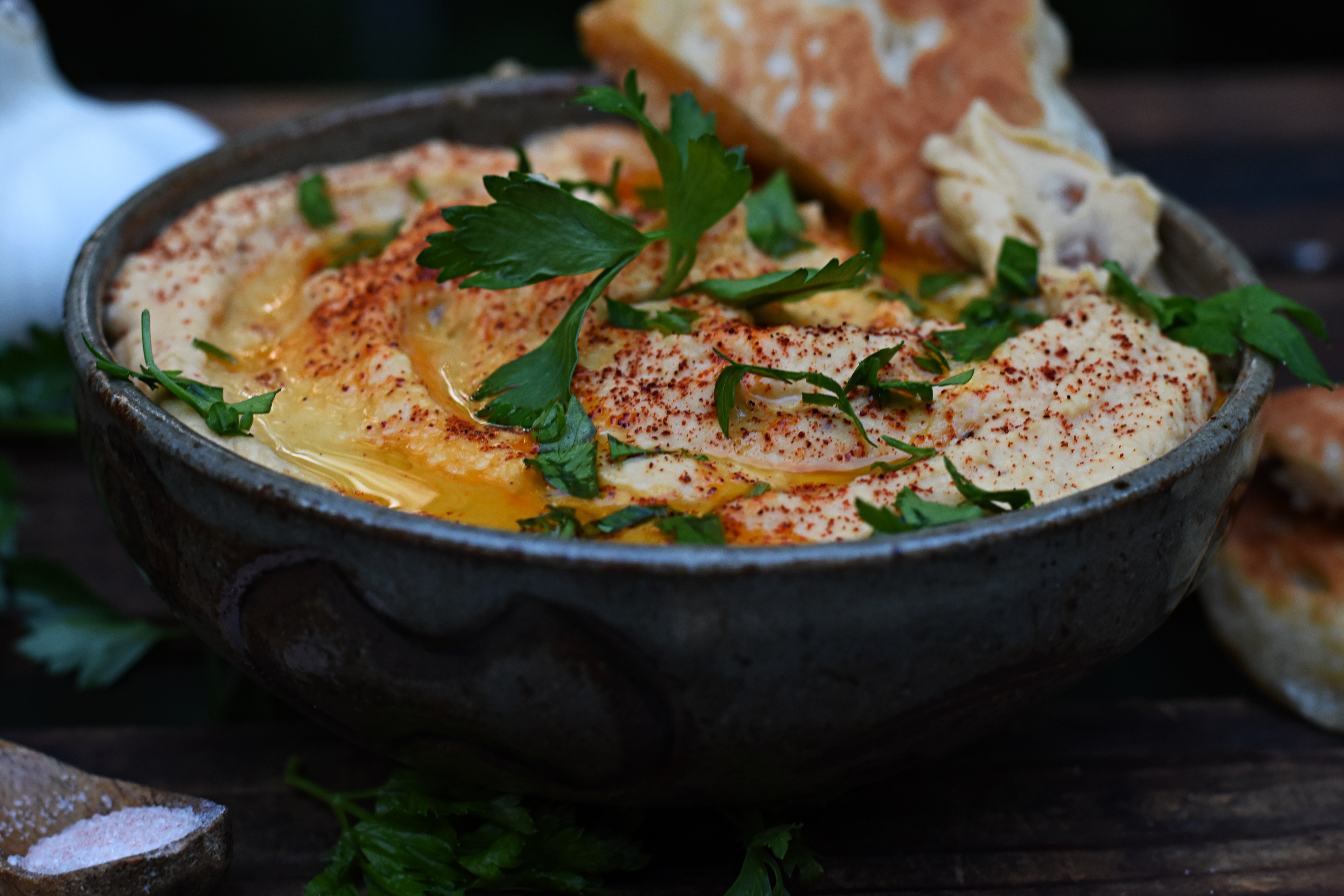 They are packed full of vitamins and minerals like manganese, folate, copper, phosphorus, and iron.
They are high in soluble fiber, making them a heart-healthy food.
It helps regulate blood sugar.
It helps detox sulfates in your body.
It helps boost energy levels.
Good source of protein.
They contain phytochemicals which can help reduce the risk of breast cancer.
Let's take a minute to ponder on this wise quote- "You are what you eat, so don't be fast, cheap, easy, or fake." unknown
For other healthy snacks, check out this Spiced Maple Trail Mix!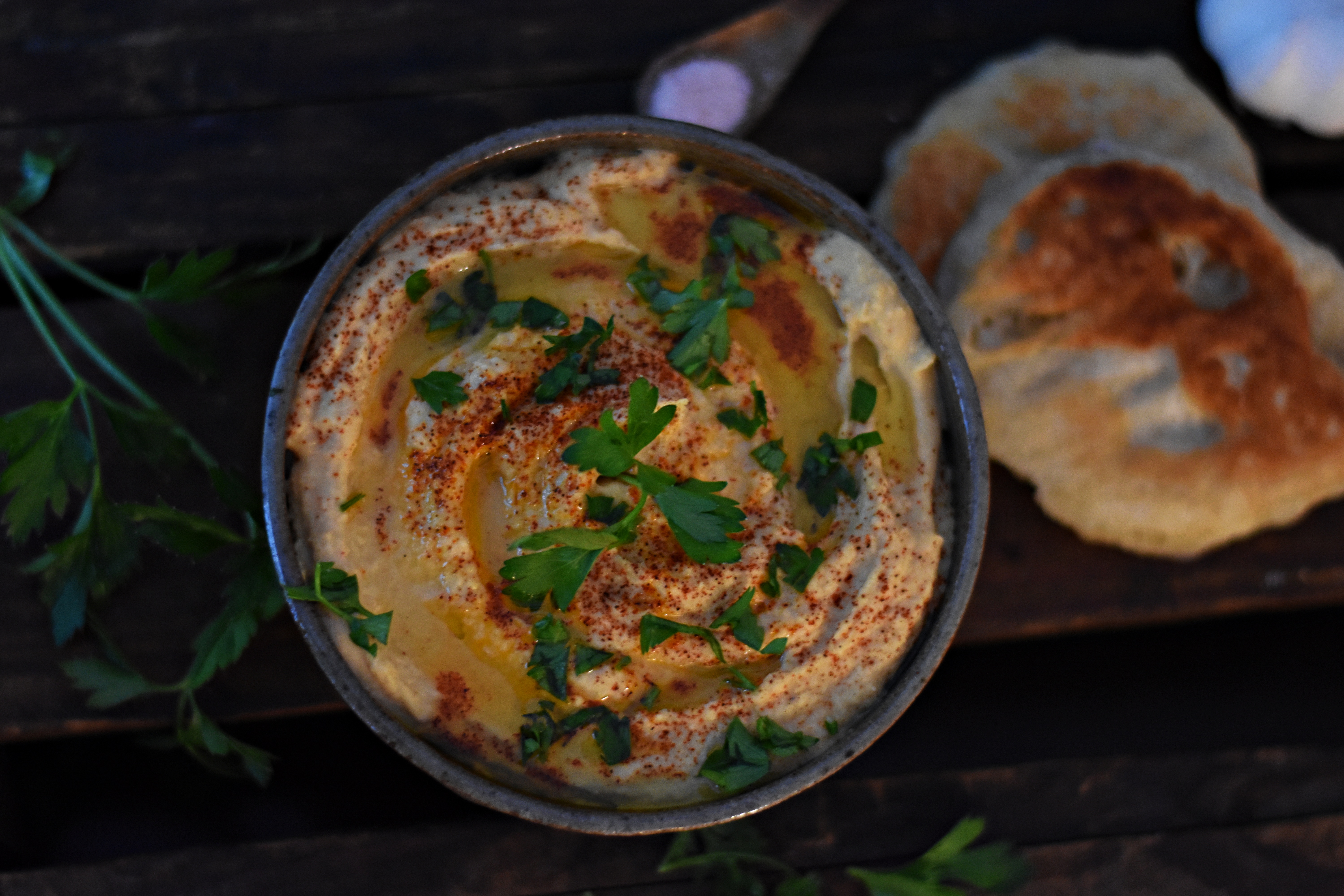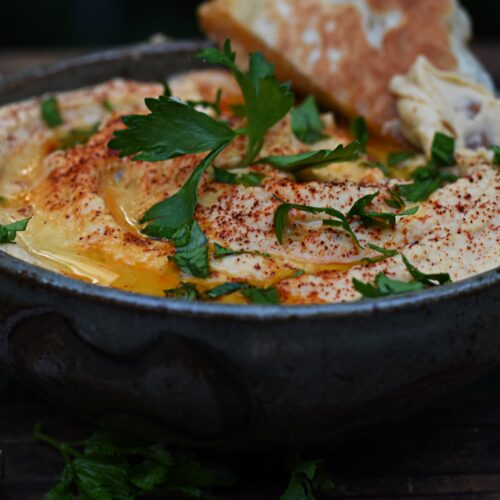 Print Recipe
Homemade Roasted Garlic Hummus
Homemade hummus is healthy and much cheaper than buying premade at the store! I love letting my kids gobble this up.
Ingredients
2

cans

garbanzo beans

at least 5 tbsp chickpea liquid reserved

1

head roasted garlic

1-2

tsp

tahini

Buy organic tahini paste here

1/4

tsp

paprika

1 to 1 1/2

tsp

pink salt or sea salt

depending on your taste

1/2

tsp

pepper

1/4

cup

olive oil

5

tbsp

chickpea liquid

more or less depending on the consistency you like

Olive oil, fresh parsley, and paprika for garnish.
Instructions
Preheat oven to 300

Place head of garlic in the oven on a cookie sheet with a drizzle of olive oil and roast garlic for 25-30 min. or until soft.

Let garlic cool and it should pop out easily.

Add beans, roasted garlic, tahini, spices, and olive oil to your Nutri Bullet.

With your Nutri-bullet or food processor, blend until smooth.

Add chickpea liquid 1 tbsp at a time and blend until you get a smooth consistency.

Place in a bowl, top with olive oil, chopped fresh parsley, and paprika.

Enjoy with fresh veggies, spread on Crusty Artisan Bread, or wraps!
Elke is a participant in the Amazon Services LLC Associates Program, an affiliate advertising program designed to provide a means for sites to earn advertising fees by advertising and linking to Amazon.com.
Clicking on an Amazon link from Elke does not increase the cost of any item you purchase.
We will only ever link to Amazon products that we think our visitors may be interested in and appreciate learning more about.