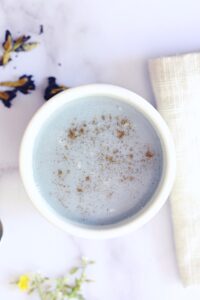 We all want to live a good and peaceful life. Stress-free. Worry-free. Most of us can say that we have felt the heaviness of unhealthy stress and anxiety. Maybe it's your job, your marriage, your kids, or just the everyday stresses of life. I believe more than ever in the midst of Covid-19 people are looking for ways to de-stress. Maybe you are someone who lives stressed out. The truth is we aren't just living stressed lives with no effect. Chronic stress can have major negative effects on the body. Check out in this post 6 ways to reduce stress at home!
How Stress can affect our bodies
Brain- stress can affect the way we think making it difficult for us to concentrate, make us more moody. and brain fog.
It can aches and pains in our joints due to increased inflammation.
It can cause a weakened immune system causing easier sickness and longer recovery time.
Stress can cause hair, nails, and skin to be dull, and dry.
Stress can cause a decrease in libido.
Stomach issues like diarrhea, constipation, and gut problems.
It can affect the endocrine system causing the adrenal glands to produce cortisol or "stress hormone" which can cause weight gain around the midline.
It can cause difficulty in sleeping and getting rest.
It can cause an increase in heart rate and can affect heart rhythms.
And many more!
Our bodies are our responsibility and ignoring the stress isn't helping us. By ignoring it we are only hurting ourselves and the people we love.
I'm going to share with you six ways we can help reduce and manage stress affordably and effectively. 
Chamomile Tea
Chamomile tea is a cheap and effective way to reduce stress. It can be found in your local grocery store and can be bought for just a few dollars. Does it really work? Yes! Chamomile tea is known to relieve stress by increasing serotonin and melatonin both hormones that help relieve stress. It is also known to promote better sleep, heart health, immune health, and digestion! You can drink this tea by itself or you can make chamomile tea with other added stress-relieving herbs like pictured here. I will post the recipe for this amazing calming blue chamomile tea made with ashwagandha and butterfly pea flower below. Butterfly Pea flower is not only beautiful in color but has been used for reducing stress and anxiety. It has also been helpful for people that find it difficult to sleep. You can buy Butterfly pea flower here!
 You can skip adding the ashwagandha, but before you do check out why its next on my list!
Make sure to purchase good quality organic chamomile tea!

Ashwagandha
Ashwagandha (a type of ginseng) is an adaptogenic herb that can help the body to increase its resistance or tolerance to stress. According to Dr. Axe, many studies have been done on this herb and its ability to.
Treat adrenal fatigue
Reduce anxiety and depression
Reduce stress
Boost the immune system
This herb has been used for thousands of years and is worth having on hand. I like to add it to my smoothies and it also works perfectly in this stress-relieving tea posted below. If you can't find it in your local market you can purchase it here!
Other adaptogenic herbs include holy basil, Panax ginseng, astragalus root, licorice root, Rhodiola, and cordyceps mushrooms!

Magnesium
Magnesium plays an important part in many parts of the body. 80% of people are deficient in this vital mineral. Deficiency in this mineral can cause symptoms like anxiety and trouble sleeping. Other symptoms may include insomnia or trouble sleeping, behavioral disorders, mood swings, and much more.
This mineral can help calm nerves by producing serotonin, and regulating hormones which helps you to relax and calm the brain.
Magnesium can help to calm your mind for good restful sleep.
It can also help to relax muscles.
You can consume magnesium by eating foods like leafy greens, melons, nuts, beans like mung beans and black beans, seeds, and avocados.
If you would rather take a supplement you can check out this post on making affordable magnesium oil in just minutes or you can buy a supplement here!
B-Vitamins
Another one of the 6 ways to reduce stress at home is B Vitamins! B Vitamins benefit people that suffer from stress and anxiety. These important vitamins help produce neurotransmitters in the brain. These neurotransmitters carry signals all throughout the body which can affect mood, energy, and help regulate anxiety levels and stress levels. B vitamins also prevent the production of homocysteine, which could lead to stress and anxiety.
Could you benefit from adding more vitamin B to your diet? Some symptoms of a lack of vitamin B can be:
Chronic fatigue
Changes in your memory
Skin conditions like acne
Brittle hair and nails
Shortness of breath
Emotional problems
Irregular heartbeat
Digestive problems
Fatigue and weakness
Depression and anxiety
Some foods you can increase in your diet to get more B vitamins are seaweed, sunflower seeds, nutritional yeast, grass-fed meats, eggs, almonds, tahini, mushrooms, sardines, avocado, raw milk, beans, leafy greens, berries, and more.
You could also take a supplement. Here is the one i take!
Exercise
One of the best ways to relieve stress is exercise. Now, if you're anything like me this isn't something that your longing to do every day, but it's worth it if you are trying to relieve stress. Here are some things exercise can help with:
Exercise releases mood-elevators and painkilling endorphins to the brain.
Stress is exaggerated in people who are inactive.
People who exercise tend to sleep better.
Exercise reduces levels of adrenaline and cortisol.
Physical fitness helps promote mental fitness.
If you aren't physical at all, start with taking a walk. Invite a friend along or put some earbuds in and listen to some relaxing music. Even a simple walk can help clear your mind and reduce stress.
Rest & Relaxation
Taking time to rest and relax is important. So many of us go from day to day not stopping to just enjoy life or the peacefulness of the outdoors. Here are a few ways to relax, de-stress, and recharge.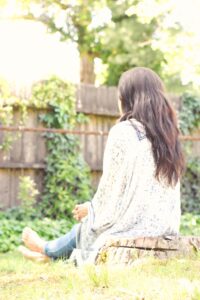 Make time to connect with family or a good friend. Take a walk with them or have a picnic. Social connection is tied to a long life. Enjoy the people around you.
Spend time outdoors. Spending time outside with no interruptions. If you have kids, give them a task and take 15 minutes to breathe fresh air and enjoy a few minutes of much-needed sunshine.
Diffuse essential oils like lavender, clary sage, peppermint, valerian root, chamomile, or ylang-ylang.
If you tend to be a more emotional person and can't seem to find anyone to express your feelings to, keep a journal. Journaling can help you to track positive and negative feelings. Writing these feelings down can help you to recognize what may be causing the stress and come up with a plan to make the changes that are necessary.
One thing I use for stress is breathing exercises. Most of us probably breathe shallow, short breaths. Taking just a few minutes of slower breathing can have positive results for stress and anxiety. One breathing exercise I have recommended is 4-7-8 breathing. To do this exhale through your mouth and release all air. Close your lips and inhale through your mouth for 4 slow counts. Hold your breath for 7 counts, then release your breath in 8 counts.  I've read that this breathing can be like a tranquilizer to your body.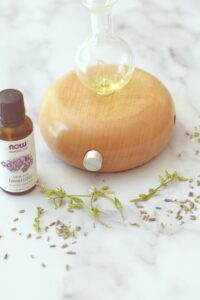 So take a few minutes for yourself. Start today by picking one of these 6 ways to reduce stress at home!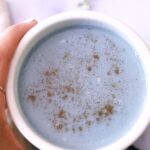 Print Recipe
Relaxing Blue Chamomile Milk
This relaxing chamomile tea is a powerful stress-relieving tea with ashwagandha and butterfly pea flower.
Ingredients
1

cup

unsweetened coconut milk

or milk of choice

1

chamomile teabag

1

tablespoon

butterfly pea flower

1

teaspoon

ashwagandha powder

2

teaspoon

local honey or maple syrup
Instructions
In a saucepan measure in milk and heat to a simmer.

Whisk in ashwagandha. Drop in the teabag and 1 tablespoon of butterfly pea flower.

Simmer for a couple of minutes then turn off the heat and let steep for a couple of minutes.

Strain into your favorite mug and stir in sweetener.
Notes
If you are looking for ashwagandha or butterfly pea flower I link them in the post!
Elke is a participant in the Amazon Services LLC Associates Program, an affiliate advertising program designed to provide a means for sites to earn advertising fees by advertising and linking to Amazon.com.
Clicking on an Amazon link from Elke does not increase the cost of any item you purchase.
We will only ever link to Amazon products that we think our visitors may be interested in and appreciate learning more about.