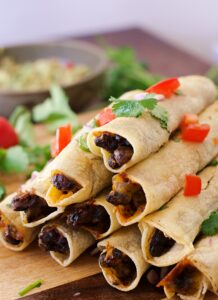 If you are looking for some quick lunch, dinner ideas, or party food, this just may be your go-to dish!  I don't know about you but Mexican is my jam. I love a good street taco, guacamole, and delicious salsa. But taquitos, they are amazing! I also love a good crunch! And a dinner you make in 30 minutes or less! It's a win-win kinda situation!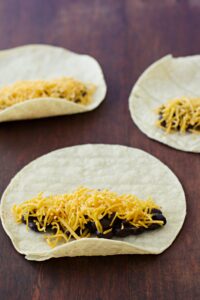 Baked taquitos not fried
Taquitos are usually fried in oil on the stovetop, but in this recipe, I baked them. Baking them is not only healthier but easier! I don't know about you but I don't always have the time to stand over the stove and fry. It saves time to be able to pop them right into the oven and walk away for a few minutes. If you decide that you would like to fry these taquitos, you can shallow fry them. Just add about a half-inch of oil in the bottom of a frying pan and fry rolled side down first for a couple of minutes, then flip and repeat on the other side.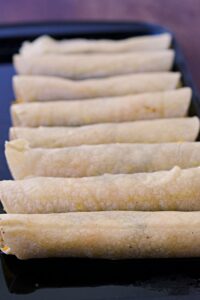 Making the taquito filling
You can fill these bad boys with so many things. For this recipe, I fill them with a delicious black bean and cheese filling. This filling makes this recipe really cost-effective and convenient. Most of us have a can of black beans in our pantry. I like to use the organic simple truth spicy black beans for this. If you only have plain black beans you will need to season them up a little more by adding a little more seasonings than the recipe calls for. I also like to add a touch of spicy salsa for a kick of flavor and add a touch of acid. It makes them so flavorful! The struggle…. not to eat the black beans out of the pan by themselves!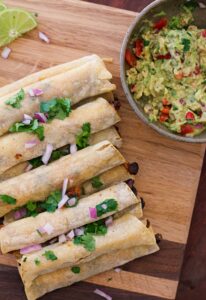 Can I make this recipe with flour tortillas?
I know everyone has a tortilla they like best. I always liked flour tortillas best until I started eating at the Mexican food trucks. You can get these delicious street tacos made with corn tortillas and it completely shifted me from loving flour tortillas to corn tortillas! So, if you are a flour tortilla fan can you make this recipe with flour tortillas? The answer is yes. Instead of being called a taquito, it would be called a flauta. Flautas are just like taquitos but made with a flour tortilla. So if that's what you prefer, go for it!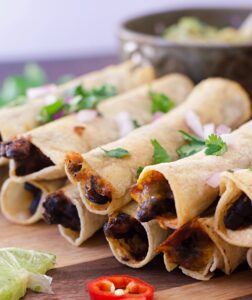 If you love Mexican food, you may want to check out some of these favorites!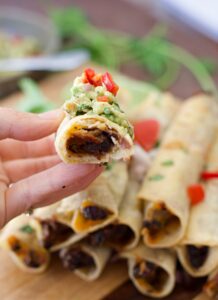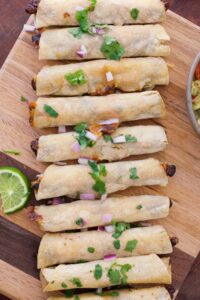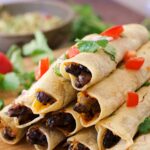 Print Recipe
Baked Taquitos
These vegetarian baked taquitos make the perfect quick dinner or party food! These crispy little tacos are full of flavor and crunch!
Ingredients
1

can

spicy black beans

drained

1

tablespoon

salsa of choice

½

teaspoon

salt

will need more if you are using plain black beans

½

teaspoon

of each cumin, garlic powder, and paprika

1

cup

cheddar or Mexican style cheese

give or take

12

pack

corn tortillas

4

tablespoon

olive oil

separated
Instructions
Open and drain beans then pour into a small saucepan to heat on low heat.

Add salsa, and seasonings to the beans and stir well. If you have plain black beans you may want to add more seasoning. When beans are warm you can turn off the heat.

With about 1 tablespoon of the oil, brush both sides of the tortillas and place in the oven for about 2-4 minutes just until the tortillas are soft and pliable to work with. If you would rather warm them in a skillet, you can do so by brushing them with the oil and warming them on low heat in a frying pan just until they are pliable.

Prepare a baking sheet by adding the remaining olive oil to the bottom of the cookie sheet and spread it evenly.

Add about a tablespoon of bean mix and a tablespoon of cheese to the tortilla shell in a narrow line more toward one end. (like pictured above) Do not overfill!

Roll it up tightly (do not tuck ends in like you would with a burrito). Then place the crease side down on the cookie sheet with the oil.

Repeat until all are rolled and placed on the cookie sheet.

Bake about 7-10 minutes then flip and bake 7-10 more until crisp.

Serve with guacamole, salsa, sour cream, etc...