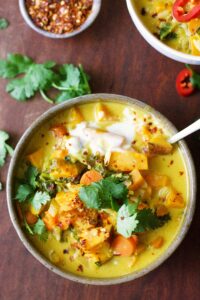 If you are looking for a warm and healthy quick dinner, this sweet potato stew makes the perfect meal. Sweet potato stew is great for detoxing with loads of healthy ingredients, anti-inflammatory properties, and fiber! Adding meals like this into your diet can be the start of feeling better and living healthy!
Sweet potato stew and all the health benefits
There are so many good ingredients in this vegan stew! Let's take a look at why this stew would be great to add health benefits into your diet and even help you detox.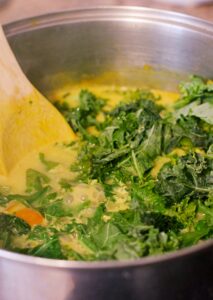 Coconut milk- helps to strengthen the immune system. Because it is rich in lauric acid it can help reduce bad cholesterol and increase good cholesterol. Coconut milk is great for weight loss. It improves digestion and lessens inflammation!
Sweet Potato- sweet potatoes are great for eye health and they can help to improve memory. They are good for improving the immune system and contain anti-inflammatory properties. Looking to get more vitamins? Sweet potatoes are rich in iron, beta-carotene, potassium, vitamin A and fiber!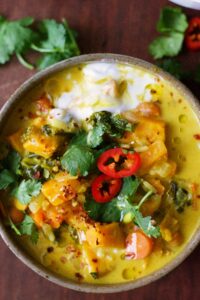 Kale- this amazing superfood has many benefits! Kale is rich in antioxidants and great for the immune system. Great for weight loss and high in protein this super green is definitely a fit food! Kale is also great for the colon because it's high in fiber. This super green also has thiamin, folic acid, iron, magnesium, copper, vitamins A, C, K, B6, and more!
Tumeric- This amazing root has many benefits! It can support joint and muscle health and fights body-wide inflammation. Promotes radiant youthful skin. This spice optimizes the liver which is the primary organ for detoxing! It protects again Alzheimer's by fighting inflammation and also aids in digestion!
These are just a few of the benefits of some ingredients in this sweet potato stew!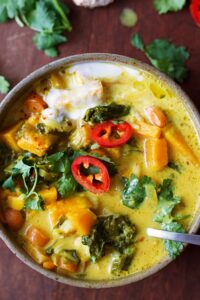 Variations of sweet potato stew
You can make different variations of this vegetarian stew by adding your favorite greens or grain. If you're not a fan of kale you can substitute spinach or swiss chard.
You can also add any type of rice you like. The best options for this soup would be jasmine, basmati, or wild rice. or sub rice altogether for something different like lentils, quinoa, black beans, or chickpeas!
In addition to what I used for toppings, you could also use chopped onions, diced avocado, mint leaves, pine nuts, or pumpkin seeds.
If you are looking for a stew that is comforting yet healthy this is your dinner!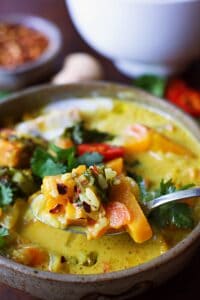 For other healthy vegan dinners like this one check out these amazing recipes!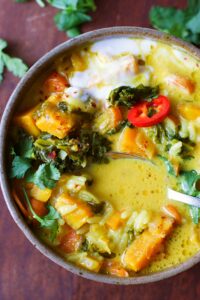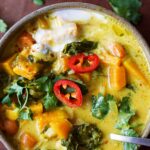 Print Recipe
Sweet Potato Stew
This comforting sweet potato stew is a delicious stew with coconut milk, turmeric, kale, and rice. It is great for detox!
Ingredients
1-2

tablespoon

olive oil

1

medium

white or yellow onion

diced

1

inch

chopped fresh ginger

3

large

garlic cloves

grated or diced small

2

teaspoon

pink salt or sea salt

1

tsp each

paprika, turmeric, and black pepper

⅛

teaspoon

cinnamon

dash

of both nutmeg and cayenne pepper

4

carrots sliced

3

cups

spinach or chopped kale

4

cups

sweet potato

diced (about 1 very large or 2 smaller sweet potatoes)

1

32 oz

vegetable stock

1

13.5 oz

can of full-fat coconut milk

1

serving

cooked jasmine, basmati, or wild rice

cooked according to directions on the box
Instructions
Cook one serving of rice according to the directions on the package and set aside.

Clean and chop onion, ginger, carrots, and sweet potato. I left the skin on the sweet potato.

Heat a soup pan on medium-low heat with the olive oil. Saute the onions and ginger for a couple of minutes.

Add in the carrots, grated garlic, and the diced sweet potatoes and stir.

Season with salt, pepper, paprika, turmeric, cinnamon, nutmeg, and cayenne.

Stir in the coconut milk. (If you would like to reserve some coconut cream for a topping for your stew at the end. Spoon out about a tablespoon and set aside.)

Stir in the vegetable broth.

Wash kale then chop it into bite-size pieces. Stir into stew.

Simmer stirring occasionally for about 25-35 minutes or until vegetables are tender. Taste and add more salt or pepper if needed.

Serve and top with your choice of chopped cilantro, chili flakes, reserved coconut cream, or fresh jalapenos.