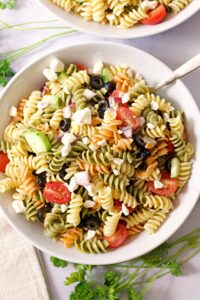 If you need the perfect dish to take to a picnic or get-together, then this is your dish! Greek pasta salad is filling, fresh, and super easy to make. Pasta salad is also very versatile. Missing an ingredient….no problem you can add different veggies in here and there and it will still be a star dish!
How to make the best greek pasta salad
We all want our dishes to be successful right? I believe there is one key to making your pasta salad taste fresh and a step above average. The dressing. I know it's easy to grab some wishbone Italian from your local grocery store, but I promise you won't miss the taste of soybean oil and msg when you make your own. Instead, you will get the fresh, bright flavors of real ingredients. It makes all the difference! I like to use good quality olive oil, ACV with the mother for extra health benefits, and fresh garlic. Healthy? Yes! Delicious? Yes! I'll say it again. It makes all the difference!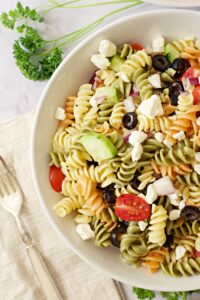 Can I make pasta salad the day before?
Yes! If you need to make your pasta salad the night before then go for it. Pasta salad is one of those dishes that will taste great the next day even after it sets. Heres just a couple of tips to make sure it's the best it can be? If you let it go beyond a day the pasta may absorb most of the dressing and it may become a little dry. If this happens, no problem, add an extra drizzle of olive oil and a splash of vinegar and salt and pepper. This will give it a flavor blast and that's exactly what pasta salad needs.
If you are making this the night before hold off on adding the cheese. Cheese can tend to fall apart or get weird when it gets wet, so measure it out into a ziplock baggie and mix it in before you eat it.
If I have greens on hand like spinach or arugula I like to add a couple of handfuls in. If you are making this dish in advance leave them out until you are ready to serve so the greens don't wilt.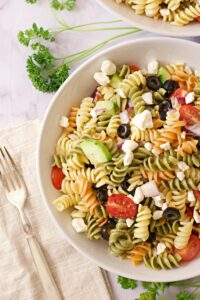 How to make greek pasta salad vegan
A lot of people are eliminating dairy due to restrictions in their diet or for health reasons. If you want to make this greek pasta salad vegan no problem! This pasta salad is completely vegan except for the feta cheese. All you need to do is eliminate the feta and this dish is ready to go to your next vegan get-together! To replace the saltiness that feta brings, replace the black olives with some kalamata olives.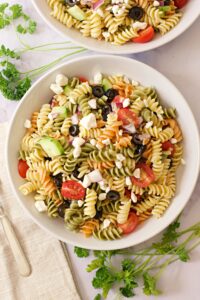 If you are looking for other dishes to take to your next picnic or BBQ check out these dishes.
Apple & walnut salad with honey poppyseed vinaigrette
Oatmeal chocolate chip cookies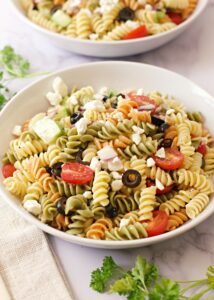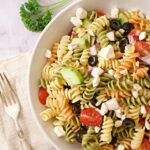 Print Recipe
Greek Pasta Salad
This Greek pasta salad is simple to make and full of fresh flavors.
Ingredients
1

12 oz box

tri-color rotini pasta

cooked with 2 teaspoon of salt

¼

cup

olive oil

¼

cup

apple cider vinegar

1

teaspoon

pink salt or sea salt

taste and add another ½-1 teaspoon of salt if needed

1

teaspoon

pepper

or more to taste

2

large

garlic cloves

pressed or grated

½

cup

diced cucumber

12-15

cherry tomatoes

cut in half

3.8

oz

can of black olives

or a ½ cup of seedless kalamata olives

¼

cup

diced red onion

½

cup

feta cheese
Instructions
Dressing
In a small mixing bowl add in oil, vinegar, salt and pepper, and grated garlic. Mix well and set aside.
Pasta salad
Cook pasta according to directions on the box (about 11 minutes). Make sure to add 2 teaspoon of salt to the water. Strain and set aside.

While the pasta is cooking dice onion, and cucumber. Half the cherry tomatoes and slice the olives (if needed.) Set aside.

Pour pasta into a serving bowl. Let Cool. If the pasta is slightly warm it's ok. You will refrigerate after you get it all together.

Mix the veggies and olives into the pasta.

Pour the dressing over the pasta and mix well.

Fold the feta cheese into the pasta.

Taste and add more salt and pepper as needed.

If you are making this the day before check out the tips in the post.

Refrigerate until you are ready to serve.