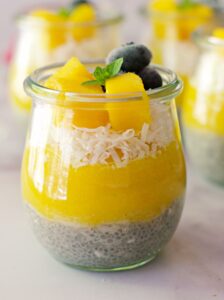 Looking for quick healthy breakfasts can feel hard. However, there are breakfasts you can prep ahead of time that allow you to have a healthy breakfast all week. Chia pudding is a great way to get a nutritious breakfast prepped in just minutes! Chia seeds are a great superfood to incorporate into your diet. Let's check out some great things about this mango chia pudding!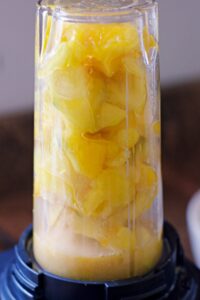 Is mango chia pudding good for weight loss?
The answer is yes! Chia seeds have amazing benefits and weight loss is just one of them. Chia seeds can give you increases energy and have protein for added "fuel" and muscle building. According to Dr Axe, chia seeds rank one of the top plant-based proteins. This makes it great for those trying to gain lean muscle, burn fat, and manage hunger and appetite. High protein foods can help you to cut cravings and eat less.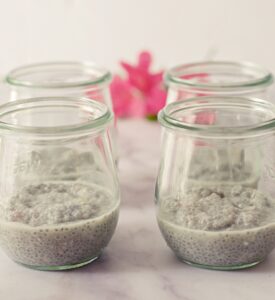 Chia seeds are also high in fiber. Increasing your fiber intake is a great tool for weight loss by helping your body eliminate more regularly and preventing constipation.
Chia seeds also get the gel around them when they are combined with a liquid. This helps them to take up more space in your stomach making you feel full longer!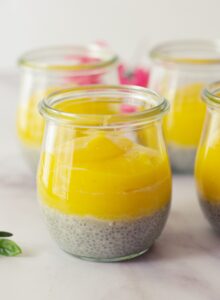 Can I let chia pudding set overnight?
Yes. Chia puddings and overnight oats are known for great ideas for meal prepping. They are quick and easy to make and provide an easy and healthy breakfast for the week. Letting them sit overnight gives time for your chia pudding to thicken to a perfect consistency. The great thing about chia pudding is you don't have to let it sit overnight. Chia gels up pretty quickly, so if you are in a hurry and want a quick, healthy snack, it will thicken up by the time you prep the mango for this pudding!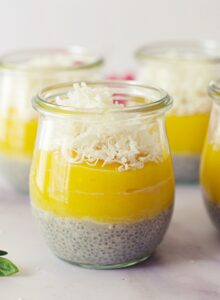 Are mangos healthy?
Mangos are super healthy and great fruit to add to your diet. Here are a few of the benefits of mangos: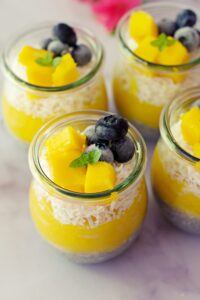 Mango has high in vitamin C which helps to boost the immune system.
They have glutamine acid which helps with memory.
Rich in vitamin A for the eyes.
Digestive enzymes to aid with digestion.
High in antioxidants which help to fight cancer.
Mangos are full of vitamins and minerals which help your body to lose weight.
They are high in fiber which is great for people who are anemic or vegan.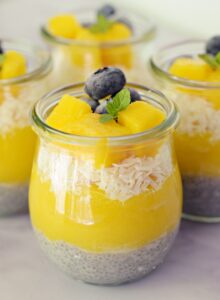 This chia pudding makes the perfect breakfast for a healthy lifestyle and for weight loss. If you don't like the texture of chia seeds you can grind them first and then add them to the milk. This will make the texture more smooth.
This mango chia pudding is gluten-free, dairy-free, and refined sugar-free! For other snacks or breakfast like this check out: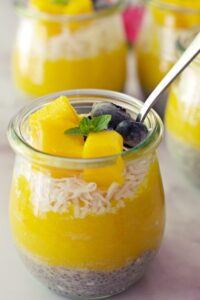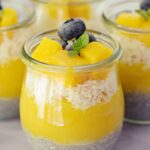 Print Recipe
Mango Chia Pudding
This mango chia pudding makes a delicious snack or breakfast. Vanilla chia pudding is layered with smooth mango and topped with coconut and fruit!
Ingredients
Mango Puree
2

mangos

¼

cup

coconut milk

or other plant-based milk

1

tablespoon

maple syrup

1

teaspoon

vanilla extract
Chia Pudding
1

cup

coconut milk

or other plant-based milk

4

tablespoon

Chia seeds

1

teaspoon

vanilla extract

3

tablespoon

maple syrup

toppings can be unsweetened coconut, blueberries, strawberries, mango chunks, etc...
Instructions
Chia Pudding
In a medium bowl pour in the milk and add the remaining ingredients. Stir well and set aside.
Mango Puree
Cut both mangos reserving a few chunks for the topping of each jar if you would like. I like to cut mango by cutting off large slices and then scooping it out with a spoon.

Put cut mango slices into a blender or Ninja. add the milk, maple syrup, and vanilla and blend until smooth.
Assemble into 4, 4 oz jars
Divide the chia pudding evenly between the 4 jars.

Spoon in the mango puree evenly distributing between the 4 jars.

Top the jars with coconut and your choice of fresh fruit (let over mango, blueberries, strawberries, etc...

Cover and chill in the fridge. These can be eaten throughout the week or right after they are chilled.