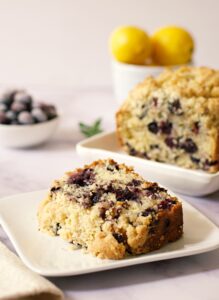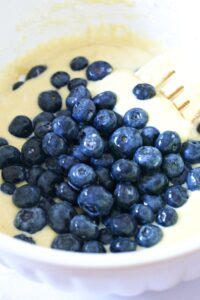 Do you love the flavors of summer?  Lemon blueberry bread screams summertime! A loaf of quick bread is an easy way to make a light dessert or a special breakfast. If you have never thrown together a quick bread now is your chance. Amazing lemon blueberry bread with a delicious streusel topping will be sure to please.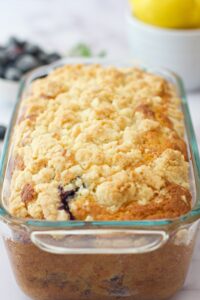 Can I make this lemon blueberry bread vegan?
A recipe like this would be easy to veganize. More and more people are trying to cut dairy these days. I like to make a good bit of our desserts and meals dairy-free. There are so many healthier alternatives to dairy. Conventional dairy or non-organic dairy is full of harmful chemicals. Using organic dairy or switching to good quality plant-based products is a great choice for your health.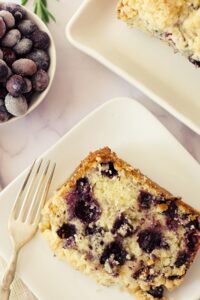 To make this recipe vegan you can easily switch butter to plant-based butter or coconut oil. I use coconut oil when I make desserts vegan. When I use coconut oil I like to cut the amount down a bit say from 4 tablespoons to 3 and add a touch more salt. Another thing you can easily sub is the milk for plant milk like coconut or almond. We mainly use coconut in our house. For desserts, I like to use chia eggs in place of regular eggs and feel they work really well. Making these changes will turn this delicious lemon blueberry bread into a vegan dessert!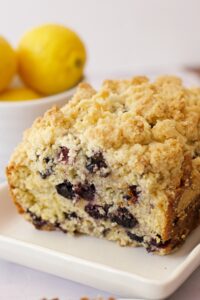 Can lemon blueberry bread be baked as muffins?
Quick bread can be baked as muffins or a small sheet cake! The streusel can make a great topping for muffins or cake! If you prefer a glaze for the topping then check out this amazing glaze for this lemon poppy seed bread!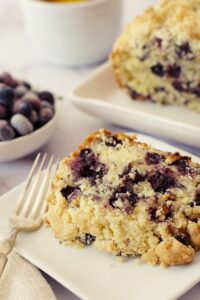 This quick bread is really versatile! It can be made with fresh blueberries or frozen blueberries. It's versatile! You can also use lemon zest or lemon extract. It will turn out great either way. So get out your oven mitts and wooden spoon and make your home smell amazing!
For other blueberry desserts, check these out!
Blueberry lemon cake with chia jam
Blueberry muffins with lemon sprinkle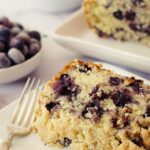 Print Recipe
Lemon Blueberry Bread with Streusel topping
This lemon blueberry bread is easy to make with the bright flavors of lemon and sweet blueberries and topped with a streusel topping.
Ingredients
1-½

cup

unbleached flour

1

teaspoon

baking powder

½

teaspoon

salt

¾

cup

sugar

2

teaspoon

lemon extract + zest of one lemon

1

cup

frozen or fresh blueberries

½

cup

milk or plant-based milk

4

tablespoon

butter

melted

2

eggs
Streusel Topping
½

cup

plus 1 tablespoon unbleached flour

4

tablespoon

butter

melted

¼

cup

sugar
Instructions
Lemon Blueberry Bread
Preheat oven to 350 and oil a loaf pan and set aside.

In a large mixing bowl measure in flour, salt, baking powder, and sugar. Mix well with a wooden spoon or whisk.

Add in eggs, milk, lemon zest, and extract, and melted butter. Mix well with a wooden spoon then fold in the blueberries.

Pour into the oiled pan and make the topping.
Streusel Topping
In a small mixing bowl measure in flour and sugar and mix well.

Add in melted butter and mix.

Spread this evenly over the top of the batter.

Bake at 350 for about an hour or hour and 10 minutes or until a knife inserted in the middle comes out clean.