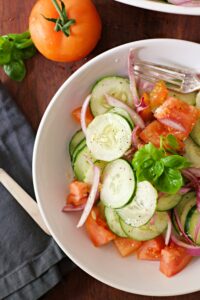 I love the simplicity of dishes like this one, it's fresh, seasonal, and super healthy! I have probably made this dish a hundred times. We all love it, with the exception of my middle child that eats around the tomatoes, but other than that it's one of our favorites. After we eat if there's any left Avah usually volunteers to finish it off, and lets Roman drink the dressing from the bowl.
I have to admit it gives me a sense of joy to watch them eat it. Not the same feeling it gives when they love the cookies or the muffins I bake. It's not the same feeling I get when they jump up and down when I tell them I'm making pizza for dinner.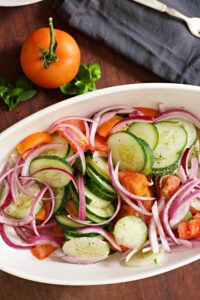 It's a proud feeling that I know they are putting good things in their bodies, that boost their immune systems, make them feel good, and will start building a foundation for healthy eating patterns. My thoughts usually get interrupted with the sound of my husband's voice…" let's get the kitchen cleaned up, then who wants ice cream?" yep, he's the fun one…..couldn't we end the evening with cucumber salad?
What dressing to use for cucumber salad
Growing up we would sometimes use a sour cream-based dressing with dill. This dressing was good, but to me, you can't beat the goodness of oil and vinegar. This dressing is our favorite and adds brightness to any meal. ACV and fresh garlic are both added to most of our salads and add lots of benefits!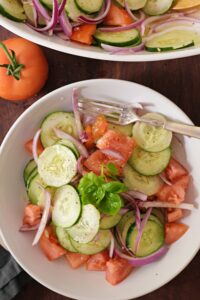 Health benefits of cucumber salad
You may wonder, can a cucumber really be that healthy? Isn't it mostly water? Every ingredient in this dish is SUPER healthy, including the cucumber! Let's take a look.
Cucumber- Helps fight constipation, helps with digestion, rejuvenates the skin, reduces dark circles and puffy eyes, and flushes waste from the body.
Tomatoes- help lower cholesterol, blood sugar regulator, and helps fight against cancer.
Onion- relieves sore throat and coughing, boosts the immune system, and helps prevent tooth decay.
Garlic- Helps prevent cancer, anti-bacterial, anti-viral, and anti-inflammatory.
Apple Cider Vinegar- regulates PH, promotes good gut bacteria, and fights acid reflux.
I think Hippocrates was right when he said, "let food be thy medicine and medicine be thy food."
For other healthy side dishes check out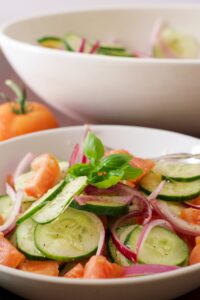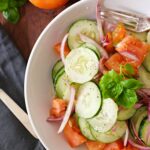 Print Recipe
Cucumber Salad
I love the simplicity of dishes like this one, it's fresh, seasonal, and super healthy! It's so fun to be able to use cucumbers and tomatoes from your own garden.
Ingredients
2

cucumbers

2

large tomatoes

¼

cup

chopped or cut into slivers onion

red or yellow
Dressing
¼

cup

Apple Cider Vinegar

Buy Braggs ACV

2-3

cloves

garlic

¼

cup

olive oil

½

teaspoon

pink or sea salt

or more to taste

½

teaspoon

pepper

or more to taste
Instructions
Slice cucumber and chop tomatoes and place in a bowl.

Chop a ¼ cup of onion and stir in.

For the dressing, in a separate bowl,  mix all ingredients and grate 2-3 cloves of garlic in.

Stir well, and pour over cucumber mix.

Best when it can set for about 15 minutes before serving. If you have time to do this,  stir every few minutes.
Elke is a participant in the Amazon Services LLC Associates Program, an affiliate advertising program designed to provide a means for sites to earn advertising fees by advertising and linking to Amazon.com.
Clicking on an Amazon link from http://www.quadcoptercloud.com/ does not increase the cost of any item you purchase.
We will only ever link to Amazon products that we think our visitors may be interested in and appreciate learning more about