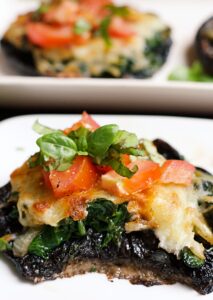 Are you looking to change up your dinner routine?  We all can tend to get into ruts when making our weekly dinners. Having a vegetarian night like "meatless Mondays" can force us to switch things up a little. These stuffed portobello mushrooms are a great veggie meal to add to the mix. Portobellos can easily be served as a side or main! They are sauteed or grilled and then topped with onion, spinach, lots of garlic, and cheese! I like to add a sprinkle of chopped tomato and fresh basil for the perfect garnish!
How to prepare portobellos for stuffing
Portobellos are easy to stuff. The first thing you need to do is remove the stem. A lot of people wonder if you should remove the gills of the mushroom too. It isn't necessary and entirely up to you. For this recipe, I do not remove them. Removing them will give you a little bit more room for the stuffing, but I choose to leave them in. Secondly, you need to season the portobello. Remember, mushrooms don't have much of a flavor on their own and need some help. I like to season each layer of ingredients while I'm cooking. It helps to give depth of flavor. No one wants to eat bland food! Drizzle a tablespoon or two of olive oil on each side of the portobello and season well with salt and pepper. Now you are ready to cook!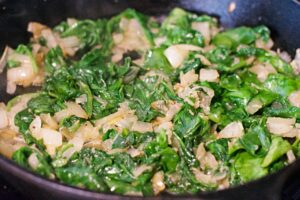 What to serve with stuffed portobello mushrooms
Are you wondering what you could serve with these portobellos to make the perfect vegetarian dinner? I like to serve these as a main dish, but they could also be served as a side dish. If you are serving this as a main dish the perfect sides would be:
Nourishing cole slaw– we love this side dish and eat it every week! It's refreshing and super healthy. My kids love it which is great because it's immune-boosting and full of vitamins and minerals.
Tomato basil salad– This side would compliment this dish perfectly because they both have a delicious combo of tomato and basil. If you have never eaten tomato basil salad you are missing out on the wonderful flavors of this simple dish!
Skillet macaroni and cheese- Looking for something a bit heavier? This side dish is comfort food at its finest! And, if you are trying to bribe the family into a vegetarian night, this may just be the trick!
Cheesy Bread– This cheesy bread is the absolute best! And yes, it would pair beautifully with these stuffed portobellos! The added ricotta on this bread takes it to the next level!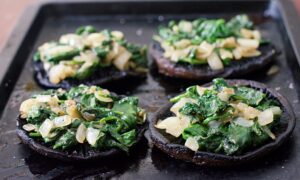 What are the health benefits of portobello mushrooms?
Portobellos are full of vitamins and minerals! Here are some ways portobellos are nutritious!
High in niacin, selenium,  and riboflavin.
They also have minerals like copper, phosphorus, and magnesium.
These mushrooms can help to repair DNA.
Move oxygen to the blood.
Boost the immune system and heal wounds.
They can help to reduce the risk of Alzheimer's disease.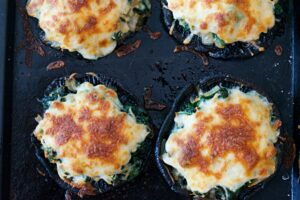 Looking for more vegetarian dinner ideas? Check out some of my favorites!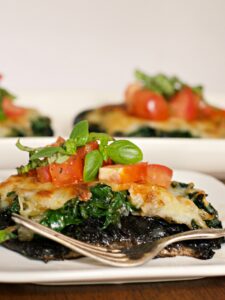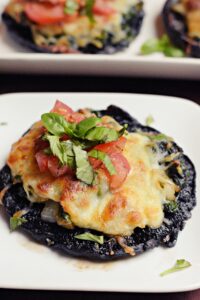 Print Recipe
Stuffed Portobello Mushrooms with Spinach and Cheese
These stuffed portobello mushrooms are stuffed with sauteed spinach, onion, and garlic and topped with melted cheese!
Ingredients
4

portobello mushrooms

1

medium

yellow onion

4

cups

spinach leaves

Packed

4

large cloves

garlic

1

cup

Shredded Mozzarella Cheese

1

tomato

salt and pepper

you will be seasoning each layer while cooking

1

handful

fresh basil

olive oil
Instructions
Wash and remove the stem from the portobellos. Season them front and back with salt and pepper and drizzle both sides with olive oil.

On medium-high heat, heat a couple of large skillets with about a tablespoon of olive oil. Cook portobellos for about 5-7 minutes on each side or until they are well cooked and get dark around the edges. You can also cook these on the grill which works very well because of how big they are. Make sure not to undercook them. When they are finished cooking place them gill side up on a baking sheet.

While the portobello mushrooms are cooking dice up the onion and heat a couple of tablespoons of olive oil in a large skillet. Cook the onion on medium heat until translucent and fragrant. Season the onion with about a ¼ teaspoon salt and pepper.

Grate or press in all four large cloves of garlic. Stir and cook for just a couple of minutes.

Add in spinach leaves. Season the spinach leaves with another ½ teaspoon of salt and pepper and a drizzle of olive oil. Stir and cook until spinach leaves are wilted and cooked down. Taste and add salt or pepper if necessary.

Evenly distribute the spinach mixture into the portobellos.

Top each portobello evenly with mozzarella cheese.

Turn the broiler on high on your oven.

Place the stuffed portobellos that are on a cookie sheet under the broiler for about 5 minutes or until cheese is melted and slightly browned.

Dice the tomato and sprinkle lightly with salt and pepper. Roll the fresh basil and gently cut in stripes.

Remove portobellos from the oven and top with tomato and basil.