If you need a quick and easy pasta fix this creamy parmesan broccoli pasta is the perfect meatless healthy dinner recipe. This recipe is creamy, cheesy, garlicky, and satisfying. Thank goodness for easy and delicious meals for those busy nights! Homemade is always better!

Making creamy parmesan broccoli pasta
Making this is really easy and you can serve it all out of one pot! Let's walk through the steps of making this dish. Veggies are always best when you can sautee them a bit. This helps to bring out the flavor of the vegetable and bring a depth of flavors to the dish you are creating!  I like to do this with my soup recipes too. After sauteing the broccoli in some butter and seasoning you can add in the heavy cream, stock, and cheeses. Now you should have an amazing creamy sauce. Let this sauce simmer for a few minutes and give it a taste. I like to make sure each layer of my dishes is seasoned. If needed add a little more salt and pepper until you get your desired taste. Adding more salt may also depend on which type of broth you use. Some broths are low sodium so you may need a bit more seasoning.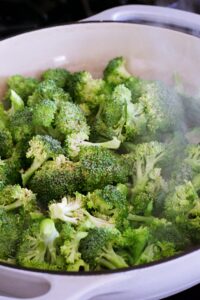 Next, when your pasta is finished cooking you can strain it and add it to the sauce. Reserve a ½ cup of the pasta water and add it to the sauce. Again, make sure to season that pasta water. Unsalted pasta water results in very bland pasta and will affect the flavor of your dish. Another tip for pasta is don't overcook it! Overcooked pasta will get mushy. You want the pasta to be a little bit underdone because it will continue to cook in the sauce and if you decide to brown it in the oven.
Once you toss the pasta and pasta water into the sauce top it with a little parmesan and mozzarella cheese. You can then brown it under the broiler or just pop a lid on your pan and melt it on your stove-top. Both ways will be delicious!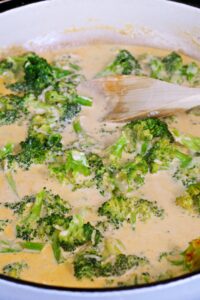 How to store this pasta
Store any leftovers in an air-tight container. It should last in the fridge for 3-4 days. Heck, maybe it would even last longer, but we aren't very brave when it comes to leftovers. Any leftovers we have we try to eat in a couple of days, but I know people that are really brave. When we reheat this we like to heat it in an iron skillet. If you are in a hurry or at work the microwave will work also!
Benefits of broccoli
Yes, we all know broccoli is healthy, but do you know how healthy? Check out some of the amazing benefits of broccoli!
Broccoli is really high in vitamin C which helps our immune systems to be strong and fight off sickness.
Broccoli is also rich in selenium, protein, vitamin K, fiber, and potassium.
This superfood has anti-viral and anti-cancer qualities.
It also helps to prevent constipation.
If you need to work on adding more vegetables into your diet, check out some of these amazing recipes! Trying one new recipe a week is a great way to get out of a cooking rut and it will force you and your family to try new recipes. Some of the foods my kids used to hate have become some of their favorites because we continually try new things.
Quinoa chickpea salad is full of protein, fiber, and lots of flavors. It's definitely one of my favorite salads!
Green Goddess detox salad is a great salad to pack your body full of nutrients in an enjoyable way!
Tuscan kale soup is a soup packed with veggies, fresh herbs, and lots of flavors!
Chickpea Curry Stew is soooo good! It's easy to make and full of flavor!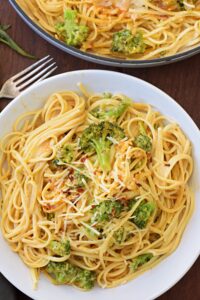 Creamy Parmesan Broccoli Pasta
This creamy parmesan broccoli Pasta is easy to make and full of flavor. This dish is served in one pot and has just a hand full of ingredients!
Ingredients
1

16oz

box

linguine cooked according to package with 2 teaspoon of salt in the water

3

tablespoon

butter

4

cups

broccoli

cleaned and florets removed and cut to bite-size

1

cup

heavy cream

1

cup

stock of choice

vegetable or chicken

4

cloves

garlic

grated or finely chopped

½

cup

reserved pasta water

¾

cup

Shredded Mozzarella Cheese, separated

½ cup in sauce and reserve ¼ cup for the top.

½

cup

parmesan cheese, separated

¼ cup in sauce and reserve ¼ cup for the top.

1

teaspoon

sea salt or pink salt

½

teaspoon

fresh ground pepper

1

teaspoon

smoked paprika

regular would also work
Instructions
Cook linguine according to directions on the box adding 2 teaspoon of salt to the water. Make sure not to overcook the pasta. Strain pasta and set aside making sure to reserve ½ cup of the pasta water.

In a large stovetop skillet or pot (I will link the one I have below) Melt the butter.

Clean and cut off broccoli florets into bite-size and put them into the pot. Season them with salt, pepper, and paprika. Sautee on medium heat for about 8-10 minutes or until tender.

Grate in the garlic and stir for another minute or two.

Stir in the heavy cream, broth, ½ cup of mozzarella cheese, and ¼ cup of parmesan . Turn heat down to low and let lightly simmer for about 8-10 minutes stirring often.

When the pasta is finished add ½ cup of pasta water and stir well. Taste and add more salt and pepper if needed.

Toss the cooked linguine into the sauce and top with remaining cheeses. Put the pasta under the broiler in your oven for about 5 minutes to melt the cheeses. You can also do this on the stovetop by adding a lid and cooking on low heat until the cheese is melted.
Elke is a participant in the Amazon Services LLC Associates Program, an affiliate advertising program designed to provide a means for sites to earn advertising fees by advertising and linking to Amazon.com.
Clicking on an Amazon link from Elke does not increase the cost of any item you purchase.
We will only ever link to Amazon products that we think our visitors may be interested in and appreciate learning more about.