After the Holidays a lot of us need to get healthy again and that starts with putting nourishing foods in our bodies. Wouldn't you love to pack lots of nutrients into one dish? This green goddess detox salad is a great way to re-set, detox, and nourish your body with food that is alive!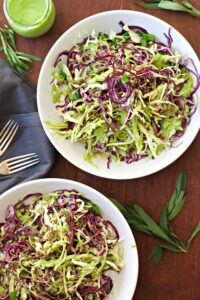 What is green goddess dressing
This amazing dressing was created in the 1920s in sunny Cali. The original recipe had ingredients like mayo, sour cream, and even anchovies. In my recipe, I have left out these ingredients to make a true detox salad ( I wanted to keep this super clean eating). But, a combination of your favorite herbs, good fat, and acid will make this dressing delicious. Yes, there are a few brands out there making their version of green goddess dressing, but buying bottled dressing will never compare to making your own. This rings true with any dressing. Homemade dressing is always better, and better for you. Once you get in the habit of making your own, you won't turn back. The original recipe had herbs like parsley, tarragon leaves, and chives. So many different combinations of herbs would be delicious. If there is something you can't find or don't like the taste of an ingredient, replace it. You could use herbs like basil or cilantro in their place. Also, I have replaced the mayo and sour cream with avocado. The avocado gives it an extra boost of nutrition, but you could also use plain greek yogurt. In my recipe, I have skipped the anchovies, but you relace this ingredient with miso. Miso has the same salty flavor and will also add some probiotics! However, you chose to make it when you eat this dressing it screams healthy!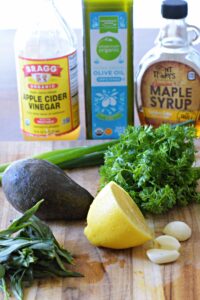 Health benefits of this salad
This is a detox salad, so the benefits are amazing. Let's take a look at some of the key ingredients in this salad and how they can benefit your body!
Cabbage. If you don't eat cabbage, this superfood would be great to add to your diet. This veggie is packed with immune-boosting Vitamin C. This cruciferous vegetable also has a compound in it that makes it a powerful antioxidant. Remember, inflammation is at the root of disease, so we need to be eating foods that fight inflammation. Cabbage is also high in vitamin K that is great for bone strength and fighting against osteoporosis!
Scallions. Scallions, also known as green onions have some great benefits! These little onions can have benefits like weight loss, boost your immune system, improve heart health, and block cancer growth!
Avocado. This superfood is packed with vitamin C, A, protein, good fat, and lots of other vitamins and minerals! They can also help with weight loss, support healthy eyes, and promote good digestion!
Tarragon. This amazing little herb can help you get a good night's sleep while providing several other benefits. This herb also has antibacterial properties, can help with toothaches, and can improve digestion.
Parsley. Although we think of parsley as a garnish, it is full of health benefits! I even like to add parsley into my cold-pressed juices! Parsley can help with anemia, kidney stones, skin issues, cancer, constipation, bad breathe, digestion issues, inflammation, and more!
This amazing salad also has other amazing ingredients like garlic, olive oil, apple cider vinegar, and fresh lemon juice!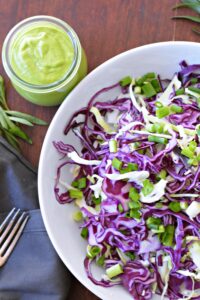 Foods for a healthy lifestyle
Weight loss and getting healthy don't consist of a diet, but a healthy lifestyle of eating, exercising, and loving yourself! Your body is made to eat foods that come from the earth. Alive foods help you stay alive! If you are looking to get healthy and lose weight, here are some other recipes that can keep you on the path of being your best version of yourself!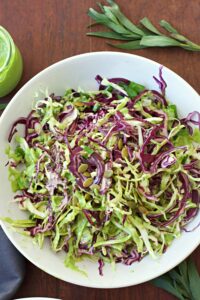 Quinoa chickpea salad is super healthy and full of protein, fiber, and lots of vitamins and minerals! It's also great for meal prep!
Juicing. If you haven't started juicing yet, this is your year! Juicing is great for a reset in your body while providing your body with vitamins and minerals that go straight to your bloodstream and bypass the digestive system!
Fermented sauerkraut. If you aren't eating fermented foods, it's time to start! Fermented foods help to provide gut health and a strong immune system. Saurkraut is super easy to make!
Chickpea curry stew. This stew is not only delicious but full of amazing health benefits. Check out this recipe that is filling, satisfying, and easy to make!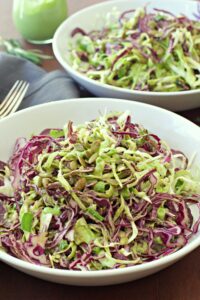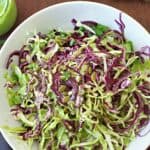 Print Recipe
Green Goddess Detox Salad
This green goddess detox salad is made with a dairy-free green goddess dressing that is creamy and delicious!
Ingredients
Green Goddess Dressing
1

small

avocado

1

cup

fresh parsley

¼

cup

fresh tarragon

2

scallions

4

cloves

fresh garlic

1

large

juice of 1 lemon

¼

cup

olive oil

¼

cup

filtered water

1

tablespoon

apple cider vinegar

½

teaspoon

maple syrup

1

jalapeno de-seeded for less heat

optional

½

teaspoon

both salt and pepper
Salad
2

cups

green cabbage

thinly sliced

2

cups

red cabbage

thinly sliced

2

scallions

chopped

½

cup

pumpkin seeds

optional
Instructions
In a food processor or blender add all ingredients for the dressing. Make sure to cut ends off of scallions and de-seed the jalapeno for less heat. If you want you can eliminate the jalapeno if you don't like heat.

Blend all the ingredients up until smooth and set aside.

With a mandoline or sharp knife cut the cabbage thinly (the consistency of coleslaw) and put it in a large salad bowl.

Chop 2 scallions and stir them into the cabbage and toss.

Pour the desired amount of dressing and toss salad. Top with pumpkin seeds if you desire.

You will probably have leftover dressing. Store in an airtight container and store in the fridge. This makes a great veggie dip! It should last a couple of days in the fridge.