If you are looking for an egg-free mousse I've got you covered! This dessert is creamy and light, yet decadent. Chocolate and raspberry whipping cream is layered with raspberry puree and topped with dark chocolate. Chocolate raspberry mousse is simple to make which makes it great for entertaining or to accompany a romantic dinner! Let's take a look at how easy this is to make!

Making chocolate raspberry mousse
Making this chocolate raspberry mousse just takes a few simple steps! First things first. Make the raspberry puree. For this, you can use fresh raspberries, but I like to use frozen because of the water content. You can save the fresh raspberries to top this beautiful mousse with.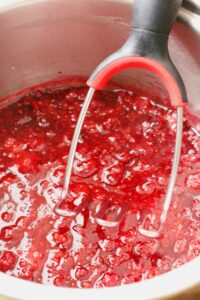 To make the raspberry puree you will put 2 cups of raspberries in a saucepan on low heat. You want to start out on low heat until the juices start releasing from the berries. Once you see the juices start to release stir in the sugar. Turn the heat up just a little ( to about medium heat) so the berries are at a light simmer. While they are cooking mash the berries to where there are no chunks. I used a potato masher for this but you can use whatever you have on hand. The back of a spoon or a fork would also work. After cooking this for about 10 minutes, strain through a mesh strainer. Take your time doing this and press the juice out with your fingers or the back of a spoon. I got a ½ cup of raspberry puree from the 2 cups of cooked-down raspberries. Don't throw away the raspberries from the strainer! We are going to use it as layers in the mousse! Once this is separated, set them aside and let them cool to room temperature.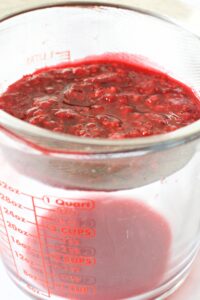 Making the mousse
Next, we are going to make some light and fluffy whipped cream using heavy whipping cream. In a medium mixing bowl, you will pour a pint (2 cups) of whipping cream and half of a cup of sugar into a bowl. Make sure to use powdered sugar so your whipped cream won't be grainy. Whip this on medium then increase to high once it starts to thicken and soft peaks form. As you are whipping it add in the raspberry puree a tablespoon at a time. Lastly, I added 7 tablespoons in all and left a remaining 1 tablespoon to drizzle over the mousse at the end. Don't over whip this or you will end up with butter! Additionally, I chopped up 3 tablespoons of a dark chocolate bar and folded it into the whipped cream mixture. Save some additional chopped chocolate for the top! I used a 62% dark chocolate bar but you could also use chocolate chips!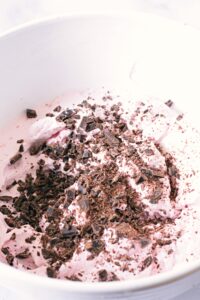 How to assemble the mousse
Let's make this mousse beautiful! We eat with our eyes first and this can be made beautiful using fancy cups like wine or margarita glasses, small mason jars, etc.. . I am using some little 6 oz jars I got from World Market and that made 4 servings of mousse.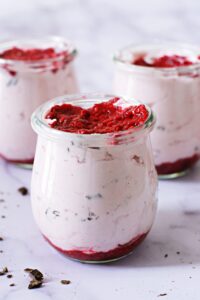 First, put a small layer of raspberry seeds at the bottom of each of your glasses. Then fill the glasses level to the top with the whipped chocolate raspberry cream. Add another small layer of raspberry seeds then top each mousse with the remaining whipped cream mixture. Make each mousse beautiful with a sprinkle of chopped chocolate and a drizzle of raspberry puree.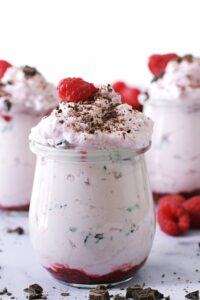 Can mousse be made ahead of time?
Because this mousse is made without eggs and just with whipping cream it can deflate after time. You can make this mousse earlier in the day and serve it that evening. I would fill all the layers in the cup to the raspberry seeds on top then wait to add the remaining whipped cream mixture on top. Cover with press-n-seal and finish topping and decorating before serving.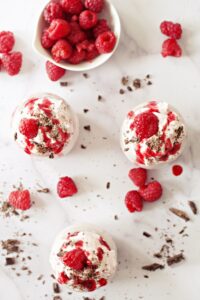 Making mousse without eggs
Mousse can be made both with egg yolks and egg-free. Both are delicious! I make a chocolate mousse that I've made for years made with sightly heated egg yolks, sugar, and chocolate. However, if you like something a little more light, or you are allergic to eggs, this mousse is for you! You may wonder if it just feels like your eating whipped cream. No. All the different components of this dessert make it unique with the brightness of the puree, texture of the chocolate chunks, and raspberry seeds!
Other beautiful desserts
If you love this dessert and are looking for other desserts for entertaining check these out.
This pan-fried peach with mascarpone is simple and beautiful! It's healthy too!
Check out this blueberry crumble pie that has great flavors and is beautiful for presentation!
Don't want to turn on the oven? These no-bake blueberry cheesecake cups are soooo good!
Homemade strawberry shortcake is always a pleaser! Check out my recipe here!
I hope you enjoy this chocolate raspberry mousse! Let me know what you think by leaving a comment or a rating!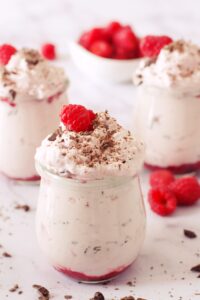 Chocolate Raspberry Mousse
This chocolate raspberry mousse is light yet decadent with layers of raspberry, chocolate raspberry whipping cream, and topped with chopped dark chocolate and raspberry puree!
Ingredients
Whipped cream mousse
1

pint

heavy whipping cream

½

cup

powdered sugar

1

tsp

vanilla extract

7

tablespoon

raspberry puree

3

tablespoon

chopped dark chocolate

I used a 62% dark chocolate bar.
Raspberry Puree
2

cups

frozen raspberries

I also bought fresh raspberries to top the mousse with.

¼

cup

sugar
Instructions
Raspberry Puree
In a medium saucepan put 2 cups of frozen raspberries over low heat. Once the juices start to come out you can stir in the ¼ cup of sugar and increase the heat to medium. You could also use fresh raspberries if that's what you have.

Cook this at a low simmer stirring often for about 7-10 minutes. With a potato masher or the back of a spoon smash all the chunks of berries until everything is nice and smooth.

With a mesh strainer, strain the raspberries into a bowl or large measuring cup. With the back of a spoon press the raspberries to get all the puree out. This took me a couple of minutes and I got a ½ cup of puree. Set aside and let puree and seeds get to room temperature. Don't throw away the seeds you will use them!
Whipped Cream Mousse
In a large mixing bowl pour in 1 pint of whipping cream and ½ cup of powdered sugar. Mix on medium with a hand mixer until mixture starts to thicken. Increase speed to high and continue to mix adding in raspberry puree 1 tablespoon at a time. I added 7 tablespoons and reserved 1 to top mousse after assembly.

Whip until you have mixed in all of the raspberry puree and the whipping cream is thick and has soft peaks. Don't overmix or you could end up with butter!

With a knife chop up 3 tablespoons of the dark chocolate. With a rubber spatula gently fold in the chocolate.
Assembly
I use 6 oz jars but you can use smaller ones to make more if you would like. Any shape works! (wine glasses, mason jars etc...)

Add a small layer of raspberry seeds in the bottom of the jar.

Add in whipped mousse just to the top of the jar or a little less (leaving some remaining mousse )

Add in another layer of the raspberry seeds on top of the mousse using it up.

Top with remaining mousse.

Chop another tablespoon or two of dark chocolate and top mousse with chocolate, fresh raspberries, and any remaining raspberry puree you have.
Notes
For an idea of what kind of jars to use, check out these jars
Elke is a participant in the Amazon Services LLC Associates Program, an affiliate advertising program designed to provide a means for sites to earn advertising fees by advertising and linking to Amazon.com.
Clicking on an Amazon link from Elke does not increase the cost of any item you purchase.
We will only ever link to Amazon products that we think our visitors may be interested in and appreciate learning more about.