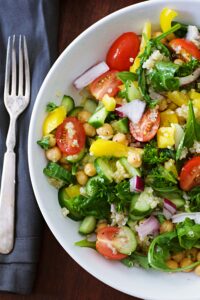 If you are looking for a salad or just a healthy lunch idea I have the perfect recipe for you. This quinoa chickpea salad is full of protein, fiber, and lots of veggies. This delicious salad is filling yet won't make you feel groggy if you eat it at lunch. This salad is topped with a lemon vinaigrette that makes it the perfect refreshing lunch or side dish. If this isn't enough convincing, read on.
Is quinoa chickpea salad good for you?
Let's just call this power salad. If you haven't eaten quinoa much or you're not sure you like it, you should give this dish a try. Quinoa is a great grain to incorporate into your diet to add lots of health benefits.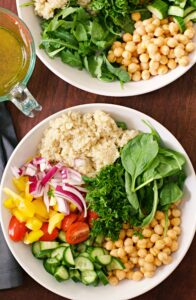 Benefits of quinoa- This gluten-free seed is pretty amazing. Quinoa is actually a complete protein. This means it is made of the 20 amino acids and 9 essential amino acids your body needs but doesn't make on its own. This amazing seed helps to aid in weight loss because it helps you to feel fuller for longer periods of time. This seed is full of antioxidants that can help to fight against free radicals and cancer. A compound in quinoa called lunasin can help to attach and break apart cancer cells, but leaves healthy cells alone. Pretty amazing! This herb also is great for heart health, has prebiotic power for a healthy gut, and can prevent osteoporosis. The fiber content in quinoa will help to keep you regularly going to the bathroom. This seed is also packed full of vitamins and essential minerals! Wow!
This salad takes quinoa to a whole new level of health because it's packed with lots of vegetables like tomato, cucumber, red onion, and fresh parsley.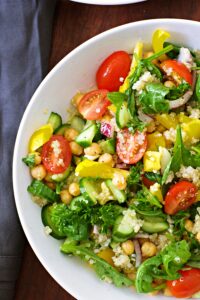 Health benefits of chickpeas
Not only does the chickpeas add a nice texture to this salad, but also hold lots of nutrition. Chickpeas also help to aid in weight loss, helps to lower cholesterol, and helps to control blood pressure. They are high in fiber and protein as well. They are full of vitamins and minerals that will improve health. I love adding chickpeas to my diet in dishes like these amazing chickpea tacos, and this delicious chickpea curry stew!
Chickpeas are a great food to add to your diet. They are very versatile and can be used in so many ways!
Lemony garlic dressing
Bottled dressing cannot compare to making your dressing yourself. I love to think about how each ingredient is healthy and nutritious. This dressing is simple with great ingredients like freshly squeezed lemon juice, good quality olive oil, fresh garlic, and red wine vinegar.  No processed taste, just fresh ingredients that have lots of health benefits!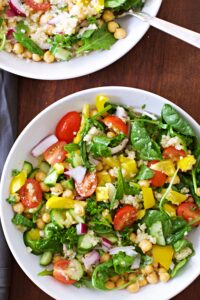 Are you trying to eat healthier?
If you are on a journey of eating healthier, this salad is a great start. Other great salads are: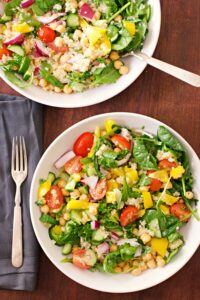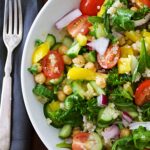 Print Recipe
Quinoa Chickpea Salad
This quinoa chickpea salad is a fresh and healthy salad with quinoa, chickpeas, lots of vegetables, and a lemony vinegarette.
Ingredients
½

cup

quinoa (with 1 cup of filtered water and ½ teaspoon salt)

cook according to directions on the box. You will use 1 cup of cooked quinoa for the salad.

1

can

chickpeas

drain, pour in a bowl, and season with 1 tablespoon lemon juice and ½ teaspoon both salt and pepper and let sit.

½

cup

bell pepper (red, yellow, or orange)

diced

1

cup

cucumber

diced

½

cup

red onion

diced

½

cup

halved cherry tomatoes

seasoned with a spinkle of salt and pepper

¼

cup

fresh chopped parsley

dill or basil would also be good

2

cups

greens like arugula, spinach, or mixed greens
Lemon Dressing
1

large

lemon

Juice squeezed into a bowl

2

tablespoon

olive oil

3

tablespoon

red wine vinegar

1

large

garlic clove

grated or pressed

½

teaspoon

or both salt and pepper
Instructions
First in a pan on the stove cook quinoa according to directions. Once this is cooked, set it aside to cool.

Dice bell pepper, onion, and cucumber and set aside.

Half the cherry tomatoes. Sprinkle with salt and pepper and set aside.

Open and drain the chickpeas. Season with a tablespoon of lemon juice and salt and pepper.

Chop parsley and set it aside.
Lemon Dressing
Squeeze the juice to a large lemon into a bowl.

Add remaining ingredients and whisk.
Assemble the salad
In a big salad bowl add in seasoned chickpeas, diced vegetables, quinoa, mixed greens, and chopped parsley.

Pour the dressing on top and toss the salad and serve.

If you are using this salad for meal prep, you may want to consider leaving out the greens. They will get soggy.