If you are looking for a different way to make potato salad or trying to eat healthier this just maybe your go-to! From southern potato salad to Amish potato salad there are lots of different ways to make it. Most just put a spin on traditional potato salad that has a base of mayo and mustard. Some add things like boiled eggs, pickles, and celery. But sometimes change is good. In this case, change is good and healthier. With homemade pesto replacing the classic mayo, you could say this is a potato salad that has lots of health benefits. You'll have to give this pesto potato salad a try! You won't be disappointed!

Making pesto potato salad
For this delicious potato salad, you will start by making pesto. Now making pesto is probably easier than you may be thinking. If you have a blender you can have it whipped up in just a few minutes and oh will it be worth it! Here is my most perfect recipe for homemade pesto so you can get started on that! Here are the things you will need to make homemade pesto:
fresh basil
olive oil
pine nuts or walnuts
fresh garlic
parmesan ( I don't like the one from the spaghetti aisle but from the refrigerator section.)
lemon juice
salt and pepper
That's all you will need to make this delicious basil. Don't forget to use any extra you have leftover to make this pesto breakfast toast!
Next, boil your potatoes and you will just need to assemble them using a couple more ingredients. Let the potatoes cool until just warm and slice in half into your serving bowl. I like using the little mini potatoes, so if you are using the big ones slice them into bite-size cubes. While the potatoes are still warm add some red wine vinegar, olive oil, fresh parsley, and salt and pepper. Mix in the homemade pesto. If you are making this ahead of time don't add the arugula until you are ready to serve.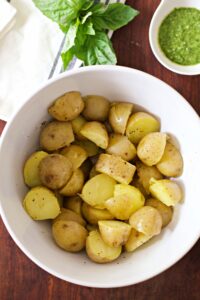 Can I use jar pesto?
If you want this dish to be above and beyond average you should make the pesto. Believe me, it tastes way better homemade. Store-bought is an option if you just know you won't make it. I have had jarred pesto and it definitely is not as good, but it would work. If you are going to go for the pesto in the jar make sure to check out the ingredient label. Get the one with the simplest list that doesn't have a lot of preservatives. Check out the list above and compare the ingredient list to what's in my homemade pesto.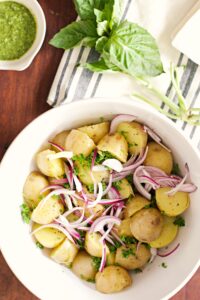 Is pesto potato salad healthy?
Yes! Traditional potato salad is loaded down with mayo. Mayo typically has horrible ingredients like soybean or other vegetable oils. These oils are highly inflammatory and can cause all kinds of diseases. Sadly, it's usually the first ingredient, so you're pretty much just consuming that. Pesto is full of wonderful health benefits.
Basil- this delicious herb fights inflammation, settles upset stomachs, and has skin and digestion benefits.
Olive oil- can help to lower blood pressure and protect against diabetes, protects the bones, and can aid in weight loss.
Pine nuts- strengthen immunity, reduce cancer risk, fights inflammation, and alleviate PMS symptoms.
Garlic- supports the immune system, powerful antioxidant, supports a healthy blood pressure.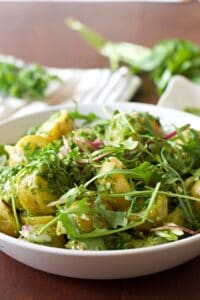 Pesto is so healthy! On top of the pesto, you are also adding the amazing benefits of fresh parsley and arugula! This is such a healthy potato salad!
Sometimes, changing it up from the traditional is good. With all the diseases in our country let's be the ones to make new and healthier traditions for our families and the next generations.
More healthy salads
If you are looking for other healthy salads, check these out!
Green goddess detox salad made with vegan green goddess dressing made from avocados!
Quinoa chickpea salad is one of my absolute favorites! It's packed with veggies, protein, and lots of flavors!
Greek pasta salad is great for get-togethers and picnics! It's a definite crowd pleaser!
Tomato basil salad is a family favorite! We like to serve it with homemade artisan bread. Yum!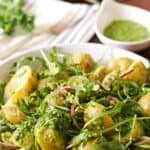 Print Recipe
Pesto Potato Salad
Healthy and delicious potato salad made with homemade pesto, fresh herbs, and arugula.
Ingredients
1

24oz

mini round potatoes

I use yellow

⅓

cup

thinly sliced red onion

⅓

cup

homemade pesto (I will link the recipe in recipe notes)

3

tablespoon

red wine vinegar

2

tablespoon

olive oil

1

tsp

each salt and pepper

¼

cup

chopped fresh parsley

1

cup

arugula
Instructions
In a saucepan boil potatoes until tender and strain.

Make pesto and set it aside. I will link homemade pesto in the recipe notes below. You could also use premade, but it's not quite as good.

Cut the potatoes into bite-size pieces.

After they are cut and while they are still warm evenly add vinegar, olive oil, fresh parsley, salt, and pepper and stir.

If you are serving right away add in the arugula. If you are making this ahead of time wait and mix in the arugula before serving.

Chill in the refigerator. Add an extra drizzle of olive oil and a little salt and pepper before serving!