Making your own matcha tea latte at home can be easier than you would think. Powdered matcha tea is just mixed with your favorite type of milk and sweeteners. Additionally, It can be made with fruit or fruit purees like we are going to do in this post. All these things mixed together are going to create a creamy, fruity, and earthy matcha that has wonderful health benefits and tastes great. Best of all it's easy to make and very versatile. If you are looking for a new and healthy drink in your life, then you've stopped at the right place. Let's first take a look at what you will need to make this drink.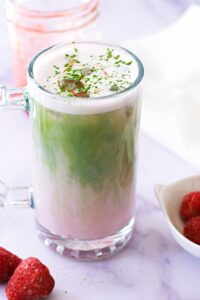 Making a strawberry Matcha latte
If you think you are going to have to have a lot of gadgets on hand to make this delicious drink, think again. Although there are some gadgets that would be useful in making this yummy drink, not all of them are necessary. Let's take a look at the most basic way to make this green latte!
First, you will need matcha powder. If you want the beautiful green color and all the benefits then it's best to buy the loose powder. Now, there is ceremonial grade matcha and culinary matcha. Here I am using ceremonial grade, check out below to see the difference between these two matcha powders.
Next, you may wonder what you will mix your water and matcha up with. The main thing people use is a bamboo whisk. I don't have one of these yet so I put mine in a small bowl and use a little cooking whisk to mix my matcha. I have also seen people use a mason jar with a lid and shake it up well, or a battery-operated frother.
After you get your matcha stirred up you can choose any type of milk from cow's milk to plant-based milk. I like coconut milk, but your favorite milk will work just fine!
Finally, here we are making strawberry-flavored matcha latte. You can do this by making a homemade strawberry syrup or blending the berries up with your milk and straining. Either way works great! You can also add extra sweeteners like brown sugar, honey, maple syrup, or regular sugar. Vanilla extract is also a great addition!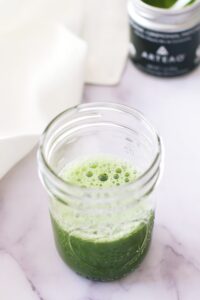 Ceremonial grade matcha or culinary matcha?
First, when buying matcha you want to make sure that there are no other ingredients other than matcha. Ceremonial grade matcha is the highest quality grade Matcha and is traditionally used in Japanese tea ceremonies. Ceremonial grade matcha is best for making tea and lattes because it doesn't have the bitterness that culinary has. It is also a darker green in appearance. The tea leaves are also picked early in harvest and they are the young leaves with better flavor. Amazingly, ceremonial grade matcha is also typically ground by hand!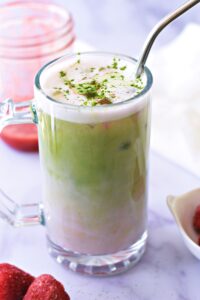 Culinary grade matcha is cheaper, but is more bitter and best used for baked goods or even smoothies. These leaves are picked later in the harvest and can include stems also for a more bitter flavor. This is fine when used in baked goods, homemade chocolates, or other recipes so the flavor can come through.
I will link a great matcha tea below in the recipe card.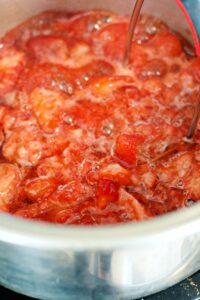 Health benefits of matcha tea
Matcha green tea has amazing benefits and is a great drink to add to your daily routine! Let's check out some of the benefits of this amazing tea!
Reduces the risk of certain types of cancer like breast, colon, prostate, and bladder.
This tea boosts the metabolism to aid in weight loss.
Matcha can help to speed up muscle recovery by reversing cellular damage.
Drinking matcha before a workout can increase energy expenditure.
Yes, matcha has caffeine, but it also has an amino acid called L-Theanine which can help you to be alert but relaxed. This gives you good clean energy.
Matcha's high chlorophyll levels can help to aid your body in detox.
It works as an anti-inflammatory.
Super high in antioxidants.
It improves skin.
These are just some of the amazing benefits of matcha green tea! Get in the habit of making this tea today!
Are you looking for other ways to get healthy? Here are some other ways you can check out!
How to do a saltwater colon cleanse 
How to boost your immune system naturally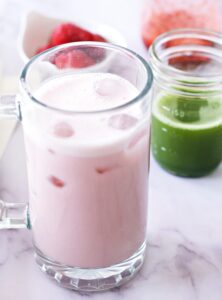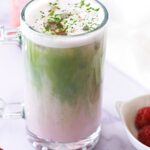 Print Recipe
Strawberry Matcha Latte
This strawberry matcha latte is creamy and healthy. Made with plant milk, homemade strawberry syrup, and a touch of sweetness.
Ingredients
1-2

teaspoon

matcha green tea powder

I will link the one I use in recipe notes

1

oz

boiling water

2-3

teaspoon

a sweetener like honey, maple syrup, or sugar

8

oz

milk

I use coconut, but you can use your favorite milk

1

cup

fresh or frozen strawberries

look below for how to make a simple strawberry syrup

ice
Instructions
Strawberry syrup
In a saucepan over medium-low heat add cleaned and cut strawberries or frozen strawberries.

Add a tablespoon of water and a tablespoon of sugar.

Mash strawberries to release juices with a fork or potato masher. Cook for about 5-10 minutes or until strawberries has released all their juices.

With a mesh strainer, strain the strawberry puree into a bowl and then transfer it into a jar. Set aside.

In a tea kettle heat just an ounce of water. Spoon your matcha powder into a small dish. Pour the hot water over the matcha and whisk with a bamboo whisk or regular whisk. You could also put it in a mason jar with a lid and shake it well. Whisk in your sweetener and set aside.

In a blender blend up your choice of milk and 2 tablespoon of the strawberry puree. Pour this into a tall glass filled with ice.

Pour in your matcha mix, stir and enjoy! See recipe notes for tips and a great matcha powder!
Notes
Tips- You can use any extra strawberry puree to make more lattes. Just store the puree in the fridge.
If you don't want to make the syrup you can blend your milk and fruit together and then strain the milk/fruit mix right into your glass.
Here is the matcha I have:
Elke is a participant in the Amazon Services LLC Associates Program, an affiliate advertising program designed to provide a means for sites to earn advertising fees by advertising and linking to Amazon.com.
Clicking on an Amazon link from Elke does not increase the cost of any item you purchase.
We will only ever link to Amazon products that we think our visitors may be interested in and appreciate learning more about.