Does anyone just love the combination of sour and sweet? Lemon, lime, and orange in a dessert really give it a brightness that I love.  If you like a little sweet and a little sour, you are sure to love these key lime pie bars! And who knew how easy it is to make these delicious bars? A simple graham cracker crust filled with a super simple filling that's just a handful of ingredients. Add some whipped cream on top if you desire and the rest is history.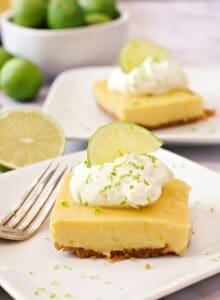 What is the difference between limes and key limes?
There are not a lot of differences, but there are a couple of differences. Regular limes are much bigger than key limes, but that's obvious, right? While regular limes are bright green in color, key limes are more of a yellow color when they are ripe. While they are very similar in flavor, key limes are a bit more acidic and have more of a floral note to them. The tangy taste of the key limes makes them great for cooking as their bold flavor holds up well to being cooked.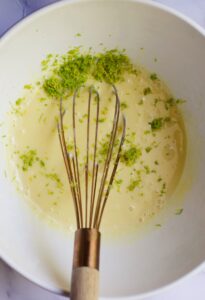 Can I substitute regular limes in key lime pie bars?
If you want to make a key lime pie but are unable to find them, you can use regular limes. As long as you are using fresh limes, key limes, or regular limes it will turn out fine. It will change the overall flavor a bit. As mentioned above key limes are tangy without a harsh flavor and have more of a floral note to them. So you can definitely sub, but it won't taste exactly like a TRUE key lime pie. So whatever you do, don't try to pull a big one on Uncle Bob.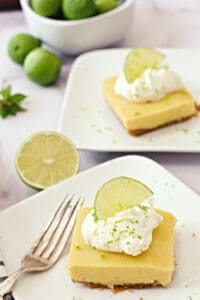 Where do I find key limes?
You can find key limes in most regular grocery stores. They are most often found in the Mexican produce part of your grocery store. There are usually several little limes in one bag. If you can't find key limes check out the above in the post. You can sub regular limes!
What are the benefits of key limes?
Key limes are high in vitamin C which is great for immune health.
The vitamin C in key limes is also great to help slow down aging and help individuals to fight infection.
Key limes and other types of citrus can help to fight certain types of bacteria.
They also have fiber which can help with digestion.
They are full of antioxidants and plant compounds that are good for health.
For other citrus desserts check out: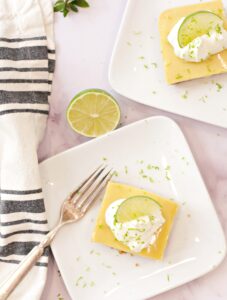 Can I freeze Key Lime Bars?
Yes! Freezing Key Lime bars is a phenomenal way to store and preserve your delicious treat for up to three months! While freezing your Key Lime bars is a convenient alternitive to putting them in the fridge, there are a few things to bear in mind that will help your citrusy sweet desert maintain its desired texture and flavor.
The first and predominant thing that you must do before freezing your Key Lime bars, is to make sure that they have cooled before you can freeze them. Not allowing your bars to have time to cool before you freeze them will cause them to be soggy and lose there delightfuly weightlyless texture.
Thawing your Key Lime bars can seem to take an eternity, especially if your craving a refreshing break to the summer heat. To reduce the time, cut your bars into to squares before they enter the freezer. And to garentee  better results add the whipped cream and lime slices after they have been thawed.
To avoid the plagues of freezer burnt food, wrap your bars tightly in plastic wrap.
Key Lime Pie Bars
These simple-to-make bars have a crisp graham cracker crust and a sweet and tart filling.
Ingredients
Graham Cracker Crust
1

pack

graham crackers

about 8-9

2

tablespoon

brown sugar

7

tablespoon

melted butter

½

teaspoon

cinnamon
Key Lime Filling
4

egg

yolks

1

14oz

can of sweet and condensed milk

I use organic

½

cup

fresh-squeezed key lime juice

1

tablespoon

key lime zest
Key lime whipping cream
1

cup

heavy whipping cream

1-2

tablespoon

powdered sugar

1

teaspoon

vanilla extract

zest of 1-2 key limes
Instructions
Graham Cracker Crust
Spray a 9x9 pan with cooking spray, and preheat the oven to 325

In a food processor or blender, blend up the graham crackers into a fine powder.

Pour into a bowl and mix in melted butter, cinnamon, and brown sugar.

With your fingers press the crust tightly in the bottom of the pan then bake for 10 minutes. Pull out of the oven and let cool.
Key Lime Filling
Separate the eggs and add yolks to a mixing bowl. Whisk or blend well.

Whisk in 1 can of sweet and condensed milk.

Zest 1 tablespoon of lime zest and whisk in.

Squeeze ½ cup of key lime juice and whisk in.

Let this mixture rest on your counter while the pie crust cools completely.

Once the pie crust is cool, pour in the filling. Increase the temperature of the oven to 350 and bake for about 20 minutes.

Remove from the oven and let cool on the counter, then refrigerate for 2-3 hours before cutting.
Key lime whipped cream
In a medium-size bowl mix whipping cream and powdered sugar until stiff peaks are about to form.

Add in lime zest and vanilla and continue to whip until thick.

Make sure not to over whip or it will become lumpy and like butter.

Serve on top or on the side of the bars!