Chicken is one of those foods that can be made in dozens of ways. If your anything like me, you have a couple of ways you prepare it, and leave it at that. Most of us like the idea of trying something new, but don't want to take the chance of a fail, or feel like good ingredients are wasted if it doesn't turn out.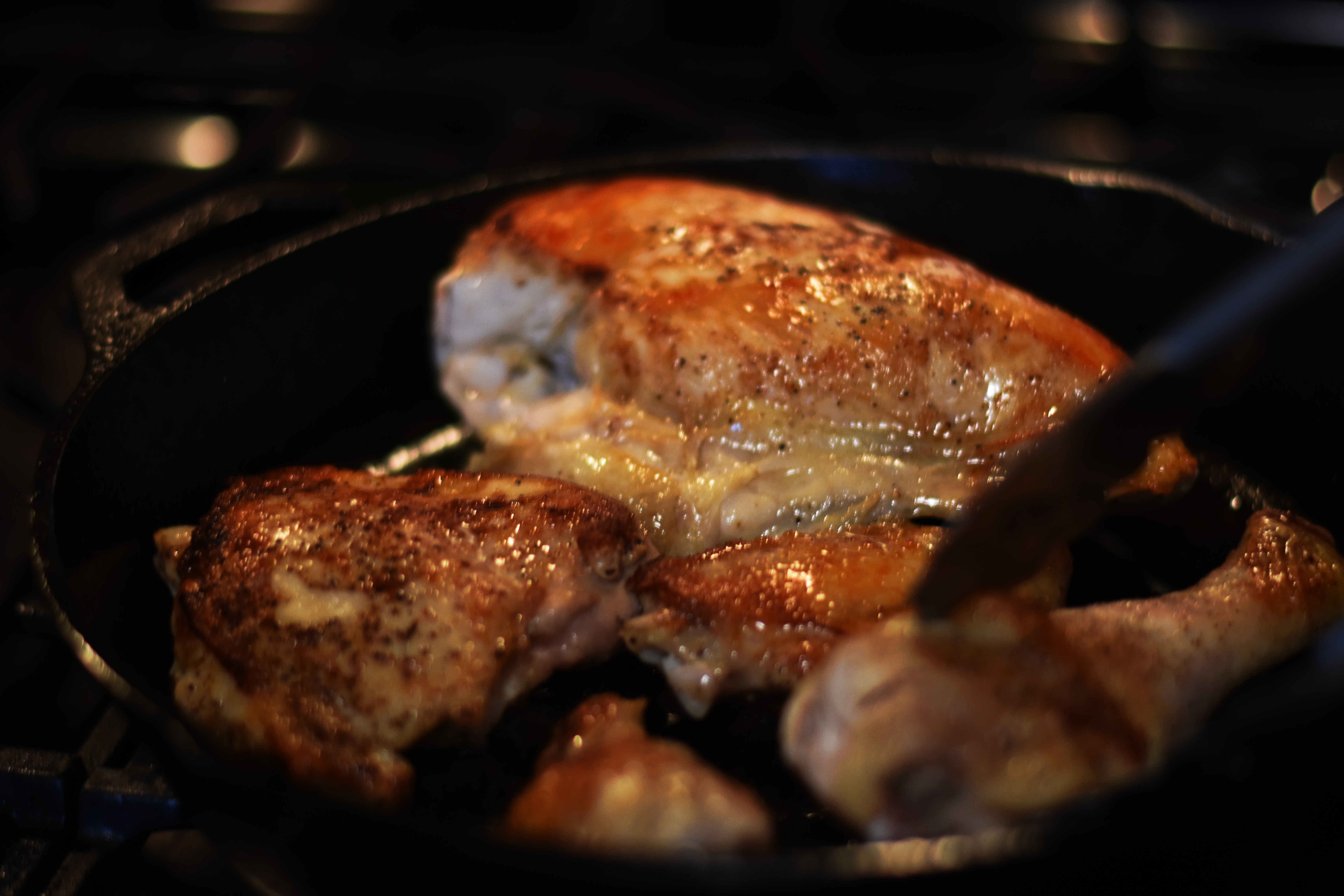 I was pleased when I pulled this chicken out of the oven and it was perfectly moist, full of flavor, and beautifully caramelized. What else can we want out out chicken? Simplicity? Done! It's a simple recipe, that doesn't use a lot of ingredients.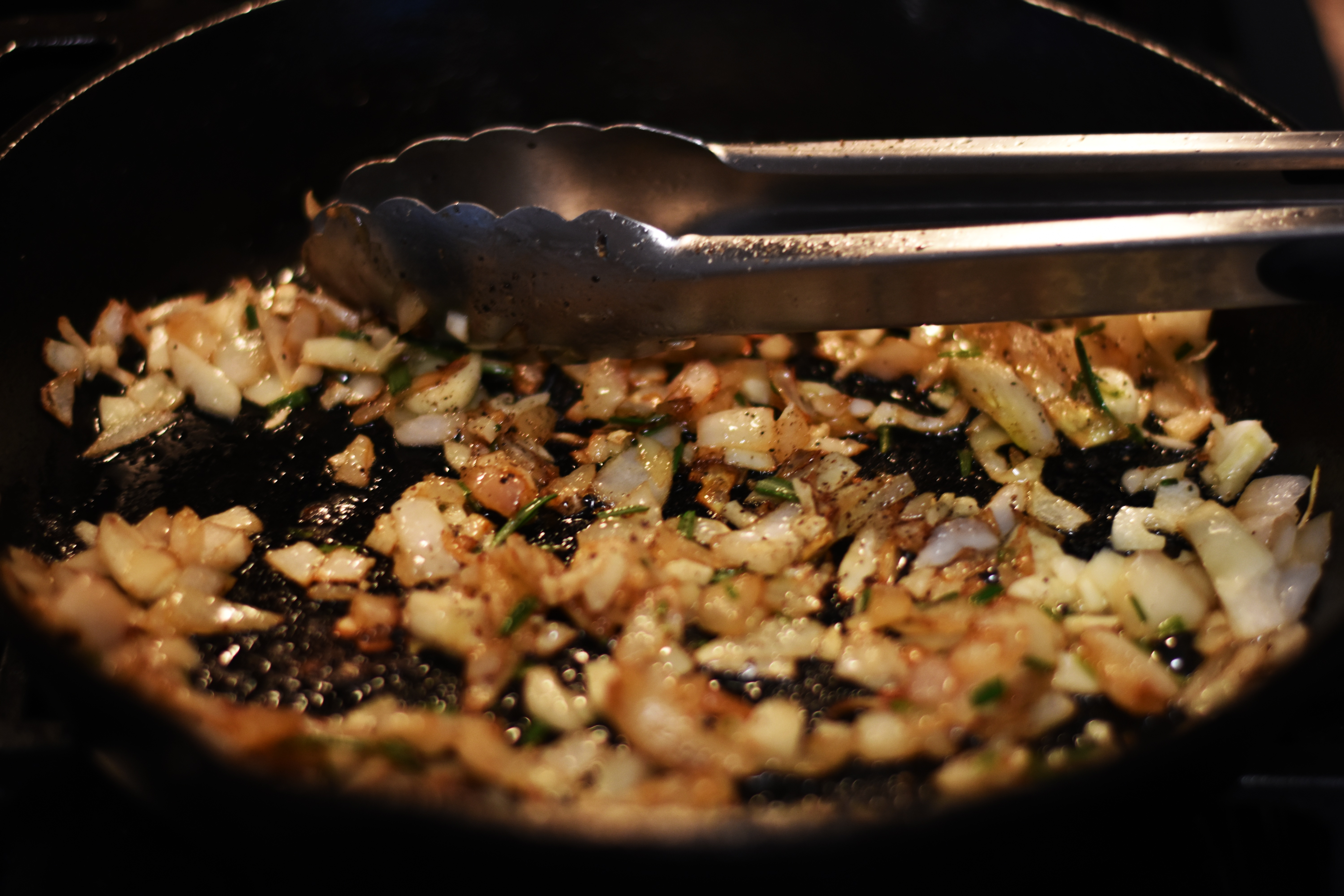 When I pull out the iron skillet to make dinner, my husband automatically thinks dinner is going to be a win. He says everything tastes better cooked in an iron skillet. I have to agree.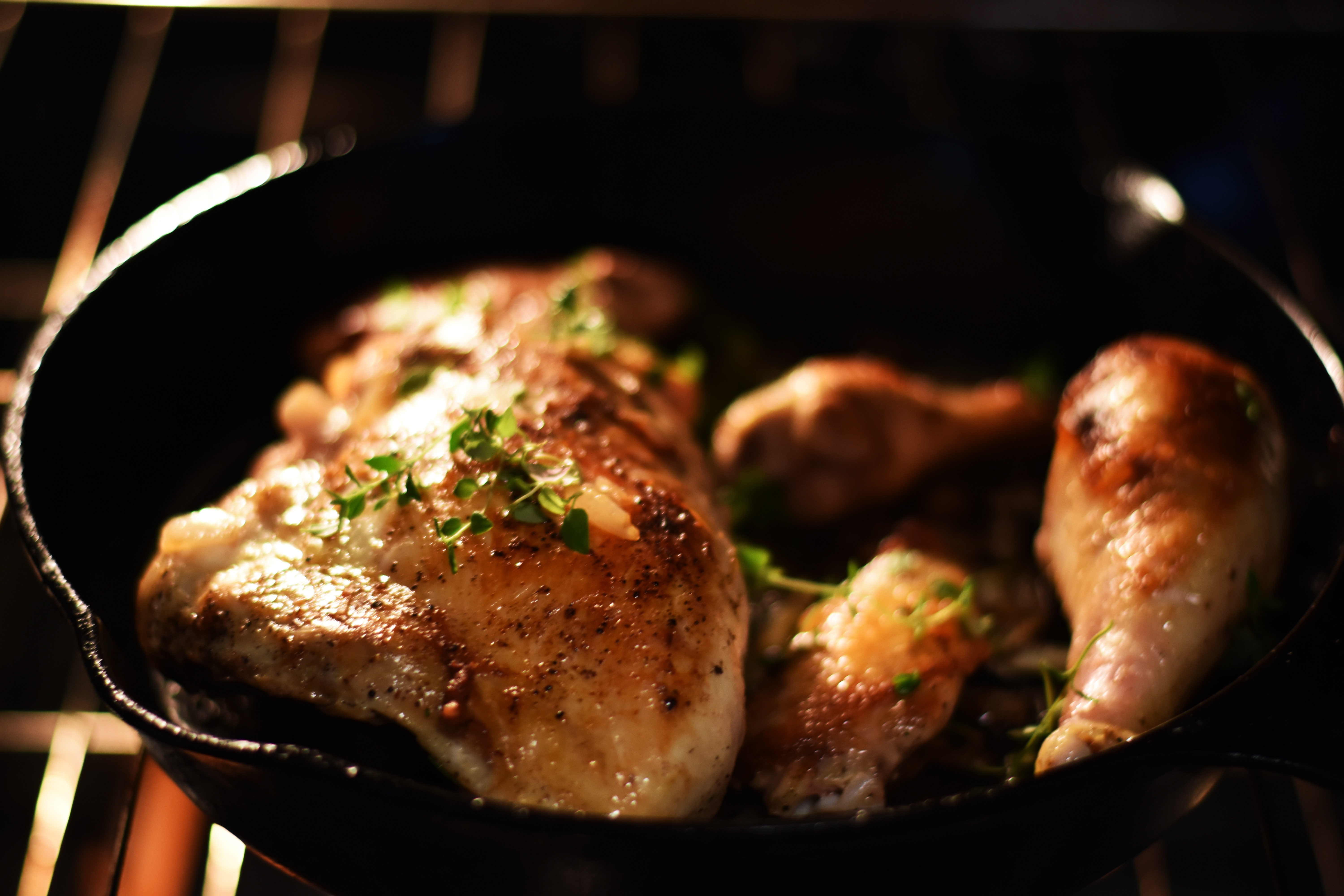 If you don't own one, they are worth the purchase! Not only are they affordable, but you don't have to worry about that toxic nonstick coating flaking off in your food. These coatings contain chemicals that are linked to developmental problems, thyroid, and even cancer! Cast Iron, on the other hand, increases the iron content in your food! Isn't that great?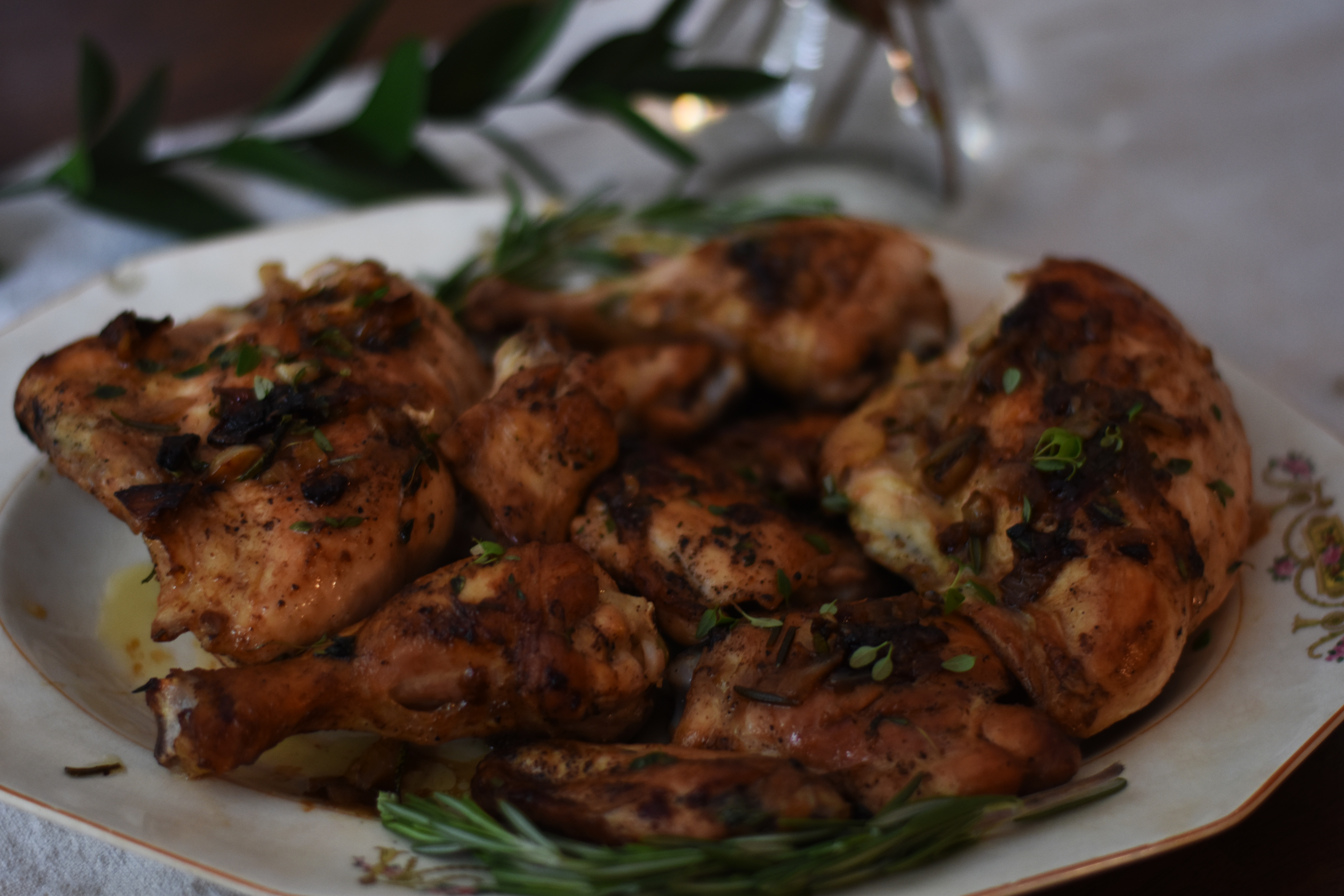 I hope you will try this recipe. It will take your chicken to a whole new level!
For other chicken recipes, check out these individual chicken pot pies!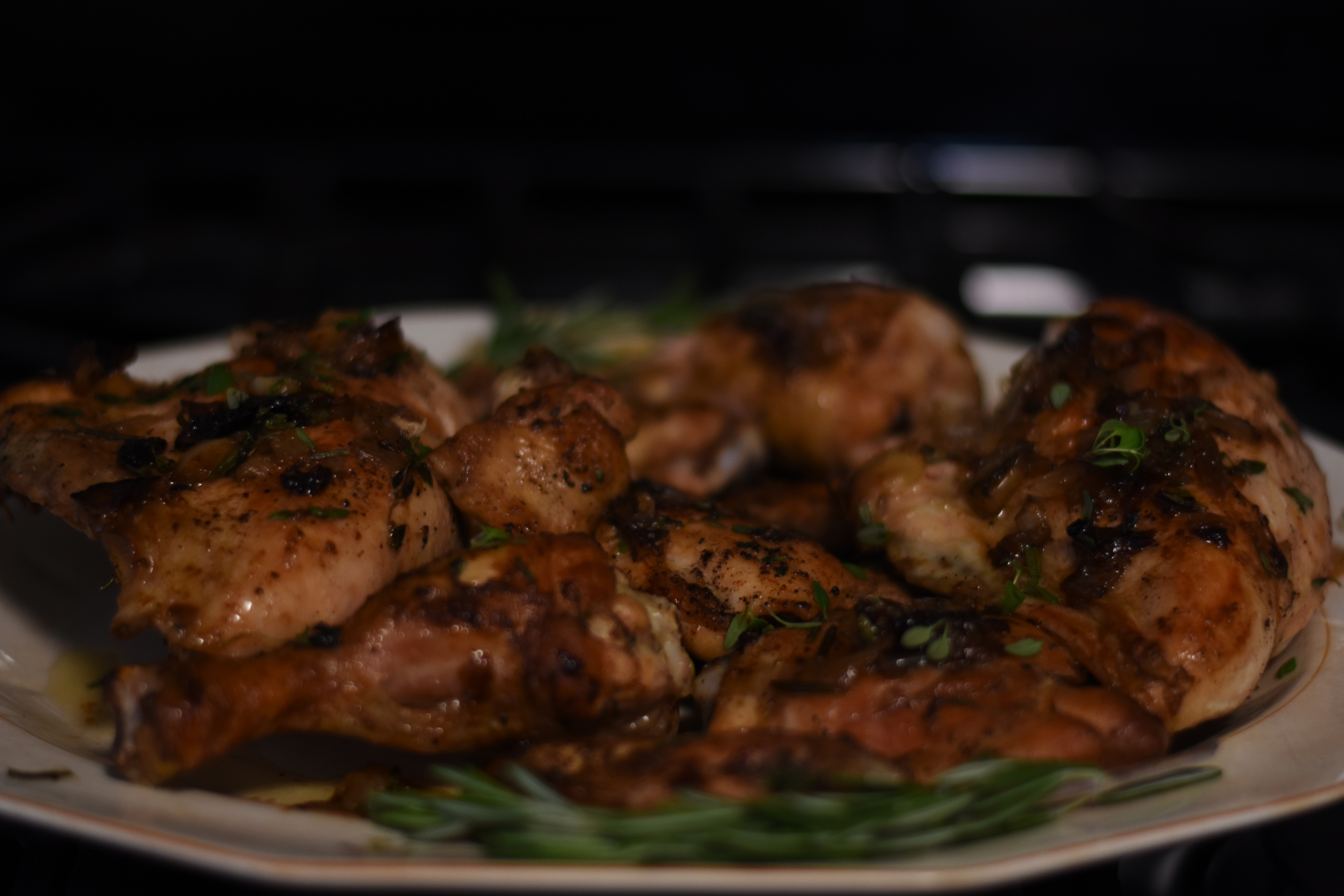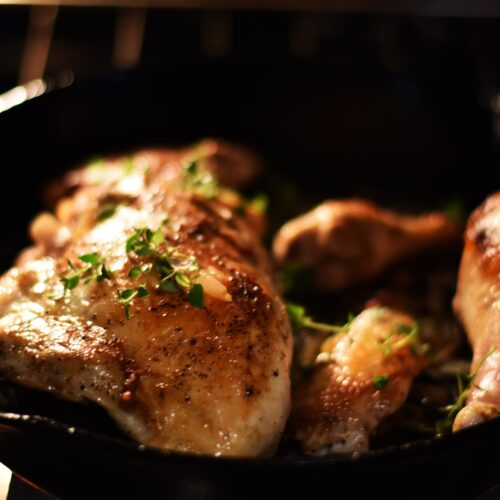 Print Recipe
Thyme and Rosemary Roasted Chicken
I was pleased when I pulled this chicken out of the oven and it was perfectly moist, full of flavor, and beautifully caramelized.
Ingredients
About 8 pieces of chicken

I used a mix of breasts, thighs, and legs, etc.

1

small yellow onion chopped

4

garlic cloves minced

1

tablespoon

fresh rosemary chopped

2

tablespoon

fresh thyme

just pull off of the stem

¾

cup

organic chicken stock

Pink salt or sea salt and pepper

1

tablespoon

real butter +1 tablespoon olive oil
Instructions
Preheat oven to 375

Heat butter and olive oil over medium-high heat in an oven-safe skillet.

Generously coat chicken with salt and pepper. (remove skin if you want)

Put the seasoned chicken in the hot skillet.

Brown on both sides, then remove chicken from the pan. Cooking Tongs make this easy

Lower the heat, add more butter and olive oil if needed and sauté onions, season with salt and pepper and cook until they are translucent.

Add garlic, rosemary, and thyme, and cook for another 2-3 minutes.

Deglaze the pan with chicken stock.

Add chicken back to the pan and while it's cooking add a sprinkle of fresh herbs on top.

Transfer chicken into the oven, cooking for about 30-45 min depending on the size chicken you choose.

Halfway through, flip the chicken.

Place chicken on a serving plate and spoon sauce over chicken.

Enjoy!
Elke is a participant in the Amazon Services LLC Associates Program, an affiliate advertising program designed to provide a means for sites to earn advertising fees by advertising and linking to Amazon.com.
Clicking on an Amazon link from http://www.quadcoptercloud.com/ does not increase the cost of any item you purchase.
We will only ever link to Amazon products that we think our visitors may be interested in and appreciate learning more about.