I grew up in the mountains of West Virginia. It was a small town of like….10….no, really, it was tiny. When you hear someone say "I live in the middle of nowhere" that was where I was from.  It had its ups and downs. The land was spectacular. We had what felt like fields of fruit trees to climb, creeks to wade in, and ponds to swim in. Lots of crawdads and snakes to catch, woods to wander in, and bushes to pee behind- hey, I was just a kid….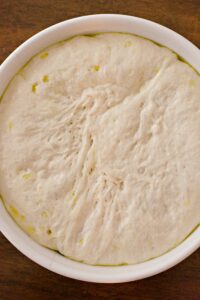 Fast food was reserved for long shopping weekends, or even summer vacations, and ordering pizza was only possible if ordered from our very own kitchen… What I'm saying is, I'm not a stranger to if you want it or crave it, make it…… It wasn't for health reasons it was our only choice.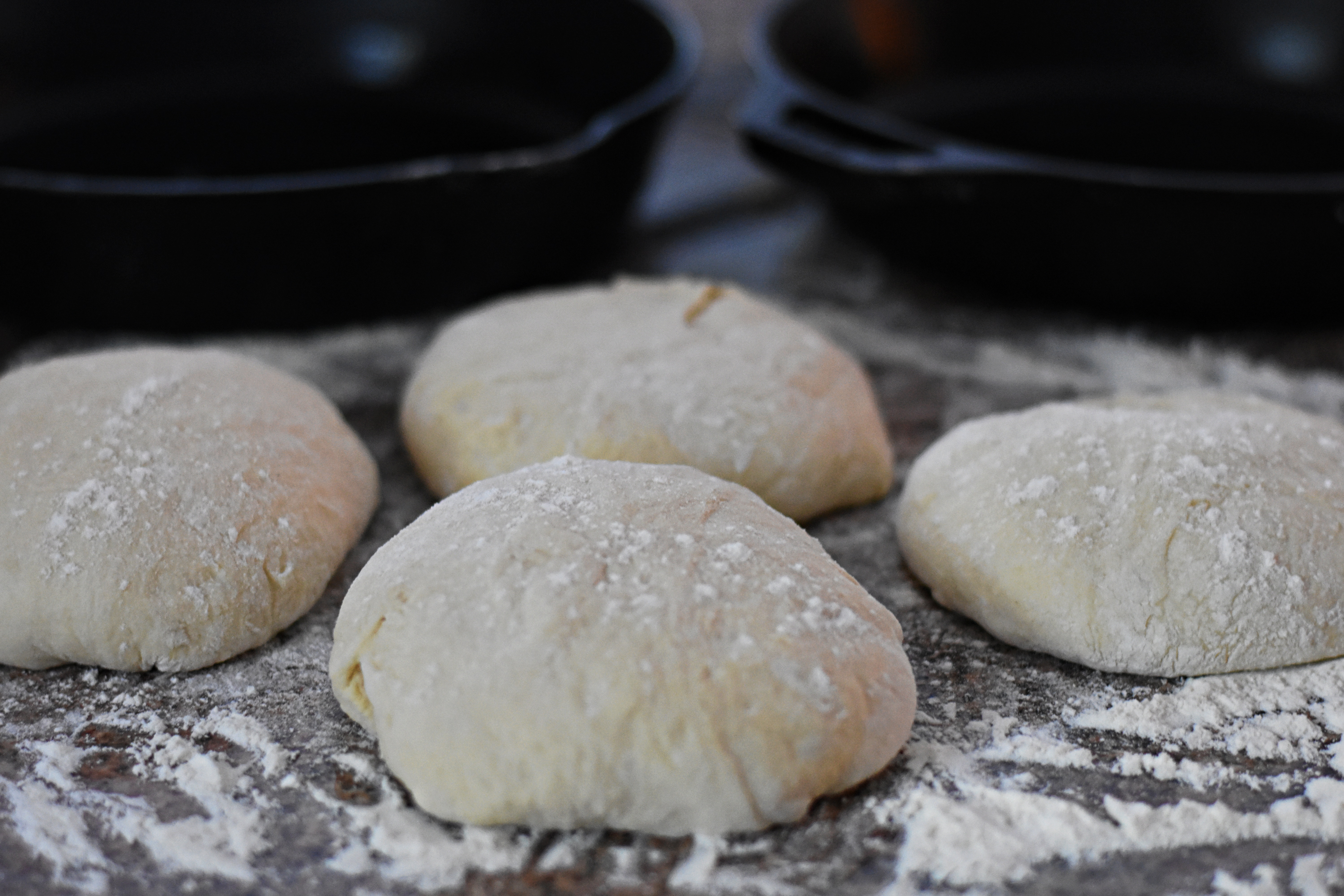 Many pizzas have been ordered by the Polis family, we are no stranger to them, they are easy, cheap, and convenient. When my husband suggested we make these Iron Skillet Pizza instead of making them on a sheet pan I thought we would give it a try, and they turned out perfect! Not only do they taste great, but they are healthier- here are a couple of reasons why.
Why Iron Skillet Pizza is healthier
Way healthier. I know you may not be thinking "healthy" when you think of pizza, but if you are ordering from a franchise you are getting loaded down with GMOs, MSG, and tons of other chemicals. I checked out some popular pizza places' ingredient lists and it reminded me of why we feel so bad in our bodies. Bad food causes inflammation, inflammation is the root of most diseases.
It tastes way better! Several months ago, my husband suggested making them in the Iron Skillet, because we are convinced that everything tastes better when its made in Iron Skillets, and they did! The crust turns out perfect, and they are absolutely delicious!
I can make mine how I want! It may sound a little selfish, but I don't love a traditional pizza. This way I'm not stuck with eating pepperoni and cheese, and they don't have to eat gorgonzola, grape, and fresh rosemary…..
Let me leave you with this: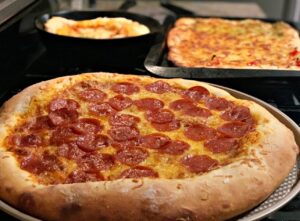 "People are fed by the food industry which pays no attention to health, and we are treated by the health industry, which pays no attention to food."  Wendell Berry
For other Iron Skillet Recipes check out Skillet Apple Cider Cake with Healthy Caramel!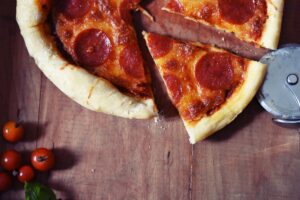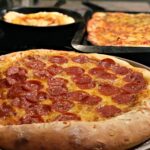 Print Recipe
Iron Skillet Pizza
Baking a pizza in a skillet gives the crust a wonderful texture. Let everyone pick their own toppings!
Ingredients
Dough
¼

cup

warm water and 1 pack yeast

1 ½

teaspoon

sugar

2 ½

teaspoon

salt

3

tablespoon

olive oil

2

cups

warm water

4 ½

cups

unbleached flour Bread flour is best.

and extra for surface
Instructions
Place ¼ warm water, yeast, and sugar in a mixing bowl. Let set for 3-5 min until yeast is active (it will look foamy)

Mix in salt, oil, and 2 cups water.

Add in flour 1 cup at a time, and stir with a wooden spoon until incorporated.

Cover (I use press and seal to cover. Then set in a warm place in your kitchen until dough doubles in size.)

When the dough is ready, turn onto a floured surface and knead the dough for about 5 min. sprinkling more flour as you knead (if needed make the dough not sticky.

Once you knead your dough, separate into for even balls (like pictured above)

With a pastry brush, brush about 2 teaspoon olive oil in the skillet.

With a rolling pin, roll out one section of the dough so it will fit in your skillet, press it into your oiled skillet ( you want it to come up on the sides of the skillet a couple of inches)

Add desired toppings and bake for about 25 min or until dough around the edges looks slightly brown.
Notes
This makes 4 pizzas. You could cut the dough recipe in half if needed
For traditional pizza I use ⅓ cup sauce, 1 cup shredded mozzarella, and nitrate-free pepperoni.
Other pictured pizzas are
Caprese: tablespoon olive oil, 1 fresh garlic clove, ¼ teaspoon pink salt. Add a few slices fresh tomato (sprinkled with salt and pepper) top with fresh mozzarella (I slice it in half and lightly season with salt)season with Italian seasoning and bake. Add fresh basil leaves when it comes out of the oven.
Gorgonzola and grape: I know it sounds weird but it's delish! ½ cup gorgonzola cheese. Cut about 6-8 grapes in half place them over cheese. Top with 1 ½ teaspoon fresh chopped rosemary. Bake until finished and add fresh arugula!
Elke is a participant in the Amazon Services LLC Associates Program, an affiliate advertising program designed to provide a means for sites to earn advertising fees by advertising and linking to Amazon.com.
Clicking on an Amazon link from Elke does not increase the cost of any item you purchase.
We will only ever link to Amazon products that we think our visitors may be interested in and appreciate learning more about.