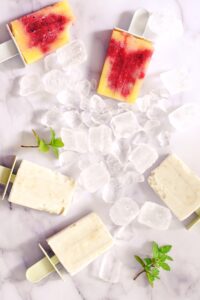 It's back to school season. The air is crisp, our eyes are sleepy and puffy, and all four kids want something different for breakfast. And so it begins. Will it begin with these Healthy Popsicles 2 Ways?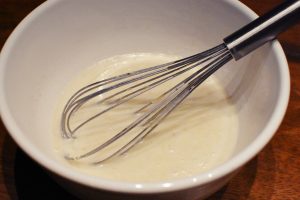 Do your kids like all the same things for breakfast? Mine usually don't. There are some exceptions like when I make Homemade Pop Tarts or Blueberry Muffins ……who wouldn't like that?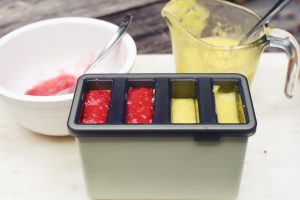 Are your mornings rushed?
If the morning is rushed, and I don't have anything made, they pretty much all eat different things. Most moms out there like the idea of sending your kids out the door with a good healthy breakfast to start their day. Sadly, the foods that are convenient are usually full of sugar, chemicals, and well, just artificial everything. It's like saying, "here you go teacher, here's my sugared-up kid for the day…" We don't mean to do that, we all just like the convenience, I do too!!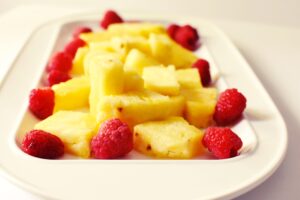 How about a breakfast that's fun, healthy, and just takes minutes to prep the night before? That's what I'm talking about! So here it is….wait for it…… Popsicles for breakfast!!! Ahhhh, what a great idea.  What kid could ask for anything more?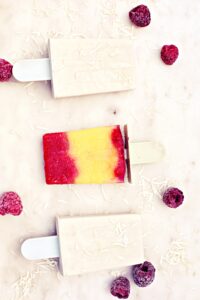 The two flavors I picked for my kids was Toasted Coconut and Raspberry Pineapple. Let's look at just some of the health benefits.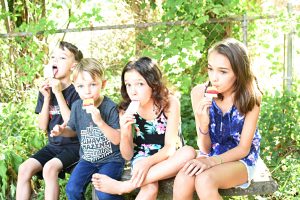 Toasted Coconut Cream Popsicles
These are made with coconut milk which aids in maintaining a good weight, antibacterial, antiviral, and anti-fungal, anti-inflammatory, and heart-healthy! I also sweeten these with local honey which contains powerful antioxidants, is also anti-viral and anti-fungal, and has nutrients and enzymes!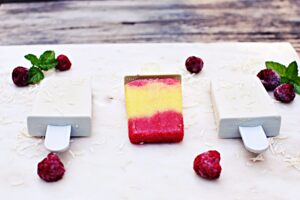 Raspberry Pineapple Popsicles
These are made with fresh raspberry and pineapple puree. Raspberries are a great source of vitamin C, they have healthy antioxidants, and they reduce the risk of cancer! Pineapple is wonderful in so many ways! It has the enzyme bromelain which helps aid in digestion as well as helps prevent coughs and colds!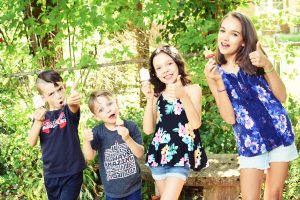 With just a little bit of prep the night before, your kids can wake up to a healthy nutritious breakfast! Another plus- you can make these with your kid's favorite combinations!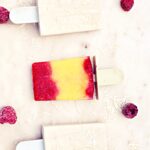 Print Recipe
Healthy Popsicles 2 Ways
Homemade Healthy Popsicles for a quick and nutritious breakfast or snack!
Ingredients
Toasted Coconut Cream Popsicles (Makes about 8)
1

can

coconut milk

Full fat

4

Tbsp

toasted coconut

4

Tbsp

honey

local is best

1

tsp

vanilla extract

1

pinch

pink salt or sea salt
Raspberry Pineapple Popsicle (Makes about 8)
1 1/2

cup

pineapple chunks

add 2 Tbsp local honey for added sweetness if needed

1

cup

raspberries

add 1 Tbsp of local honey if needed for sweetness

1/2

cup

fresh spinach leaves

optional
Instructions
Directions for Toasted Coconut Cream Popsicles
Place unsweetened coconut on the cookie sheet and toast in the oven until fragrant and lightly brown. (about 5 minutes) set aside to cool

In a medium bowl whisk 1 can coconut milk, honey, vanilla, salt, and cooled coconut.

Pour mix into a measuring cup and carefully pour into popsicle molds.

Freeze for 4-6 hours or overnight.
Raspberry Pineapple Popsicle
Blend 1 1/2 cup pineapple chunks in a blender or Nutri-Bullet then pour into a small bowl and set aside. (blend in honey for extra sweetness if needed)

Blend raspberries and spinich (spinach is optional)together into a puree' and pour into a bowl (blend in honey for extra sweetness if needed)

Layer into popsicle molds by adding a couple tsp of raspberry puree, then fill almost to the top with pineapple, then finish with a tsp or two of raspberry.

Freeze for 4-6 hours or overnight.
Notes
The popsicle molds I use work great and have a warm water tray for easy removal!
Buy them here!
I use my Nutri-Bullet almost every day!
Buy a Nutri Bullet here