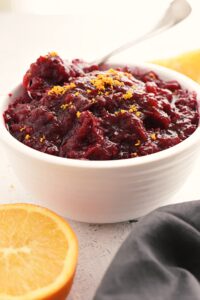 Have you ever made cranberry sauce from scratch? If you haven't you can probably join the thousands of Americans that plop their cranberry sauce from a can on a little platter and wala! Well,  I grew up eating it too, as many of us have. It's the perfect mix of well, high fructose corn syrup and cranberries. Actually, not a good mix at all. Making this Orange Cinnamon Cranberry Sauce just may change the way you and your family think about cranberry sauce forever!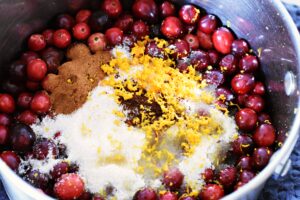 Yes, you have to add a good bit of sugar to tone down the sour in these little gems, but cranberries have many health benefits, and we only see them around once a year! Check out how healthy they are!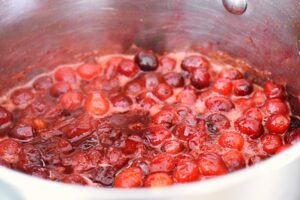 Health benefits of cranberries
According to Dr. Axe, cranberries have one of the highest concentrations of antioxidants of any fruit! They have an amazing ability to fight against free radicals, and reduce inflammation in the body!
Most people know cranberries for fighting against and prevent urinary tract infections, and they do by preventing bacteria from attaching to the surface of the bladder.
Reduce the risk of certain cancers due to their anti-inflammatory and antioxidant properties!
Have a sluggish immune system? Cranberries have components that help improve the gut and 80% of your immune system is in your gut!
They help with digestion! I work with a lot of people that have problems digestion, and it seems to be a growing problem. If you have symptoms like constipation, diarrhea, or stomach acid cranberries can help! Cranberries balance the bacteria in the gut and help balance bacteria in the body.
Cranberries are full of fiber and vitamin C!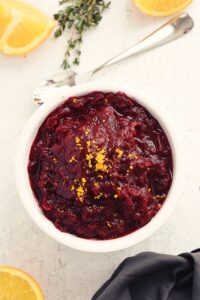 Cranberry sauce is easy to make!
We have all the long time-consuming dishes to make on the Holidays. Throw a few homemade quick and easy dishes in the mix (like these delicious maple roasted carrots!) Cranberry sauce is as simple as cooking them down in a saucepan with water, sugar, orange zest, and spices! Simmer for 20 minutes and you're done! We like to add this orange cinnamon cranberry sauce to a warm fluffy homemade roll! (check out this amazing homemade roll recipe!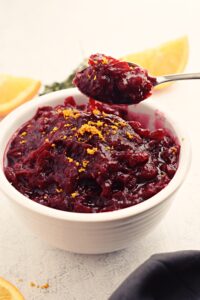 I hope you won't pass up this wonderfully healthy fruit in the produce aisle this year and make this orange cinnamon cranberry sauce! You won't be sorry!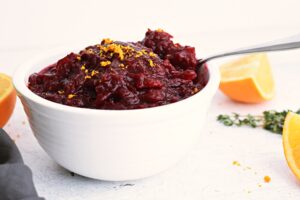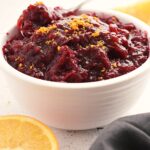 Print Recipe
Orange Cinnamon Cranberry Sauce
Simple and quick homemade cranberry sauce with orange zest and hints of cinnamon and clove.
Ingredients
4

cups

fresh cranberries

washed

½

cup

filtered water

1

cup

sugar

I use organic raw

zest/juice

of one orange

1 ½

teaspoon

cinnamon

⅛

teaspoon

clove
Instructions
With a strainer. Wash and go through the cranberries picking out the ones that are soft and bad

Pour 4 cups of cranberries into a saucepan.

Add water and sugar, then turn heat on medium low.

Stir then zest in one orange and squeeze the juice of the orange on the cranberries and stir.

Add cinnamon and cloves and stir.

Let simmer for 20 minutes stirring occasionally.

Remove from heat, and enjoy!
Notes
You can reserve a little orange zest to put on top before serving.
I love this tool for zesting citrus! buy it here!