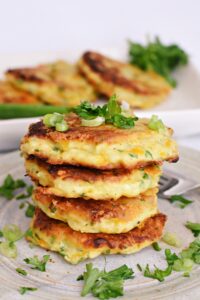 If you're looking for the most delicious way to use those leftover mashed potatoes, I have the perfect recipe for you! Set your tastebuds on these mashed potato pancakes! Crispy on the outside and soft on the inside. They are full of flavor and oh. so. good!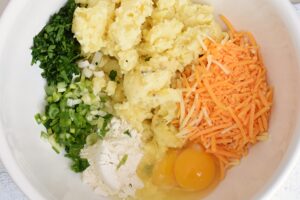 There's an average of $293 million dollars worth of food that goes to waste after Thanksgiving according to market watch.… and that's just in TURKEY! That doesn't include all the stuffing, veggies, and well, I'm going to assume not much pie get thrown out. That's a lot of waste!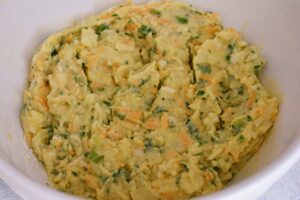 There are so many ways to repurpose those leftovers into something great, and potato pancakes are just one of them!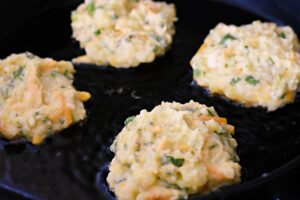 The different kinds of potato pancakes
There are a couple of different types of potato pancakes. Some potato pancakes are made from grated potato, onion, flour, and a little salt and pepper. This type of potato pancakes are called latkes and require a bit more work because they are made by grating the potato and onion. The type I make in this recipe is from mashed potatoes. They both have similar ingredients, but for this recipe, I go the easy route, skip the grating and use up those leftover mashed potatoes everyone is bored with!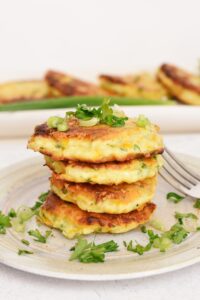 Traditionally, potato pancakes have pretty simple ingredients. Using a mix of potato, onion, flour, egg, salt, and pepper. That can be simple and good, but in these mashed potato pancakes I add a punch of flavor with a couple of easy ingredients. First, I added creaminess and saltiness with some cheddar cheese and little color with green onion and parsley. Both green onion and parsley are super healthy and add a wonderful combination of flavors! Green onions help lower cholesterol, they are anti-inflammatory, antibacterial and helps kill parasites. I LOVE  fresh herbs! Parsley has been a favorite of mine to juice (especially in this green juice) and it is full of wonderful health benefits! Parsley is full of vitamins A, B, and C, it helps prevent bad breathe, prevents acne, aids in digestion, and fights inflammation!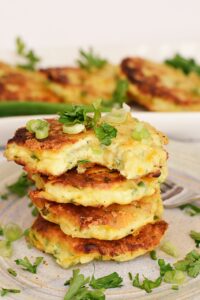 What can you top your pancakes with?
There are so many different things you can top your potato pancakes with! You can use sour cream, green onions, fresh jalapenos, fresh parsley, chives, avocado and more!
For more potato recipes check out these garlic and herb potato stacks!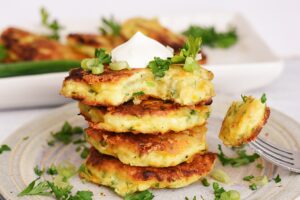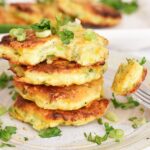 Print Recipe
Mashed Potato Pancakes
Mashed potato pancakes are crispy on the outside and soft on the inside! The perfect way to use up those leftover mashed potatoes!
Ingredients
2

cups

mashed potatoes

2

eggs

1

large

green onion

chopped

2

tablespoon

fresh parsley

chopped fine

¼

cup

unbleached flour

1

cup

cheddar cheese

shredded

½

teaspoon

salt

or more depending on how salty your mashed potatos are.

½

teaspoon

black pepper

2-3

tablespoon

refined coconut oil

for frying
Instructions
Wash and chop in small pieces the green onion and parsley.

In a medium mixing bowl add all the ingredients and mix well with a wooden spoon.

Heat skillet over medium heat and add a couple of tablespoon of refined coconut oil or oil of your choice.

Patty out 8 potato patties or more or less depending on how big or small you would like them.

When your skillet is hot and oil is melted, add 2-4 patties to your skillet and fry 3-4 minutes on each side.

Transfer to a plate lined with a paper towel to absorb any excess oil.

Top with desired toppings (suggestions in post) and serve!