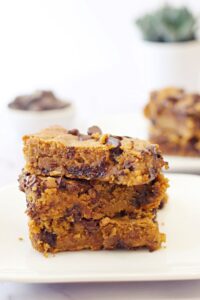 Do you ever wish your family would eat healthier? If you are like most of America, then you are slowly realizing our food supply is way below average in quality! From GMO's that were introduced in the late '90s, to food laced with MSG, artificial colors, and dyes, we must take steps to change what we feed our families. Thats why recipes like these undercover gluten free blondies are great!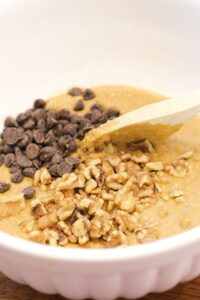 The realization of what's in our food can be overwhelming because the hard facts seem to go on and on. When it boils down to it, most of our diets are filled with "food products" and not real food.
Making the transition with kids can be that much harder. When I stopped buying certain cereals and snacks, it was hard for my kids. Some of the alternatives just didn't taste the same, and I had to endure some winning, but we stuck to it, and not only did we survive, but we are healthier for it!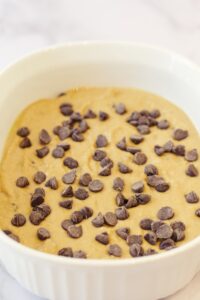 It was very eye-opening when the kids started public school. We love the school and the staff, but the school breakfast and lunches, which I believe are not chosen by the school, but chosen statewide- are sad. While there are suppose to be nutritional guidelines like reducing fat, offering fruits and veggies, and reducing sodium in foods. Breakfasts include things like surgery cereals like fruit loops, funnel cakes, and chocolate milk! These are things that will send kids into sugar highs causing them to not be able to concentrate and get into trouble!
When I visited the kids at school and ate lunch with them, I looked around at packed lunches and saw Gatorade, fruit roll-ups, little Debbie cakes, and unhealthy Nutella sandwiches.  It made me realize how far we are from a knowledge of nutrition in this country. You can't blame people who listen to commercials that announce "real fruit juice", "less sugar", and "made with real……" while leaving out that they are full of chemicals and preservatives, and oh yeah- not even real food.
Health benefits of chickpeas
When we are in the process (and we are still in it) of being healthier, sometimes we have to be sneaky! They don't need to know what's in what they're eating! If they knew their dessert had a can of chickpeas, they wouldn't be excited! You, however, can be excited when chickpeas have these benefits!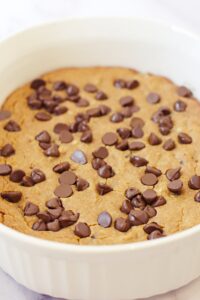 Chickpeas are:
Full of dietary fiber.
Full of protein.
More than 10 vitamins and minerals!
Really high in a mineral called manganese which helps balance hormones, helps the body absorb nutrients, and helps with the production of digestive enzymes.
Have complex carbs, which help provide us with fuel for the day.
The high levels of protein and fiber can aid in weight loss, by helping you feel full longer.
Other benefits of chickpea blondies
These undercover gluten- free blondies have no flour or flour substitutes! The base for these are just the chickpeas.
These healthy blondies are also dairy- free. If you are vegan, these are for you! I made these with coconut milk and dairy-free chocolate chips!
They are also refined sugar free! I sweetened these with maple syrup and molasses. You could also use date syrup!
For other healthy snack or breakfast ideas check out:
Raspberry Cream Overnight Oats!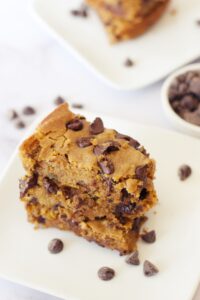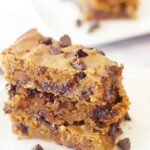 Print Recipe
Undercover Gluten Free Blondies
These gluten-free brownies have a secret ingredient. I promise the kids won't know - mine were absolutely shocked when they found out!
Ingredients
1

can

chickpeas, drained

4

tablespoon

coconut milk or other milk

depending which type of blender your using you may need the extra to make it smooth

⅓

cup

peanut butter

or almond butter

¼

cup

maple syrup + 1 teaspoon molasses

You can use all maple syrup. Date syrup could also be used.

2

teaspoon

pure vanilla

1

teaspoon

baking powder

⅛

teaspoon

pink salt or sea salt

¼

cup

chocolate chips +  ¼ cup to sprinkle on top

vegan or regular

⅓

cup

chopped walnuts

optional
Instructions
Preheat oven to 350

In a Nutri-bullet or food processor place all ingredients except for walnuts and chocolate chips. I like to pop the chickpeas out of the little clear hull that's on them. You don't have to do this but I think it makes the consistency smoother, unless you have a Vitamix which makes everything smooth

Blend until smooth and there are no lumps.

With a spatula scoop into a medium mixing bowl.

Mix in a ¼ cup chocolate chips and walnuts with a spatula.

Brush bottom of baking dish with refined coconut oil.

Spread into a small baking dish. I used a 1 ½ qt baking corning ware dish.

Sprinkle ¼ cup of chocolate chips on top.

Bake for 25 minutes.

Let cool before cutting them in squares.

Store in refrigerator.
Elke is a participant in the Amazon Services LLC Associates Program, an affiliate advertising program designed to provide a means for sites to earn advertising fees by advertising and linking to Amazon.com.
Clicking on an Amazon link from Elke does not increase the cost of any item you purchase.
We will only ever link to Amazon products that we think our visitors may be interested in and appreciate learning more about.