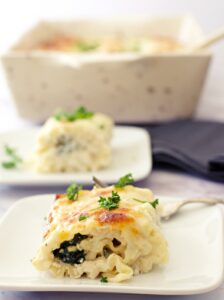 If you're looking to add more veggies into your diet, then how about some veggies smothered in cheese? These spinach lasagna roll-ups are delicious! A mix of mushrooms and spinach sauteed with fresh garlic and blended with 3 delicious kinds of cheese! If you think you might miss the red sauce, I beg to differ. These roll-ups are covered with a creamy bechamel sauce!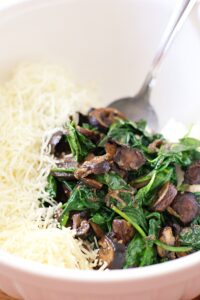 Making Spinach lasagna roll-ups
There are so many great things about making lasagna all rolled up. One is when I'm making traditional lasagna I'm always wondering which layer goes down first and on last. Anyone else? As many times as I have made lasagna I forget every time. Second, these are great for entertaining! When we have guests over I'm always overthinking what to make. Lasagna roll-ups are perfect and look so nice served up on a plate with a little fresh parsley or basil. Serve this dish up with a loaf of homemade artisan bread and a salad and you have a great meal for entertaining! Don't forget the dessert! A favorite I like to serve to guests is homemade chocolate mousse with homemade whipped cream. Now you have a happy and full crowd!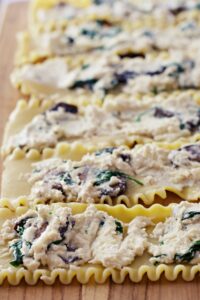 What is bechamel sauce?
Bechamel sauce is a basic mixture of butter, flour, and milk. This mixture whisked together over heat leaves you with a creamy white sauce that is a great addition to this dish! If you have never made this sauce it's super easy to make and only takes a few minutes.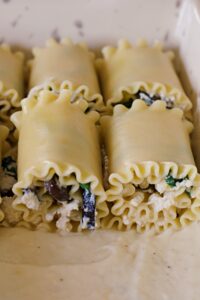 Start by melting butter in a saucepan.
Add flour by whisking it in until a roux form and flour and butter are incorporated.
Cook the roux for about 1-2 minutes to get the floury taste out.
Whisk in the milk a little at a time. Continue to whisk until there are no lumps and a creamy thick sauce forms (about 8-10 minutes.)
Add in salt, pepper, nutmeg, and cheeses. Whisk together until the cheese has melted.
Remove from heat.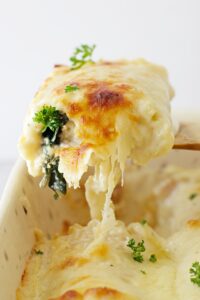 Benefits of spinach and mushrooms
Now I know that this has lots of cheese, but it also has 4 cups of spinach and delicious mushrooms! Check out some of the health benefits of these veggies!
Spinach
Spinach is high in vitamin A and K
It is a great source of fiber and protein.
This veggie promotes good healthy vision, brain function, and helps to fight infection.
Spinach also is rich in vitamin e, calcium, and zinc!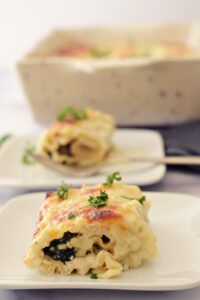 Mushrooms
You can use all different kinds of mushrooms in this dish. You can even leave them out if you aren't a mushroom fan. But they do pack a lot of nutrition. Check it out!
Boost the immune system.
Helps hair, nails, and teeth.
Helps to protect against cancer.
Mushrooms have vitamin D, beta-glucan for cancer, and immunity, and ergothioneine for energy and aging.
For other delicious vegetarian dinner ideas check these out!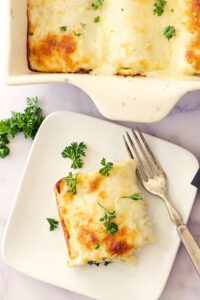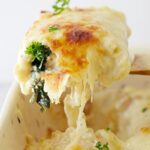 Print Recipe
Spinach Lasagna Roll-Ups
These creamy and delicious spinach lasagna roll-ups are made with sauteed spinach and mushrooms and covered with a creamy white sauce.
Ingredients
Lasagna roll-ups
1

box

lasagna noodles

cooked according to box directions adding 2 teaspoon of salt to the water.

2

tablespoon

olive oil

for frying the veggies

1

8oz

pack of sliced mushrooms

mushrooms of choice

4

cups

spinach leaves

2

large

garlic cloves

15

oz

ricotta cheese

seasoned with 1 teaspoon of each salt, pepper, and garlic powder

8

oz

Shredded Mozzarella Cheese

divided

8

oz

Grated Parmesan cheese

divided
Bechamel Sauce
5

tablespoon

real butter

¼

cup

unbleached flour

2

cups

whole milk

½

teaspoon

of each salt and pepper

couple dashes

nutmeg

½

cup

Shredded Mozzarella Cheese

¼

cup

shredded parmesan cheese
Instructions
Preheat your oven to 375.

Cook lasagna noodles according to package directions adding 2 teaspoons of salt to the water. Make sure not to overcook because noodles will continue to cook while they are baking. Strain and set aside. I like to lay them out on a cookie sheet so they don't stick together.

While lasagna is cooking, in a large skillet with olive oil fry sliced mushrooms until tender. Season with salt and pepper. Add in the spinach leaves and lastly the garlic and season again with salt and pepper. Cook until tender. Set aside to allow to cool.

In a medium bowl mix together the ricotta cheese, 1 teaspoon of each salt, pepper, and garlic powder. Stir in 1 cup of shredded mozzarella and ½ cup of parmesan.

Stir the spinach and mushroom mix in the ricotta mixture and set aside while you make the bechamel sauce.
Bechamel Sauce
In a medium saucepan melt butter.

Whisk in the flour and cook on medium-low heat for about 2 minutes to cook out the taste of the flour.

Slowly add in the milk whisking the entire time to avoid lumps.

Continue to stir until bubbly and thick like a cheese sauce would be (about 8-10 minutes)

Add in spices and ½ cup of mozzarella and ¼ cup of parmesan.

Whisk until the cheese is melted and turn off the heat.
Assembly
Lightly coat the bottom of a baking dish with a layer of the bechamel sauce.

Lay the lasagna flat on a cutting board or cookie sheet.

Spread the ricotta mixture evenly over the length of the lasagna noodle. Continue to do this with all the noodles until you run out. (This made 12 for me)

Start at one end and roll the lasagna noodles up then place them seam down in the baking dish.

Once you have finished this, spoon a layer of the bechamel sauce over the lasagna roll-ups. You may not use all the sauce. If you have extra you can serve the roll-ups with a drizzle of sauce.

Sprinkle with a layer of mozzarella and parmesan cheese.

Bake in the oven for about 25 minutes or until it is lightly browned on top.

Serve with an extra drizzle of bechamel, fresh parsley, or red pepper flakes.