Have you ever heard of a coffee enema? I hadn't until just a few years ago. Drinking coffee isn't the only way to get the benefits from it. Coffee enemas are a great way to detox. They were in the Merck Manual as a scientific practice for detoxing and as a pain reliever until it was taken out in the 1970s. In this post, I'm going to explain to you how to do a Coffee Enema. It may seem daunting at first, but you will see how easy it is to do in your own home!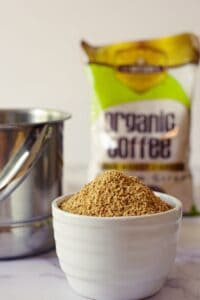 A few years ago I ran into some information about coffee enemas. My best friend got diagnosed with cancer and I went into research mode. I spent what felt like hundreds of hours researching natural ways to heal cancer. I  consumed stories of people who had survived cancer without the use of conventional treatment. One protocol that sparked my interest was Gerson Therapy. Gerson Therapy is rooted in drinking lots of raw fresh juices (like these) and coffee enemas which led to great success in the body healing itself. As you will see in this post, coffee enemas are an amazing tool to detox the liver, flush bacteria out of the body, and flush things like yeast and heavy metals. Coffee enemas have also been used as a natural cancer treatment!
What is a coffee enema?
A coffee enema is yes, what you are thinking. It is inserting a mixture of a special type of coffee and water into your colon as a means of detoxification. Once the coffee water mixture is released into the colon, the hemorrhoid vein absorbs the caffeine and then travels to the liver and gallbladder. During the time you hold the coffee enema in the colon, all the blood passes through the liver at least 5 times. This allows for the enema to remove toxins that have accumulated in the liver. This then stimulates the bile ducts to open and release toxins.
Keep in mind that coffee enemas are not new and have been around since sometime during the 1800s.
My Story
After about 17 years of struggling with dermatitis so bad on my legs that my skin would break open and bleed from me scratching them so much. It felt like bugs crawling under my skin it would itch so bad. I would try not to scratch them but if I could restrain myself in the day I would scratch them at night when I was sleeping which would result in bleeding and scabs. This went on for years every winter and by summer they would clear up.
A few years ago I shaved with a razor that had a strip on it and had an allergic reaction.  My legs broke out into a horrible rash that lasted about a year and a half straight! It was miserable and resulted in scarring on my legs, and I knew I had to do something else. I started making my own lotion with manuka honey and frankincense which helped a lot and I started doing coffee enemas once a week. My legs slowly started recovering and now I haven't had any outbreaks since 2019!
What are the benefits of doing a coffee enema?
Why would you do this? Well, there are many reasons. Let's look at a few benefits from doing coffee enemas.
Coffee stimulates an enzyme in the liver (glutathione) which helps remove free radicals from the bloodstream. This also acts as an anti-inflammatory, and a natural blood cleanser.
Helps to flush out fungus, yeast, and flush out bacteria.
Have been used to fight cancer, overdoses, constipation, and IBS.
They have also been used for liver dysfunction and digestive disorders.
They are also helpful for parasites and candida.
Removes toxins that have been built up in the liver.
Opens up bile ducts and increases the production of bile for proper digestion.
Helps to combat fatigue and depression.
Well known for natural cancer treatment.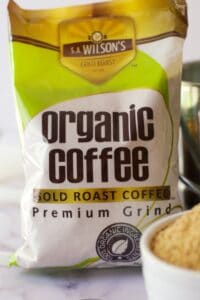 How to do a coffee enema at home.
Coffee enemas are easy to do at home. First, you will need to buy a coffee enema kit. I got mine from Amazon and it's perfect. You can buy the one I have Here
The stainless steel bucket is nice because you can clean it and re-use it and it will save you money! You can also use the plastic bags that attaches somewhere above in the bathroom so the contents can run down.
Next, you have to purchase the right coffee beans. Never use coffee beans that aren't organic and always use caffeinated. Never use instant coffee.  Non-organic coffee beans are highly sprayed and full of pesticides. You can buy the coffee beans I use here!
Lastly, when I do coffee enemas I like to do them in the morning after having a bowel movement. You can do enemas daily or weekly. Some people healing from cancer do several coffee enemas daily. This model is from the Gerson Therapy protocol. Below you can get a step-by-step on how to do a coffee enema.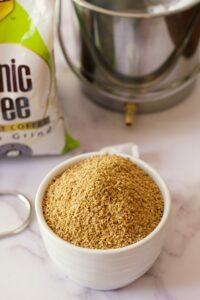 For other detoxes and ways to stay healthy check out these posts:
Why you should use manuka honey
How to reduce toxins from your home
Are there dangers to coffee enemas?
According to Dr Axe studies have shown that people using coffee enemas usually don't have complications or side effects. If you have had side effects from any type of enemas in the past you should talk to your doctor before doing a coffee enema. Make sure to follow all directions carefully and insert the enema tip carefully to not get any tears. If you are sensitive to caffeine it's good to know that you absorb 3.5 times less than drinking coffee. Always consult your doctor before doing a coffee enema. Coffee enemas are not recommended for children or if you are pregnant. Make sure you are not allergic to coffee. Tips for keeping it safe.
Be careful when inserting the tip. Use a lubricant like a coconut oil.
Always let the mixture cool to room temperature. NEVER use it while it's still hot!
Make sure to always follow the directions and recommended amount of coffee to water.
Don't overdo it. Some people want to do several enemas a day. Gerson Therapy uses 5 enemas per day with several hours of space in between. This is for extreme healing from disease and cancer.
I like to use a binder to bind any toxins that are released. I use activated charcoal before the enema. Not everyone does. I link-activated charcoal in the recipe notes.
Always stay really hydrated when doing a coffee enema. Drink plenty of water or fresh raw juice.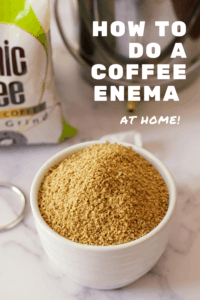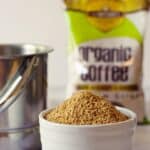 Print Recipe
How to do a coffee enema
Coffee enemas are a great way to detox the liver and colon at home using organic coffee and water.
Ingredients
2

tablespoon

organic coffee

I'll link what I use in the recipe notes

3

cups

filtered water

never tap water

enema kit

I'll link what I use in recipe notes
Instructions
Place coffee and filtered water into a small pot and simmer for 15 minutes. Remove from the heat.

Let the mixture cool for about 15-20 minutes or until body temperature. Strain the mixture with a mesh stainless steel strainer and remove all coffee grains from the liquid.

Lay a towel on the bathroom floor then place your enema bucket or bag above you on a counter, towel rack, or shower rail. (about 2 feet)

Make sure the tubbing is clamped and pour the filtered liquid into the enema bucket or bag.

Add a lubricant like coconut oil to the tip of the enema.

Lay on the floor on your right side in a fetal position and insert the end into your rectum about 1 inch.

Unclamp the valve and allow the liquid to enter until it is empty. If you need to control the flow of the solution you can do it by pinching the tube or adjusting the clamp to a partially closed position.

Hold the liquid in as long as you can but as close as you can get to 12-15 minutes. 15 being the max time.

After 15 minutes, you can go to the bathroom.

Clean all enema buckets and tubing if you have a reusable kit.
Notes
Here is the coffee I use. This coffee!
This is the enema kit I have! Enema kit
You can also use a binder to bind any toxins released. This is the binder I use Activated Charcoal
You could experience detox symptoms like headache nausea and intestinal spasms. 
Make sure to stay hydrated by having at least 3 8oz glasses of water or fresh raw juice. 
Always consult your doctor before making any changes.
Elke is a participant in the Amazon Services LLC Associates Program, an affiliate advertising program designed to provide a means for sites to earn advertising fees by advertising and linking to Amazon.com.
Clicking on an Amazon link from Elke does not increase the cost of any item you purchase.
We will only ever link to Amazon products that we think our visitors may be interested in and appreciate learning more about.