Homemade blueberry crumble pie is one of my favorite pies. The only requirement, it has to be homemade, and I like to eat it warm. The 3 layers in this pie make it to die for. The homemade flaky buttery pie crust, the sweet and slightly tart juicy blueberry center, and the sweet crunchy crumble. I had to recreate this pie for my husband. This was his favorite childhood pie. And, I did. He loved it. My kids loved it. I can foresee myself making this often. My oldest already made it clear that she will be wanting this pie for her birthday dessert.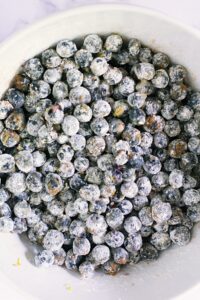 Making a great pie crust
I realize pie crust can be a bit tricky, but once you make a good homemade crust store-bought won't be an option. Why? It's just so much better homemade! It's been at least 10 years since I've bought one pre-made.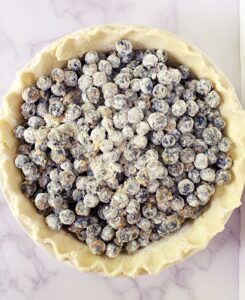 The key to a good flaky pie crust is to make sure your butter and water are really cold. I like to keep the butter in the fridge right up until the time I'm going to cut it in. You can even pop it in the freezer for a few minutes before cutting it in. Second, I throw a couple of ice cubes in the water to chill it. Again, this will ensure that flaky crust that's oh so good! So the steps are: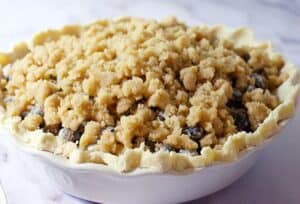 Mix dry ingredients
Cut in cold butter with a dough cutter, a fork, or pinch it into pea-size pieces with your fingers.
Add in ice-cold water about a tablespoon at a time. You want a pretty dry dough that you have to work together with your hands.
Don't overwork the dough. Just get it to come together with your hands into a ball. Once it does, cover, put it into the fridge, and let it cool while you make the rest of the pie.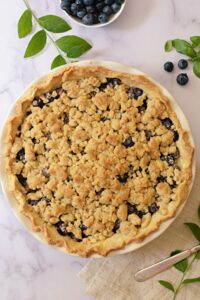 How to get the center of the pie to thicken
The combination of flour and corn starch thickens this pie filling perfectly. Wait, don't judge my pictures. My only regret? When I cut into this pie too soon and it's not quite hardened yet. Well, do I regret it? I love this pie warm out of the oven, so it's really hard for me to wait. But, if you can hold yourself off for 2-3 hours before cutting into it, it will set up perfectly.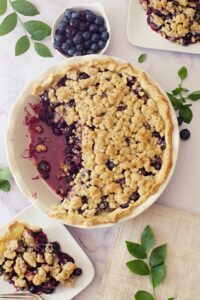 Can I use frozen blueberries for blueberry crumble pie?
Fresh blueberries are best for this pie, but if you must use frozen they will work. Make sure to bring them to room temperature and then strain any extra liquid off of them. Strain them well. Extra liquid could result in a runny pie filling!
If you love blueberries like me, you should check out these other amazing recipes!
No-Bake blueberry cheesecake cups
Blueberry lemon muffins with lemon sugar sprinkle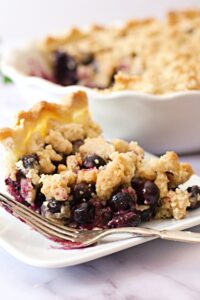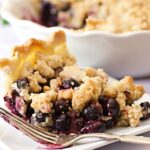 Print Recipe
Blueberry Crumb Pie
This blueberry crumb pie is made with a buttery flaky crust, a sweet blueberry center, and a sweet crunchy crumble!
Ingredients
1

homemade or pre-made pie crust

I will link my pie crust in the recipe notes

5

cups

blueberries

fresh or if frozen see post for tips

zest of one large lemon

½

cup

sugar

1

tablespoon

of lemon juice

¾

cup

unbleached flour

4

tablespoon

corn starch

¼

teaspoon

salt

½

teaspoon

cinnamon

¼

teaspoon

nutmeg
Crumb Topping
1

cup

unbleached flour + 2 tbsp

1

stick

melted butter

⅓

cup

sugar

½

teaspoon

cinnamon
Instructions
Make pie crust or use a pre-made crust. (I will link my pie crust in the recipe notes)

If you make the crust. Roll out the dough on a floured surface a little bigger than your pie dish. Carefully transfer the dough to the pie dish pressing the dough onto the bottom and up the sides. Crimp the edges decoratively. Take a fork and pierce and few holes in the bottom and set it in the fridge.

Pre-heat the oven to 375 then make the filling.

In a large bowl, add the blueberries. Sprinkle evenly with flour and mix well. Mix in corn starch and sugar and mix well.

Mix in the lemon juice and the lemon zest and mix well. Add salt, cinnamon, and nutmeg and mix well. Set aside and make the crumb topping.
Crumb Topping
In a medium bowl mix together flour, sugar, and cinnamon.

Melt the butter and mix in until there are no dry ingredients.
Assemble
Remove pie crust from the fridge and pour in blueberry mixture.

With your fingers or a spoon, evenly top the pie with the crumble.

Bake at 375 for about an hour and 10 minutes or until filling is bubbling and the top is golden brown.

Remove from the oven and allow to cool for 2-3 hours or cover and cool overnight.

If you cut this while it is still warm the middle won't be set all the way but it will still be delicious.
Notes
You can find my homemade pie dough recipe here