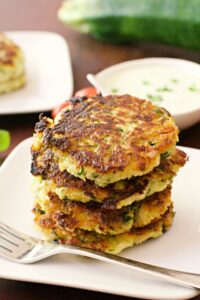 It's that time of year again. People's gardens are overflowing with zucchinis the size of my arm. I've made some pretty amazing zucchini recipes over the years. How can you pass up zucchini season without making this zucchini bread with a touch of spice and orange zest? Or cutting them lengthwise and hollowing them out to make zucchini boats! This year I wanted to make delicious healthy zucchini fritters, and that's exactly what I did. To ensure you get the best experience making your zucchini fritters. Let's look at some things that will help.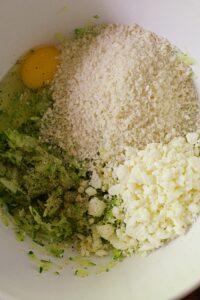 Why are my healthy zucchini fritters soggy?
This is a common problem with zucchini fritters. No one wants to eat anything soggy, right? There is one step you just can not skip in order to get a great zucchini fritter. You must squeeze the liquid out. How do you get the water out of the zucchini? Pretty simple. After you shred the zucchini, lightly sprinkle with salt. Massage or stir in the salt (which will help to release the liquid). Have an extra bowl handy and with your hands squeeze out the liquid and transfer it to another bowl. When you get all of the shredded zucchini squeezed out, squeeze and repeat this step getting any remaining liquid out. Another way you can do this is to place your shredded zucchini in a mesh strainer and squeeze it through the strainer. Repeat if needed in order to get it pretty dry. The 3rd way you can do it is through a cheesecloth. Just place shredded zucchini into a cheesecloth and squeeze until liquid stops coming out.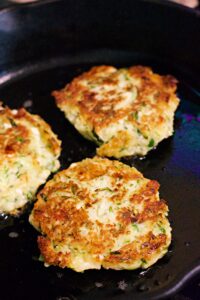 Why are my fritters falling apart?
If your fritters are falling apart, first you need to make sure you are following the above step to get all the liquid out of your fritters. Second, make sure you are using a binder like an egg to hold your fritters together. If you are egg-free you can use an egg replacement like flax egg in place of eggs. Make sure not to skip this step or your fitters will break apart. The second tip is to make sure your oil is hot before adding them into the pan. This will allow the fritters to quickly get a nice crispness to them helping them to stay together. Also, make sure to cook a few minutes on each side, and don't flip too soon!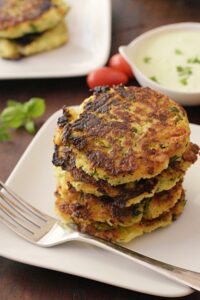 Health benefits of zucchini
Zucchini packs a lot of benefits and is a great veggie for weight loss. Check out some of these benefits:
Helps to prevent age-related eye disease like cataracts and glaucoma.
Tired? Zucchini is high in B vitamins which can help with preventing fatigue!
Zucchini will give you your daily value of potassium which is great for heart health!
High in antioxidants and vitamin C for immune health and skin.
Squash, like zucchini, can help improve digestion.
It can aid in weight loss due to its low-calorie count.
For other summer vegetable dishes check out these amazing dishes!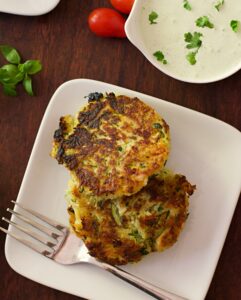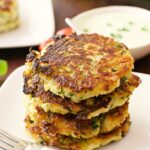 Print Recipe
Healthy Zucchini Fritters
These healthy zucchini fritters are full of grated zucchini, fresh garlic, and feta and served with a garlic lemon sauce!
Ingredients
2

medium

zucchini (should equal about 2 cups)

grated and liquid squeezed out

3

garlic cloves

grated or pressed

1

cup

panko bread crumbs

¾

cup

feta cheese

or cheese of choice

1

large

egg

½

tsp

salt

½

teaspoon

pepper

olive oil or refined coconut oil for frying
Garlic lemon sauce
½

cup

sour cream

handful

fresh basil or parsley or both

½

teaspoon

both salt and pepper

1

tablespoon

lemon juice

2

teaspoon

olive oil

1

large

garlic clove
Instructions
Grate zucchini into a bowl and sprinkle a little salt over it. Mix well and squeeze as much liquid as you can out of the zucchini. This will ensure your fritters aren't soggy. Check out the post for different ways to get the liquid out.

Once the liquid is squeezed out add in egg, bread crumbs, and feta cheese and mix well.

Grate in the garlic and add salt and pepper and mix well.

Patty out fritters (I got 6 but you could get more or less depending on the size you want) and heat about 3-4 tablespoons of oil in a large skillet over medium-high heat.

Wait until the oil is hot and add fritters to the skillet making sure not to overcrowd them.

Cook about 3-5 minutes on each side not flipping until they are nicely crisp.

Remove from the heat and place on a plate lined with paper towels to absorb extra oil.

Repeat and add oil if necessary. Make dipping sauce.
Garlic Lemon Sauce
In a blender add all ingredients and blend well.

Dip or top fritters with sauce and enjoy!