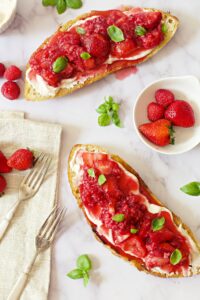 Can dreamy and breakfast be used together? I think so. This ricotta toast with berries is dreamy. It may even be my new favorite breakfast and I'm not a big breakfast fan! Read on fellow non-breakfast lovers. This breakfast just may be for you. And did I mention it's super easy to make? That also ranks it high on my breakfast list.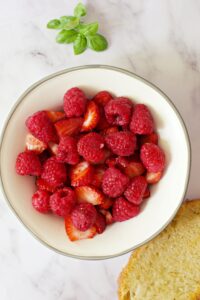 Choosing the right bread for ricotta toast with berries
Make sure to find some good quality Artisan bread or sourdough bread for this breakfast. I like to whip up some homemade crusty artisan bread (and I mean whip up because it's super easy). But, you can also buy some kind of artisan loaf at most grocery stores. Plain, sourdough or even an Artisan bread with seeds and nuts added would be very delicious for this breakfast. If all else fails and you have to make it on regular bread it will still be good, but maybe not great. Once you have the perfect bread you're going to turn the fire on, put some good butter in the pan, and grill that bread until it's toasty. You want that bread to have a good buttery crunch!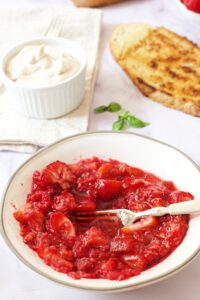 Making whipped ricotta
Ok, I have a habit of just whipping the ricotta by hand with a whisk because I don't like pulling out appliances. However, if you whip the ricotta in a blender or food processor it will take it to a different level of dreamy. For this recipe, I like to whip it up with a little honey and cinnamon. Yep, that's right, whipped honey and cinnamon ricotta. Just wait until we top it with berries. So good!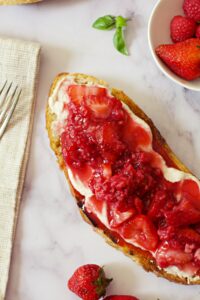 How to make macerated berries
These berries are super easy to make, and that's just what we want in the morning. All you do is sprinkle a little sugar on your berries and let them sit for a couple of minutes. After they have set, smash them up with a fork and wal-ah, macerated berries.
Variations of breakfast ricotta toast
If you don't want to slice Artisan bread or pull out the blender for the ricotta, you can make a quick version of this ricotta toast. Use a good quality store-bought presliced bread you can still grill it in the pan or toast it in the toaster. You can whip the ricotta with a whisk. It won't be as light, but it will still be good! You can also add different berries like blueberries, blackberries, or kiwi. Other great options would be slices of banana with slivered almonds and honey or sliced peaches!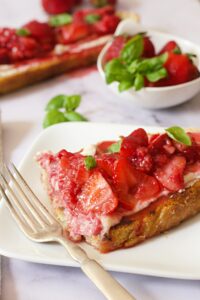 If you love this breakfast idea you may also love some of these:
Strawberry oat bars (vegan and gluten-free)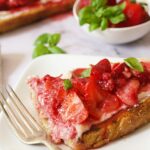 Print Recipe
Ricotta Toast with Berries
This easy delicious breakfast is made with grilled bread, whipped honey, and cinnamon ricotta, and berries for the perfect breakfast.
Ingredients
2

slices

Artisan bread

or your favorite bread

2

tablespoon

butter

for frying bread

½

cup

ricotta cheese

1

tablespoon

honey

½

teaspoon

cinnamon

1

cup

strawberries

sliced

6

oz

package of raspberries

1

tablespoon

sugar

top with basil, mint leaves, lemon zest, or orange zest

optional
Instructions
Wash and slice strawberries and place them in a small bowl. Wash and dump in raspberries. Sprinkle with sugar and set aside.

Slice the bread and heat 2 tablespoons of butter in a large skillet. Fry the bread until crispy on both sides and remove from heat to cool.

In a food processor or blender add ricotta cheese, honey, and cinnamon. Blend for 1-2 minutes until smooth and airy.

With a fork mash the berries like pictured in the post.
Assemble
When the toast is cool, spread a layer of the whipped ricotta on the bread.

Add macerated berries on top and garnish with fresh basil, mint, lemon or orange zest if desired.
Notes
My bread was large, you may be able to get 3-4 smaller pieces from this.