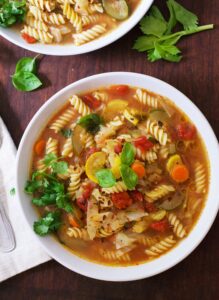 When I was a kid my grandma would make big pots of garden vegetable soup that we would eat on for days! The soup was full of summer vegetables and was always served with a wonderful biscuit or bread. By day 3 or 4 we would definitely be ready for something new. Nowadays, with four kids and a hungry husband, nothing lasts 3 or 4 days! This hearty vegetable soup may last 2 days tops!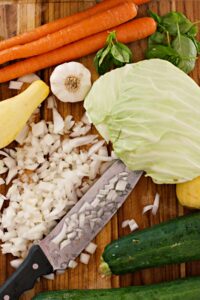 How to make hearty vegetable soup taste good
This may seem like an odd question, but it's actually asked quite a bit! So, how do you make the vegetable soup taste good? These tips can go for all soups in my opinion. There are some key things that you can do to make soup not bland. Here are a few of my tips!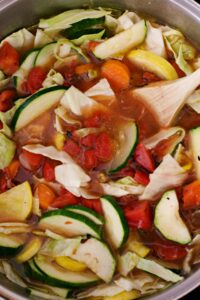 Always sautee your veggies in some olive oil before adding any liquid. I like to start out with vegetables like onion and celery first (there is no celery in this recipe). Sautee them until they are translucent and aromatic. After that, it's time to add your other veggies to your soup. In this soup, I would add things like carrots, zucchini, squash, cabbage, and garlic. Stir and let these vegetables cook for a couple more minutes. This will allow the flavors to develop.
Make sure to lightly salt and pepper each layer. When you add your onions add a little salt and pepper. When you add your other veggies add another sprinkle of salt and pepper. Develop good flavors in all the layers.
Add fresh herbs when possible. I love to add fresh herbs to the soup. For this soup add summer herbs like sweet basil or parsley. For winter soups add herbs like fresh thyme or a little sage. Fresh herbs make a big difference and add lots of health benefits! You can even do a mix of dry and fresh herbs.
Constantly test taste the soup. Test it and make sure the salt and pepper are spot on. If it seems bland add a little garlic powder or more herbs. Soups need some attention to get just right!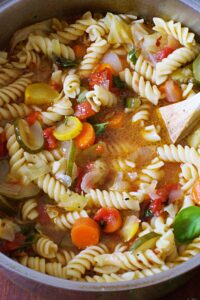 Is vegetable soup good for losing weight?
Soup is actually great for weight loss! How? The water in the soup adds volume and makes you feel full. The combination of the food and liquid not only makes you feel full but full longer! Research shows that individuals who eat soup regularly may be less likely to be obese. It would be obvious that clear broth soups instead of cream broth soups would be best for this.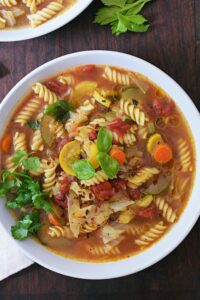 Soup is a great way to use up those vegetables!
Soup is perfect for using up those extra vegetables that may not be getting used. You can put all kinds in soup from corn to green beans, cabbage, and squash. Soup is a great way to get a nutrient-packed meal all in one pot!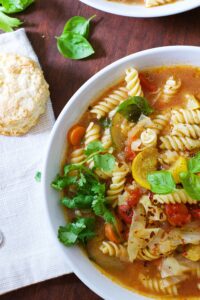 There are lots of fun ways to use up those garden vegetables. Here are a few recipe ideas you can check out.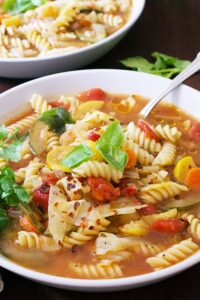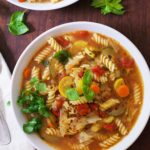 Print Recipe
Hearty Vegetable Soup
This hearty vegetable soup is full of garden vegetables, herbs, and rotini for the perfect summer vegetable soup.
Ingredients
2-3

tablespoon

olive oil

1

medium

yellow onion

diced

4

cloves

garlic

grated or pressed

3

large

carrots

sliced

1-2

teaspoon

of both salt and pepper

2

yellow squash

sliced and halved (should be about 1 cup)

1

medium

Zucchini

sliced and halved (should be about 1 ½ cups)

2

cups

chopped cabbage

48

oz

vegetable broth or broth of choice

1

cup

filtered water

1

can

fire-roasted tomatoes

½

box

rotini pasta

½ -1

cup

fresh parsley, basil or both
Instructions
In a large soup pot heat olive oil and add in the chopped onion, add a little salt and pepper. Cook on medium heat until aromatic and translucent.

Add in the chopped carrot, cabbage, squash, and zucchini. Coat with some salt and pepper (about a ½ teaspoon of each) Stir and cook for another 2-3 minutes.

Grate in the garlic and stir for 1-2 minutes.

Pour in vegetable broth, tomatoes, and water and stir. Taste and add salt and pepper.

Bring to a simmer and let simmer for about 25 minutes or until the vegetables are tender.

Pour in a half of a box of rotini and cook until al dente.

Add in chopped fresh herbs like fresh parsley, basil, or both.

Taste and add more salt or pepper if needed. Serve with more fresh herbs, a drizzle of olive oil, and pepper flakes if you want a little heat.