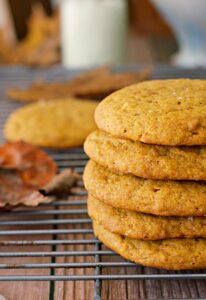 If you have ever wanted a chewy pumpkin cookie you have come to the right place. Most recipes for pumpkin cookies end up being more cake-like. Although my kids like the cake-like cookies, I was looking for something a bit chewier. After several tries, I finally ended up with a pumpkin cookie we all loved! So, if you are looking for chewy pumpkin cookies with all the spices and fall feelings you have come to the right place. Looking for cake-like pumpkin cookies? There is no shortage of those recipes out there.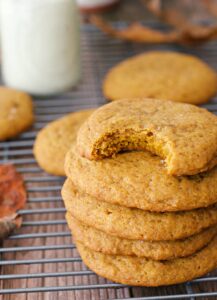 If you are anything like me when the leaves start turning I break the pumpkin out. I don't look forward to the cooler temperatures, so to bring some warmth inside I love to bake all the fall desserts. From homemade pumpkin lattes to pumpkin pie I love all. It helps to make up for the fact that it's just too cold outside.

What is the secret to chewy cookies?
Here are a few tips we can follow to get a more chewy cookie and a less cake-like cookie. It's always good to remember that small things like measurements being a bit off to the temperature in your kitchen can affect your results v/s someone else and their results.
Use melted butter. Melted butter can help you to achieve a chewier cookie whereas the traditional room temperature butter gives more of a cake-like cookie.
Just use the egg yolk. Just using the egg yolk will add additional fat to the cookies which will help your cookies to be more moist and chewy.
Slightly undercook them. Pull your cookies out of the oven when the edges are a bit crispy and browned and the center looks a little soft.
Refrigerate the dough. I don't like to wait like most of you, but popping your dough in the fridge for an hour or so will make your cookies chewier.
Use brown sugar instead of white. Brown sugar contains more moisture and can help your cookies to end up chewier.
Specific to these pumpkin cookies make sure to get the extra moisture out of the pumpkin with paper towels. Do not skip this step. The moisture in pumpkin makes it great for a lot of other baked goods, but when it cookies it's not necessary. Blotting this moisture out with paper towels can help to make your cookies chewier.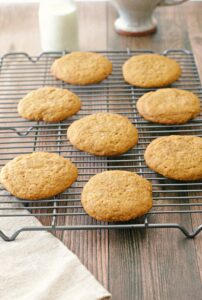 Easy chewy pumpkin cookies
I kept this recipe super easy by making it a one-bowl cookie with a small ingredient list. If you have some leftover pumpkin in a can, this is the perfect way to use it. This super easy recipe only takes about 5 minutes to mix up then pop it in the fridge to cool. I like to make these super delicious cookies for a fall treat for my kid's lunches. Yum!
This dough does need to be refrigerated. If you are looking for cookie recipes that don't need to go in the fridge? Check these out.
One bowl oatmeal chocolate chip cookies
Almond flour cookies (gluten and dairy-free)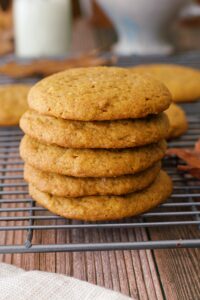 For other fall cozy and pumpkin recipes check these out.
Healthy pumpkin bread (vegan)
Pumpkin Crisp (vegan)
For all kinds of holiday, dishes check out the holiday dishes tab on my menu bar!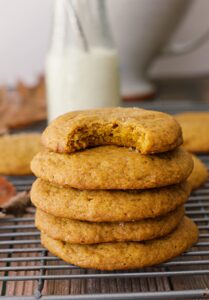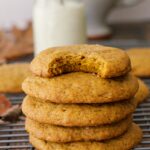 Print Recipe
Chewy Pumpkin Cookies
These chewy pumpkin cookies with fall spices are easy to make and so delicious.
Ingredients
1

stick

melted butter

⅓

cup

brown sugar

packed

⅓

cup

pumpkin puree

blotted dry

1

cup

unbleached flour

½

teaspoon

baking soda

1

teaspoon

pumpkin pie spice

½

teaspoon

cinnamon

¼

tsp

salt
Instructions
In a medium bowl pour in melted butter and sugar and whisk together.

Measure out the pumpkin puree and then dump it onto a paper towel. Blot the top of the pumpkin with another paper towel then whisk it into the butter and sugar.

Whisk in spices, salt, and baking soda. Make sure baking soda is whisked in very well and there are no chunks.

Measure in the flour and stir in with a wooden spoon.

Cover the dough and allow it to rest in the fridge for at least an hour or longer.

When you are ready to bake. Preheat the oven to 350.

Scoop out about a heaping tablespoon of dough and roll it into a ball and press it down gently with your fingers.

Continue to do this until you have used all the dough. You can sprinkle a little granulated sugar on the top of each cookie (this is optional).

Bake at 350 for about 10-12 minutes or until the edges are brown and the center is a little soft.