Who wouldn't want to fill their homes with the smells of freshly baked bread, cinnamon, and cardamom! This cinnamon pull-apart bread puts a different spin on classic cinnamon rolls and it's a bit healthier. When you need a special breakfast that can help you to beat the winter blues this aromatic bread will bring you all the cozy feels. Whether it's Christmas morning or a special birthday breakfast, this cinnamon pull-apart bread will make the day feel special.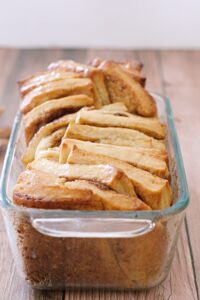 How to make yeast bread easily
I know, yeast recipes can sometimes be intimidating to make, but this bread is pretty simple. I make yeast bread often and I have found that they aren't as hard as one might think, and they always please a crowd!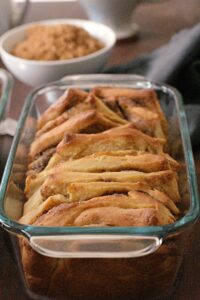 The steps to make this yeast brioche dough is easy. Let me walk you through the steps of how I do it.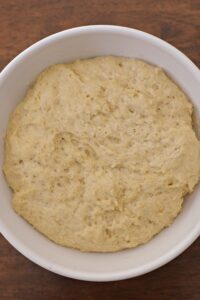 First, add about a ¼ cup of warm water to your bowl. If my bowl is really cold because of the time of year, I swish a little hot water around in the bowl and dump it just to warm the bowl a little. Then add the ¼ cup of warm water.
Second, I add in the yeast and let that sit for a minute.
While that sets, in a small saucepan heat on low your milk and butter, just until the butter melts then turn off the heat. Let this cool enough where it is warm but not hot when you touch it.
While the milk and butter sit and cool for a minute whisk the sugar, vanilla, spices, and lastly the egg into the yeast water mixture.
Slowly pour the warm butter and milk into the bowl. Do this slowly so you don't cook the egg (also why you don't want this mixture to hot).
Lastly, start measuring in the flour 1-2 cups at a time, then stir. Once all of the flour is mixed in, cover and set aside to rise.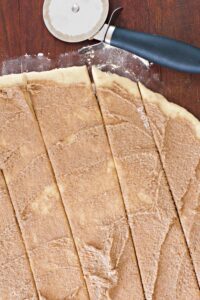 Now you wait until your bread doubles in size. This shouldn't take too long. The time will vary depending on the temperature in your kitchen. When I'm in a hurry I like to set it in the microwave. Mine is over my stove, so it always seems a little warmer in there.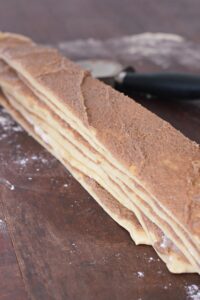 Cinnamon pull-apart bread
This cinnamon pull-apart bread is similar to cinnamon rolls, just shaped differently. Once you get the dough rolled out and you spread the cinnamon spice butter mix on top you do things differently from there. Instead of rolling the dough up for cinnamon rolls, you are going to take a pizza cutter or knife and cut the dough into strips. Next, you will stack the strips of dough on top of one another then cut them into 6 chunks. This recipe makes two 1.5 quart loaf pans. 3 chunks of the cut dough will go in each pan cut side up like pictured.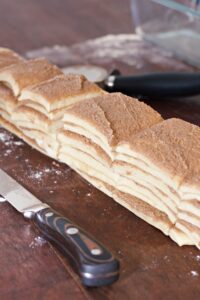 After this bread is baked it makes a beautiful loaf of bread that is great for entertaining. Each slice pulls off of another making it super fun to eat!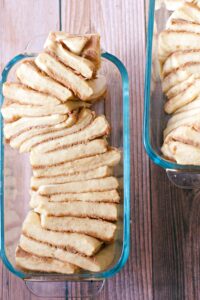 Do you love holiday recipes?
Here are some of my favorite things to bake around the Holidays!
Best Carrot cake (with less sugar and oil-free)
Pumpkin Crisp (Vegan recipe)
If you are a bread lover like me, here are some other delicious bread recipes!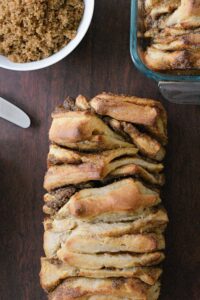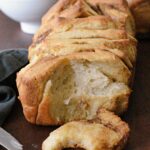 Print Recipe
Cinnamon Pull-Apart Bread
This delicious cinnamon pull-apart bread is soft on the inside and crispy on the outside.
Ingredients
The Dough
¼

cup

warm water

1

pack

yeast

1

stick

butter

1

cup

milk

⅓

cup

sugar

1

teaspoon

salt

1

teaspoon

cinnamon

½

teaspoon

cardamom

¼

teaspoon

nutmeg

1

teaspoon

vanilla

1

egg

4-4 ½

cups

all-purpose flour
Filling
1

stick

butter

softened

2

teaspoon

cinnamon

1

teaspoon

cardamom

1

cup

brown sugar

packed

⅛

teaspoon

salt
Instructions
For the dough
In a large mixing bowl put ¼ cup of warm water (not too hot but make sure it is very warm).

Sprinkle in the packet of yeast and let sit for a couple of minutes.

In a small saucepan heat on low, the milk and butter just until they are melted. Make sure milk and butter are warm to the touch. You do not want this hot but still warm.

While that sets whisk salt, sugar, spices, vanilla, and egg into yeast mixture.

Slowly whisk the milk and butter into the bowl. Make sure to do this slowly so you don't cook the egg.

Add the flour in one cup at a time. After 4 cups add flour in a tablespoon at a time. Do this until the dough is smooth and not that sticky.

Cover the dough with press and seal or a towel and set it on the counter until the dough doubles in size. (about an hour) but how long will depend on the temperature of your kitchen.
Filling
Mix softened butter, cinnamon, cardamom, salt, and brown sugar in a small mixing bowl until fully incorporated and smooth like a paste.
Assemble
Spray two 1.5 quart loaf pans with cooking spray or brush with coconut oil.

When the dough is ready dump it onto a floured surface. With a floured rolling pin roll the dough out into a rectangle shape about 15 inches long.

Spread the filling evenly over the dough.

Cut the dough into about 1 ½ inch strips with a pizza cutter or knife, (as pictured above. ) You will get about 10 strips.

Make 2 stacks of strips about 5 strips in each stack.

With a knife cut the stacked strips into 4-5 sections.

Put each cut stack (uncut side up) in the loaf pan. You will have 2 loaf pans with 4-5 slices each.

Bake at 350 for about 35-40 minutes or until the top is nice and brown. When you pull it out of the oven brush it with melted butter. Make sure to check the center and make sure the bread is completely done and not doughy.