If you're trying to get more vegetables into your diet this Vegetable Frittata is for you! This recipe is great for cleaning out the fridge and using up those veggies that have been sitting in there for a while. So, if you have some veggies to use up, get out your eggs and veggies and get ready to make this simple weeknight dinner!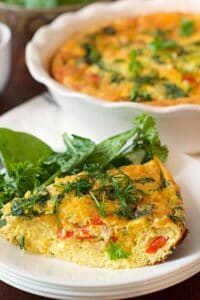 I don't know about you but I'm a veggie-lover, so I'm always buying lots of vegetables and then wondering which way to use them. You may be more of a strategic shopper, but if you're not, you probably have some veggies to use up at the end of the week.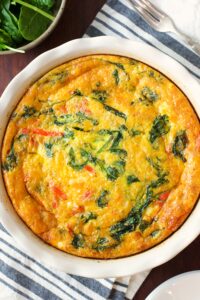 Frittatas are easy to make!
I like easy, and with four kids I don't always have a lot of time. Recipes like this make dinner simple. Some nights I spend a long time in the kitchen and other nights I want to get in and out as quickly as possible! Can you relate? This frittata ends up being a pretty and satisfying dish without all the time. Another dish I like to prepare on quick nights is Italian stuffed peppers. You should check them out!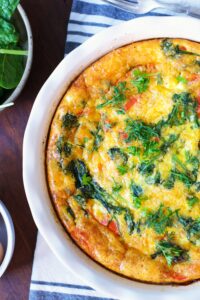 There are lots of options when you are building your vegetable frittata. I used yellow onion, red bell pepper, zucchini, and spinach, but there are a lot of options out there! What's in your fridge? I like to use up any veggies that I have bought that aren't getting used. I hate when I have to throw out produce. I happens, but I don't like it!
Some other great options would be:
Mushrooms
Tomatoes
Green or yellow bell pepper
Asparagus
Fresh basil
Or if you want to add meat you could add breakfast meat like sausage.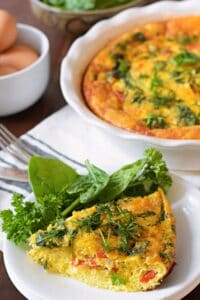 Know your eggs!
Make sure when you are buying eggs that you are buying good quality! It makes a difference in the health benefits of the eggs. The best eggs to buy would be eggs that are labeled organic, pasture-raised, or free-range. Eggs labeled cage-free, vegetarian-fed, or conventional doesn't mean much in terms of being healthy chickens, a lot of these chickens don't see the light of day. Another way to tell if you have a good egg is by the color of the yolk. I know it can be confusing with all the different labels out there.  I like to think of it simply. Light yellow yolk = unhappy chickens, dark yellow to orange-yellow = happy chickens!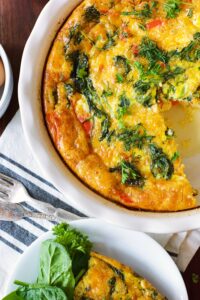 Craving crust with that frittata? You can make this Asparagus quiche!
This breakfast strata is also an amazing egg dish and great to make for the week!
Looking for other vegetarian meals? Here are a few of my favorites!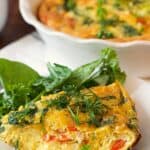 Print Recipe
Vegetable Frittata
This loaded vegetable frittata is a perfect quick dinner option!
Ingredients
10

eggs

1

cup

milk

1

whole

zucchini

sliced then halved

1

small - medium red bell pepper

sliced thinly

½

yellow or white onion

diced

2

cups

spinach leaves

packed

1 ½

cup

cheddar cheese

shredded

½

teaspoon

pink salt or sea salt

or more to taste

¼

teaspoon

black pepper

1

tablespoon

olive oil

refined

1

tablespoon

butter

sprinkle of paprika after baking

optional
Instructions
In a medium mixing bowl whisk 8 eggs and milk. Season with a little salt and pepper and set aside.

Prepare your vegetables by slicing the zucchini and then cut in halves, thinly slicing red bell pepper, and dicing onion.

In a cast iron skillet or enameled cast iron casserole dish heat on medium heat the oil and butter. You can also bake this in a deep dish pie dish. See notes if you are going to fry and bake in a separate dish.

Add all the veggies but the spinach and season with salt and pepper.

Stir fry until the veggies are tender then add spinach and cook another 2-3 minutes. Taste your veggies and make sure they are seasoned to your liking.

Pour over egg mix then add cheese.

Cover and bake for 20 minutes.

Uncover and bake remaining time for 15 minutes or until eggs are done all the way through.

Top with a few sprinkles of paprika or some chopped fresh herbs if you would like.
Notes
Get the casserole dish I have here!
You can use all kinds of different veggies, check out the post above for suggestions!
If you are transferring the mixture into a separate baking dish make sure to oil your dish. Fry your veggies, and transfer to the baking dish. Add cheese and egg mixture then bake.