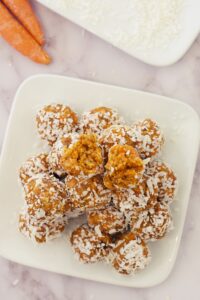 Most of us could benefit from healthier snack foods. If we could just ditch the processed 100 calorie packs, chips, and cookies we would feel a lot better. From nut packs to granola bars, these pre-packaged foods are usually full of bad oils, MSG, and harmful preservatives. Making snacks can save money and is quicker than you think! These carrot cake energy balls are just one snack that will fulfill those sweet cravings and help you to get on the right track!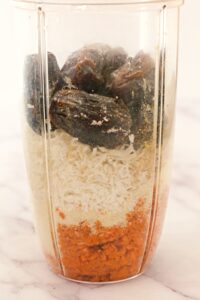 Making Carrot Cake Energy Balls
Making carrot cake energy balls is a great way to kick off your new lifestyle of healthy eating. These little gems take less than 10 minutes to make and you'll be on your way to ditching the addictive, processed junk food and eating a healthy snack.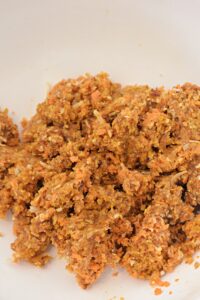 To make these you will need a food processer or blender of some sort. I use a Nutri-Bullet. I wash and coarsely chop 2 medium carrots and then just blend them up. I like to do this instead of grating the carrots for a smaller texture for making the carrot cake balls. It is very important that after you blend your carrots to press as much liquid out as you can. Because these healthy snacks are no-bake doing this will keep them from being wet.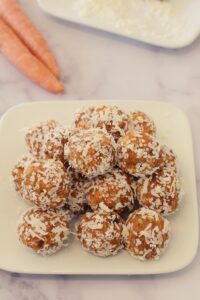 Make sure you use Medjool dates. These dates are larger and stickier than regular dates and will make these sticky enough to roll into balls. I also like to use almond flour for my energy balls. Almond flour gives a nice punch of protein which makes these great for working out too! If you are wondering where else to use almond flour if you made the purchase and bought some. You can use almond flour in these healthy recipes too!
These are some great recipes you can use up your almond flour with! All these desserts are clean eating and can help you feel better and lose weight! These treats are also gluten-free, dairy-free, and refined sugar-free!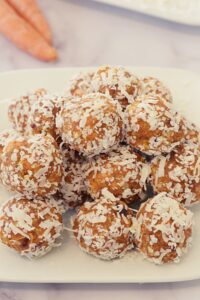 Some health benefits of carrot cake energy balls
Pre-packaged snacks usually get their list of "health benefits" from synthetic vitamins and minerals. When you make your own snack foods you can reap the benefits of real vitamins and minerals from whole foods. Here are some of the benefits of these energy balls.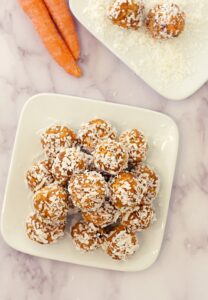 Carrots
It won't hurt us to get some extra carrots into our diets! Carrots are full of benefits and cheap to buy organic. Here are a few of the benefits!
High in antioxidants.
Boosts immune system.
Improves liver function.
Great for eye health.
Improves skin.
Rich in vitamins A, B6, C, and K.
Also contains good amounts of fiber and potassium.
Reduces inflammation in the skin.
Combates constipation.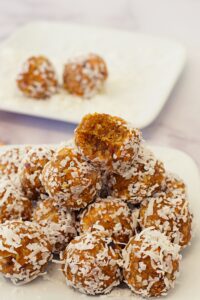 Medjool dates
Full of fiber.
Helps to relieve constipation.
Help to treat anemia.
High in potassium, magnesium, and copper.
Boosts bone health.
These carrot cake energy balls are full of beneficial vitamins and minerals and make a great snack for a mid-day pickup or in addition to a healthy weight-loss plan! What unhealthy snacks can you trade these for? It will be worth it to feel better and healthier!
For other healthy snacks check these out!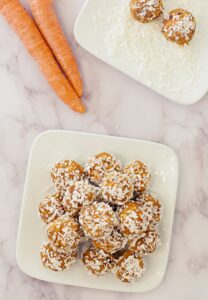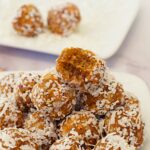 Print Recipe
Carrot Cake Energy Balls
Easy to make, no-bake carrot cake energy balls are full of nourishing ingredients and are gluten, dairy, and refined sugar-free!
Ingredients
2

medium

carrots

ends cut off and chopped into thick slices

1

cup

almond flour

1

cup

unsweetened coconut

plus a little extra to roll finished balls in.

8

large

Medjool dates

remove pits if needed

1

teaspoon

cinnamon

¼

teaspoon

both ground ginger and nutmeg

couple pinches

of pink salt or sea salt
Instructions
Wash and roughly chop carrots. In a Nutri-Bullet or food processor pulse the carrots until there are no big chunks.

Transfer carrots to a small strainer or a measuring cup and with your fingers press out any liquid from the carrots. Transfer carrots back into the processor.

Add in coconut, almond flour, pitted dates, and spices.

Blend until everything blends up small and starts sticking together.

Dump into a bowl and roll out teaspoon size balls. Roll in coconut or crushed nuts if desired.

Store in a ziplock baggie or container with a lid.

Eat within about 5 days.