For those of you searching for healthy breakfast choices, I've got you covered. But if you are looking for something not only healthy but no-bake, this is for you! For all the times you rushed out the door only to grab a 100 calorie snack pack or sugary granola bar. This breakfast is for you. I make this whipped blackberry chia pudding for the ones who just don't like the texture of chia seeds. If you don't mind the texture of chia seeds just don't blend it!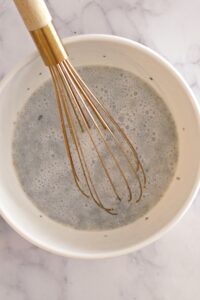 Is whipped blackberry chia pudding healthy?
Firstly, chia is a superfood! These little seeds offer a list of health benefits that will make your body happy. Chia seeds were used by ancient civilizations as warrior food! Check out some of the amazing benefits of chia seeds!
Omega 3- chia seeds provide a plant-based source of omega 3 fatty acids. These fatty acids can help to lower blood pressure, lower cholesterol, and fight inflammation.
Fiber- chia seeds are loaded with fiber to help fight constipation and help cleanse the colon.
Weight loss- the fiber within the chia seeds absorbs a good bit of water that will help you to feel full longer.
Energy- Because they contain a small number of complex carbs, but high amounts of fat and protein.
High in minerals and vitamins. These tiny seeds are full of calcium, vitamin A, zinc, copper, manganese, and more!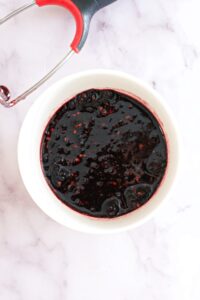 How to make chia pudding
Chia pudding is as simple as mixing chia seeds into your choice of milk and letting it set and thicken in the fridge. I like to add a touch of vanilla and maple syrup for flavor. You will not need to do this if you use sweet plant-based milk. I like to use homemade coconut milk for my chia pudding. Also, picking unsweetened milk allows you to add the amount of sweetness and flavor you like.
Once I allow it to thicken in a mixing bowl I transfer it into my single-serving cups. For this recipe, I add macerated blackberries to the bottom. It was delicious!

What toppings are best with chia seed pudding?
Chia seeds are very versatile and they work well with just about any flavor profile. Here are some different ideas for toppings for chia seed pudding.
Any berry, homemade jam, compote, or macerated berries.
Peanut butter, almond butter, or other nut butter.
You can make the pudding itself chocolate by adding a tablespoon of cacao powder to the chia and milk mixture and mix well before refrigerating.
Chocolate chips, coconut, and nuts.
Matcha green tea.
Pumpkin puree.

What are some other healthy breakfast ideas?
Gluten-free blondies (made with chickpeas)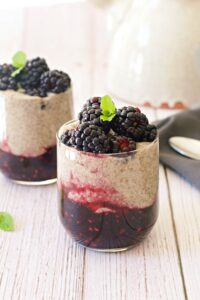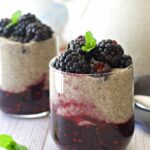 Print Recipe
Whipped Blackberry Chia Pudding
This whipped blackberry chia pudding is layered with smooth and creamy chia pudding and sweet macerated blackberries!
Ingredients
1

cup

plant-based milk

I use unsweetened coconut milk

4

tablespoon

chia seeds

1

teaspoon

vanilla

3

tablespoon

maple syrup

1

cup

blackberries

Plus more to top with

1

tablespoon

sugar
Instructions
Chia Seed Pudding
In a small mixing bowl whisk together milk, chia seeds, vanilla, and maple syrup.

Cover and put this mixture in the fridge for at least a half-hour or overnight.

Put one cup of blackberries in a bowl and sprinkle with a tablespoon of sugar. Mash the berries with a potato masher or a fork. Set to the side.

When the chia seed pudding is thickened pour it into a blender and blend for a couple of minutes until it is smooth.

In two 9-10 oz cups divide the macerated berries up between the cups.

Top with the blended chia pudding and also divide this up between the two cups.

Top with fresh blackberries. Cover and place in the fridge.
Notes
This recipe does not have to be blended. The chia pudding can be used as-is. 
I used this coconut milk recipe.