Most of you have probably heard of the super spice turmeric. If you haven't it's in one word …..amazing. Its list of benefits makes it well worth adding this super spice to your diet. If you've been wondering how to easily incorporate it into your diet, turmeric paste is for you!

Benefits of Tumeric
It's a powerful anti-inflammatory! Inflammation has been found at the root of just about every health condition, it wouldn't hurt for all of us to include turmeric in our diet. In addition,  it helps improve digestion, lowers cholesterol,  promotes better mood,  has anti-cancer benefits,  is a potent antioxidant, and improves cell function! In India it's called  "the spice of life" and we can see why! This turmeric paste makes it simple to use in your diet!
Turmeric is a potent anti-inflammatory. With inflammation being at the root of almost every disease. It's an amazingly beneficial spice to add to your diet!
It's antimicrobial (which means it can destroy microorganisms that might carry disease)!
It is a natural antibiotic. My kids have never taken an antibiotic! I believe that is due to not only having a healthy diet but also adding beneficial natural antibiotics like turmeric!
Turmeric also has been shown to be able to fight against certain types of cancer, prevent the regrowth of stem cells, and reduce the effects of chemo!
Most of us could use some extra help with digestion. Turmeric promotes healthy digestion by stimulating the production of bile.
We all need to keep our livers clean due to the increase of chemicals we consume. Turmeric is a potent liver detoxifier!
It can help to promote and stimulate strong immune systems!
Research has shown that turmeric and black pepper may help to lower bad cholesterol levels!
Turmeric can help to fight depression. Research has shown that turmeric can have powerful mood-boosting effects!
Because it is an anti-inflammatory, it could help skin conditions like acne and dermatitis!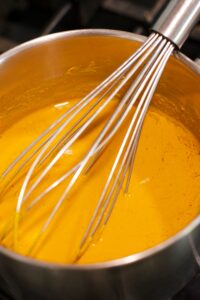 How to Use Turmeric Paste
You may have thought, how can I incorporate the spice into my diet? There are many ways, but in searching this out for myself, I had to find something my whole family would consume on a regular basis.
I came across golden milk a couple of years ago and it is amazingly delicious! To my excitement, I wasn't the only one who thought so! When I call who "wants golden milk," I hear an explosion of me's! And for good reason!  It's creamy, lightly sweet, and bursting with your favorite spices! Turmeric paste makes it quick and easy to make Golden Milk and only takes a couple of minutes to whip together. Make sure you don't leave out the black pepper. It makes the active ingredient curcumin more bioavailable to our bodies!
You could also use turmeric paste in smoothies, soups, curries and much more!
Fermenting turmeric can also help with the absorption of turmeric. You can check out my anti-inflammatory fermented sauerkraut here!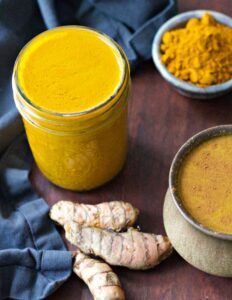 After you make turmeric paste, make sure you check out the recipe for Golden Milk!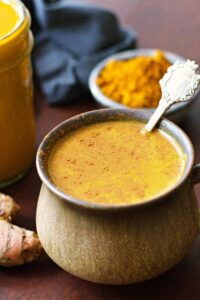 Is turmeric safe?
Yes, curcumin is safe. However, some people might experience digestive issues if too much is taken. Also, some people may have an allergy to turmeric. If you experience an allergy or rash of any kind make sure to stop the use of turmeric. Hypotension may occur because turmeric is known to lower blood pressure. Always consult with your doctor before adding things like turmeric paste and golden milk to your daily diet.
Looking for more ways to be healthy?
If you are looking for more ways to live a healthier lifestyle you can check out these recipes!
For a turmeric paste recipe check out this golden milk.
If you've ever thought about making homemade vitamins you can check out how to make liposmal C here. I also make vitamin C powder from oranges!
If you are looking for ways to boost your immune system check out this post!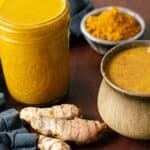 Print Recipe
Turmeric Paste
Turmeric is full of amazing health benefits! Turmeric paste is a quick and easy way to make delicious golden milk!
Ingredients
½

cup

organic turmeric powder

¾

cup

water

1

teaspoon

black pepper

¼

cup

unrefined coconut oil
Instructions
In a medium saucepan whisk together turmeric powder and water over low heat until you have a smooth paste.

Add coconut oil and black pepper. Whisk until completely combined.

Allow to cool. Store in a glass container or jar in the refrigerator for several weeks.