If you want to like all the avocado toast ideas out there but you just don't like avocado, I got you covered. This breakfast toast will take your breakfast eating to a whole new level in just minutes! Pesto breakfast toast! Don't tell the avocado toast, but this breakfast toast will give it a run for its money. And, I may have gotten this idea from my 13-year-old. She is a pesto lover….if it's homemade.

How to make homemade pesto
Making pesto at home is actually easy to do and only takes a few ingredients. I will say if you have never made pesto yourself and have only bought pesto from the pasta sauce section of your grocery store, you are in for a treat! This is just one of those things that's so much better homemade! You can use this homemade pesto not just for this pesto breakfast toast. We like to use this yummy sauce on roasted or baked potatoes, pasta, and more!  To make good pesto you just need a few key ingredients.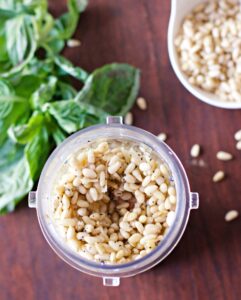 The ingredients
First, basil. Make sure to grow or buy sweet basil. It tastes the best for homemade pesto sauce. Second, good quality olive oil. Although you may think olive oil is olive oil there are a few qualities to pick when choosing. When choosing a good quality olive oil choose cold-pressed and organic. Make sure it is in a dark bottle. The one I buy is also unfiltered. I look at it this way, the less they do to it the better. The third is pine nuts. For some reason, these little nuts can be expensive. If you are looking for a cheaper option you can add walnuts. I've used them and they work nice. The last main ingredient is parmesan cheese. Now, I dislike the parmesan you get in the shaker. I think it doesn't taste great and the texture is weird. However, if you love this type I'm sure it will work fine. I like to buy one that is grated in a plastic container, or the wedge that you have to grate yourself. Way better! Additionally, the other ingredients for making homemade pesto are fresh garlic, lemon juice, salt, and pepper.
The easy part throwing all these ingredients into a food processor, blender, or Nutri-bullet and blending it up until smooth. Don't have a blender? A mortar and pestle will work just fine for crushing up these wonderful ingredients!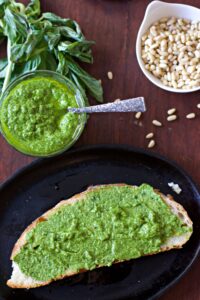 Making pesto breakfast toast
After you get your pesto made it can be stored for several days in the fridge and you can just take it out when needed to make your toast.
First, you need a nice piece of artisan bread. Now, I know you can buy this in the store, but homemade is so good and so easy to make. The simple mix of flour, yeast, salt, and water will make a delicious loaf of crusty bread! For my recipe click here. After cutting your nice slice of artisan bread put it on a well-oiled iron skillet or cookie sheet. Spread a nice layer of pesto onto the bread.  Next, sprinkle a couple of tablespoons of mozzarella cheese onto your bread.  Pop it into your oven on low broil. Magic is about to happen right here. After just about 5 minutes pull it out to reveal a beautifully crusty, melty, piece of cheesy pesto toast!
After your toast is pulled out of the oven you will need an egg to top it with. Although this could be the traditional fried egg either over hard or over easy I chose a hard-boiled egg, grated. Yes, a grated egg. Even though this may seem odd it got 6 thumbs up in my house. Now, let's talk about some ways to top this toast.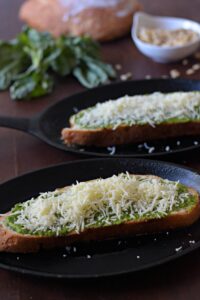 Topping ideas for pesto toast
This pesto toast can be topped with so many things. Here I have topped it with of course the egg, then tomatoes, arugula, and pepper flakes. However, this isn't the only way I have eaten it. Here are some other great topping ideas!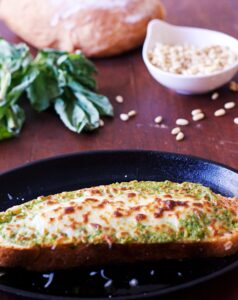 Bacon
Fresh or pickled jalapeno slices
Avocado slices
Balsamic drizzle
Sprouts
These are just a few ideas to make a great-tasting pesto breakfast toast.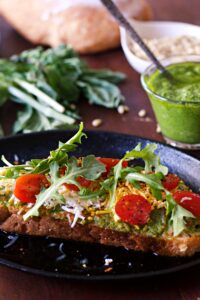 Looking for other breakfast ideas? Check out these great options!
Eating clean doesn't have to be hard. Picking a day to make a few things ahead of time is a great way to win in your eating during the week.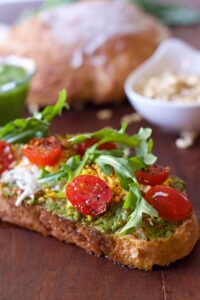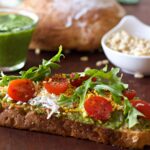 Print Recipe
Pesto Breakfast Toast
This breakfast toast is topped with homemade pesto, melted cheese, egg, and your favorite toppings!
Ingredients
Homemade pesto
2

cups

sweet basil

washed and the big parts of the stem taken off.

⅓

cup

olive oil

¼

cup

pine nuts

3

large

garlic cloves

½

cup

grated parmesan

i like to use either the block and grate it or the pre-shredded in the plastic container.

juice of half of a large lemon

1

teaspoon

salt

½

teaspoon

ground pepper
Pesto breakfast toast (1 piece)
1

thick slice

artisan bread

1

tablespoon

olive oil

1

tablespoon

pesto evenly spread on bread

1

hard-boiled egg or egg of choice

1-2

tablespoon

Shredded Mozzarella Cheese

toppings of choice
Instructions
Homemade pesto
Wash basil and remove the large parts of the stem. I leave small parts of the stem. Add this to your blender.

Peel garlic and pop those in.

Add in olive oil, lemon juice, nuts, parmesan cheese, and salt and pepper.

Blend until smooth. Taste and add a touch more salt if needed. If it's not blending up well, you can add an extra tablespoon or two of olive oil.
Pesto breakfast toast
Place the broiler on your oven to low.

Cut a nice slice of artisan bread.

Drizzle about a tablespoon of olive oil onto a cookie sheet or iron skillet and place your bread slice on top.

Spread a nice layer of your pesto onto the bread then sprinkle with mozzarella cheese.

Pop this in the oven under the broiler for about 5 minutes. Keep an eye on it to make sure it doesn't burn. It will cook quickly.

Pull out and top with your egg. If you are grating your egg, with a hand grater grate your egg on top of the toast and top with a sprinkle of salt and pepper.

Next, top with your favorite toppings. I used tomato, arugula, and pepper flakes. I added some other options to choose from in the post.

Store your pesto in an airtight container for several days.