I get really excited about posts like this because I really believe that tonics like this help keep us healthy throughout the winter months!
I have experienced this tonic to shorten the length of colds, coughs, and infections! Every ingredient in this works together to fight against sickness. It is known to be a potent natural antibiotic. How exciting is that?!
I want to take the time to list just a few benefits of each ingredient in hopes that you will see how powerful it is.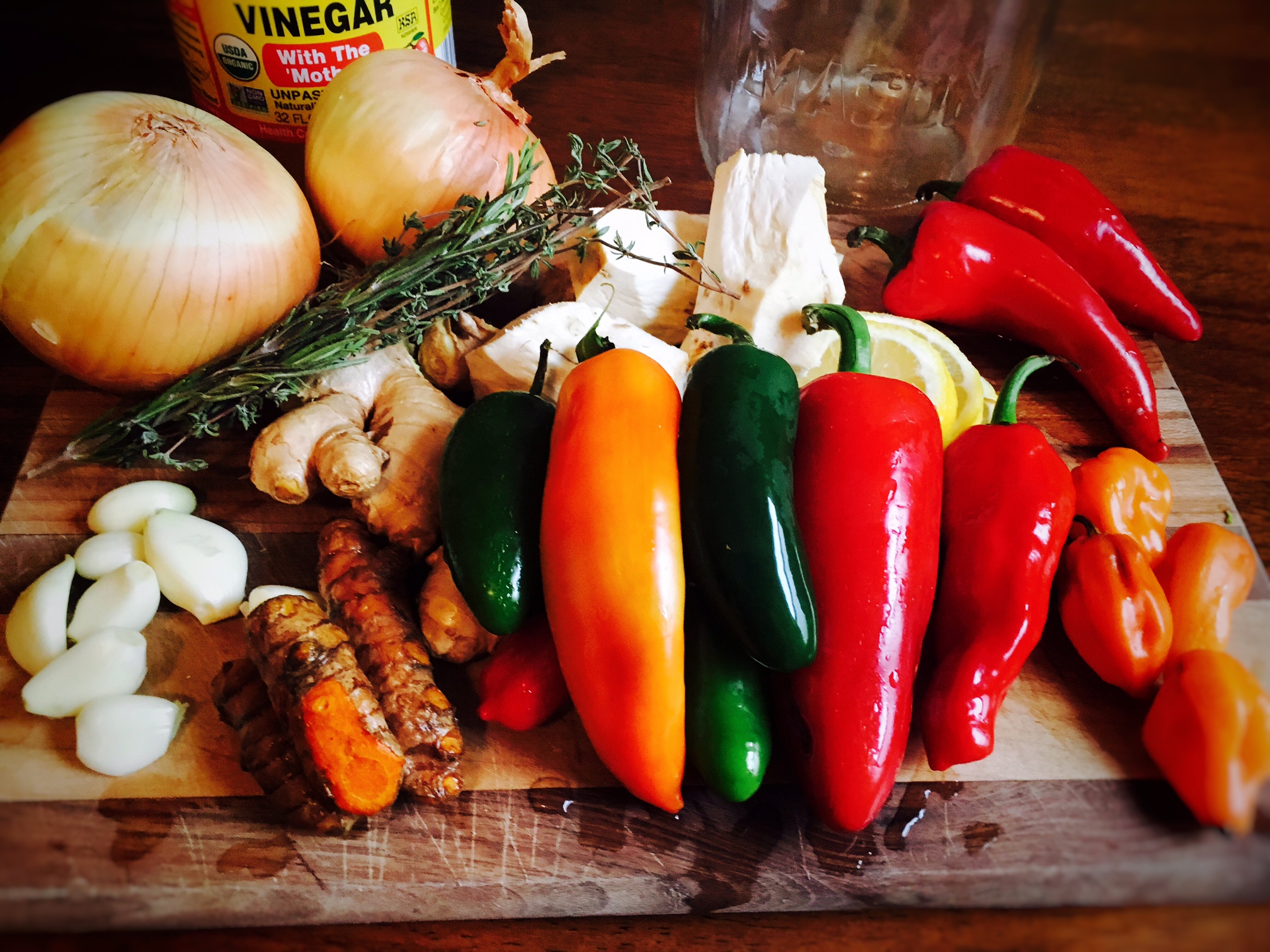 Benefits of Master Tonic!
Ginger helps prevent cold and flu boosts the immune system and is a natural antibiotic.
Hot peppers fight cold and flu, they are anti-fungal, relieve congestion, and antibacterial.
Horseradish root boosts the immune system, helps clear congestion, and helps protect against bacterial infections.
Thyme works as an antiseptic are antibacterial and help treat cough and inflammation.
Rosemary is anti-inflammatory, antibacterial,  and aids in respiratory health.
Lemon improves immunity and provides relief from a cold.
Garlic boosts the immune system, it's a natural anabiotic, antibacterial, antifungal, and anti-inflammatory.
Turmeric is a natural antibiotic, helps with cough, and a natural anti-septic.
Onion helps relieve coughs, helps boost the immune system, and helps respiratory problems.
Apple cider vinegar is a natural detoxifier, fights against allergies, helps clear sinuses, and helps prevent stomach illness.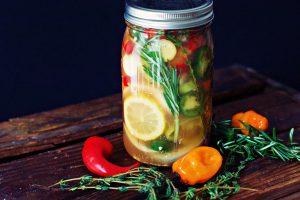 These are just a few of the health benefits of each of these ingredients! This is a powerful medicine to have through the winter. I like to mix it with a little local honey to make it easy to take and the honey will also add to the health benefits! I have also mixed this on to a vinegar-based salad dressing to get it into my kids!
Remember to use the best possible ingredients that are available to you when making this!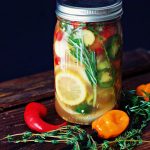 Print
Master Tonic
Master tonic is the perfect winter drink. It will help you work through any current ails!
Materials
Different varieties of hot peppers including habanero, jalapeño, chilies, cayenne, Hungarian wax etc.

I used 12-15

1

cup

horseradish root

diced

1/2- 1

cup

ginger root

1

cup

garlic cloves

3-4

sprigs fresh thyme

3-4

sprigs fresh rosemary

2

large onions diced

1/2

lemon in slices

3-4

pieces

turmeric root

if available

32

oz

bottle Apple Cider Vinegar

Braggs recommended
Instructions
On a large cutting board, slice all hot peppers being careful not to touch the inside of the pepper, or wear gloves.

Chop ginger, horseradish, turmeric, garlic and onions.

Slice lemon. You can leave herbs on the stems.

Arrange everything in a large glass jar or mason jar.

Pour the ACV over everything, until it just covers the top.

Place a label with date on jar.

Place in a dark place in a pantry or cabinet.

Let set up to 6 weeks.

Once a day give it a shake.

After the 6 weeks strain, and keep in a jar in the fridge.

I like to pour some in a smaller jar and add a couple tablespoons of local honey.

I  take 1 tsp daily, or 2-3 tsp when not feeling well.
Notes
*for more like this check out Homemade Vitamin C
Large amounts of ginger should be avoided during pregnancy.